Jan 9, 2009 — by Eric Brown — from the LinuxDevices Archive — 75 views

EzHomeTech has upgraded its Linux-ready "SSP" middleware and SSP-based SDKs (software development kit) for 1080p HD IPTVs (Internet protocol TVs) based on Sigma's MIPS-based processors. After announcing SSP 5.0 in May, EzHomeTech has released the updated SDKs over the summer, and has now announced new licensing.
(Click for larger view of EzHomeTech's Tatung DMA2300 SSP development system)
Taiwanese embedded Linux specialist EzHomeTech has been selling its SSP (Simple Software Platform) since at least 2004, targeting MIPS-based Sigma Design 85xx-series system-on-chips (SoCs), which are used in IPTV applications. Over the years, EzHomeTech has added various SDKs for signage devices, multimedia playback devices, and video servers based on SSP, and the middleware and its related SDKs now target the HD-ready Sigma 86xx series processors.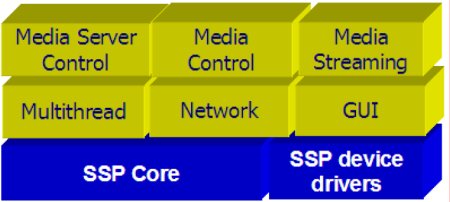 SSP 5.0 architecture
(Click to enlarge)
SSP 5.0 is said to define a set of interfaces for GDI, windowing, media streaming, multi-threading, network, media control, and media server control designed for 1080p HD media application development. The SDKs include a Media Player, Samba Media Player, Signage Player, Signage Server, Video Store Player, VOD Player Video Server, and IPTV Player Video Server. Most of the packages appear to have been updated over the summer. Specifications are listed on the site, but there is scant description of intended use or scope of capability.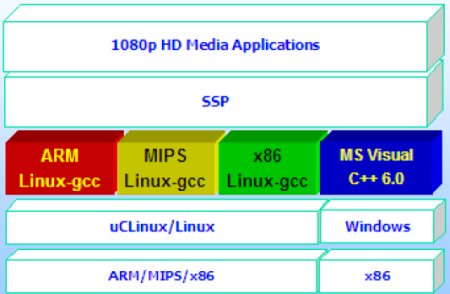 SSP 5.0 development tools
(Click to enlarge)
SSP originated as a Linux technology, and the company appears to still focus primarily on Linux and uClinux implementations, but its API also supports Windows XP-based devices. The recommended development platform for SSP 5.0 is a PC clocked to 2.4GHz (600MHz minimum) running Red Hat Linux 9.0, with Microsoft Visual C++ 6.0.


Darter IVS-800 (front and back)
(Click to enlarge)
EzHomeTech also sells two optional development appliances that run embedded Linux: the Darter IVS-800 and the Tatung DMA2300. The Darter (pictured above) is based on a Sigma Design EM8623 processor, with 128MB RAM and 8MB flash ROM. The box ships with a 10/100 Ethernet port, dual USB 2.0 ports, a mini-PCI slot, and an IDE storage interface socket. The Darter also offers serial and digital I/O connections, as well as numerous A/V connections, including an HDMI output. The Tatung DMA2300 (pictured below) instead uses Sigma's newer SMP8634, with 256MB RAM and 64MB Flash NOR. It offers similar Ethernet, USB, and A/V connections, but lacks the mini-PCI slot or storage expansion.


Tatung DMA2300 (front and back)
(Click to enlarge)
The more advanced
SMP8630
SoC, which was announced in 2006, combines a 300MHz MIPS core and a 200MHz security CPU (see diagram below). Designed for IPTV players, Blue-ray players, and digital media adapters, the SoC supports MPEG-4.10 (H.264), SMPTE 421M (VC-1), WMV9, MPEG-4.2, and MPEG-2 decoding, says Sigma. Its Secure Media Processor (SMP) architecture offers a variety of digital rights management (DRM) and conditional access (CA) functions, says the company.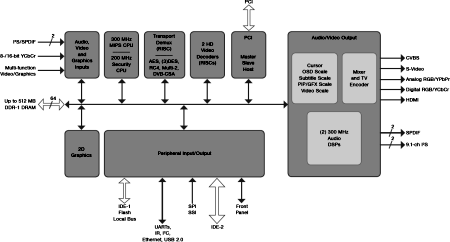 Sigma Designs SMP8634 block diagram
(Click to enlarge)
Earlier this year, Sigma Designs began sampling a new line of
SMP8654 and SMP8655
SoCs for IPTV devices and set-top boxes that are designed to replace the SMP8634. The devices offer triple MIPS processors, for a claimed fifty percent speed boost. The SoCs combine a 500MHz main core, a 333MHz security CPU, and a new 333MHz processor that manages interrupts and part of the network stack.
Availability
The latest news from EzHomeTech is a new lineup of licensing programs for SSP and the various SDKs that run on it. The following lists the major SDKs, licensing terms, and prices. The SDKs all support both the Sigma EM8622/23 and Sigma SMP8634/35, except for the base SSP API packages, for which customers have a choice of either processors. The following prices are listed as price per developer, and source code is said to be available for all packages:
SSP API — with one-year maintenance, $1,000 (for Sigma EM8622/23) or $1,300 (for Sigma SMP8634/35)
Media Player 1.0 — with one-year maintenance $2,000
Signage Player 3.0 — with one-year maintenance and upgrade service $3,000
Signage Player 3.0 Signage Server — with one-year maintenance and upgrade service $6,000
The following SDKs are all offered with three-year maintenance and upgrade service, and come with a $3 per copy run-time distribution fee (contact company for pricing):
Samba Media Player 3.0
Signage Player 4.0 Signage Server
Video Store Player
VOD Player Video Server
IPTV Player Video Server
More information on the SSP 5.0 and its related SDKs, all of which appear to be shipping, should be available here.
---

This article was originally published on LinuxDevices.com and has been donated to the open source community by QuinStreet Inc. Please visit LinuxToday.com for up-to-date news and articles about Linux and open source.