Aug 5, 2010 — by Eric Brown — from the LinuxDevices Archive — 14 views
Mindspeed announced a new member of its Comcerto family of VoIP system-on-chips (SoCs), targeting media, signaling and control processing on low-to-medium density optical networking environments. The Comcerto 300xv offers dual ARM11 processors, a 64-bit DSP, dual gigabit Ethernet interfaces, and a PCI Host controller, and is available with an OpenWRT Linux-based evaluation board.
The Mindspeed Comcerto 300xs is designed for next-generation networks (NGN), IP multimedia systems (IMS), IP-private branch exchange (IP-PBX) equipment, and passive optical networking (PON) multi-dwelling unit equipment, says Mindspeed. The SoC is based closely on an earlier Comcerto 300 processor, announced in Jan. 2008, but extends support to VoIP over optical networking.
Like the Comcerto 300 and the earlier Comcerto 100 (announced in June 2007), the Comcerto 300xv combines dual ARM11 cores with vastly different functions. One core runs the OpenWRT Linux distribution, handling control and service processing (CSP). The other hosts Mindspeed's binary-licensed "media stream processor" executive, assisted by a 64-bit digital signal processor (DSP) co-processor, to optimize real-time, low-latency voice processing.
Like the Comcerto 300, the Comcerto 300xv couples the ARM11 cores through shared memory to create a media stream processing (MSP) subsystem.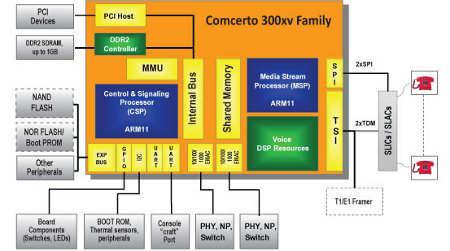 Comcerto 300xv block diagram


(Click to enlarge)
Mindspeed does not list clock speeds for the ARM11 cores. However, the Comcerto 100, which has received
development support from Wind River Linux
, was initially clocked to 450MHz.
The Comcerto 300xv offers a DDR2 controller that supports up to 1GB SDRAM, says Mindspeed. The SoC also supports master/slave modes and multiple booting methods, says the company. In addition, the 300xv supplies an 8/16/32 bit local expansion bus for connectivity to flash memory cards and other peripherals.
The SoC appears to be almost identical to the Comcerto 300, except for the addition of a PCI Host controller. This feature supports call control, signaling, and other application‐specific functions, says Mindspeed.
Comcerto 300xv devices are said to be available in six performance levels in versions ranging from models that support four G.711/20ms channels to models that support over 128 channels. The processors are available with a range of features including echo cancellation and tone detection.
Like the Comcerto 300, the 300xv supports a la carte channel‐level features. These are said to include multiple codecs, and ECAN parameters, all of which can be run simultaneously, says the company. Two independently configurable gigabit Ethernet interfaces are said to be provided, for direct control and management of Ethernet switches or PON media access control (MAC) functions.
Other interfaces include two SPI interfaces, I2C, two UARTs, and 32 GPIOs, plus dual software‐configurable TDM (time division multiplexing) interfaces.
Available in both RoHS and non-RoHS versions, the SoC is packaged in a 484-ball, 19x19mm low-profile ball grid array (LBGA), says the company.
A Linux development kit and EVM
Like other Comcerto processors, the 300xv ships with an OpenWrt-based Linux design kit that provides access to hundreds of applications for developing a "functionally complete" routing platform, says Mindspeed. A reference design package is said to be supplied, including an open source session initiation protocol (SIP) signaling stack. Low-level board support packages (BSPs) are also said to be available.
The Comcerto 300xv is said to offer full software and API compatibility with prior Comcerto 300 designs. The SoC supports a variety of wideband voice codecs for high-definition VoIP applications, says the company.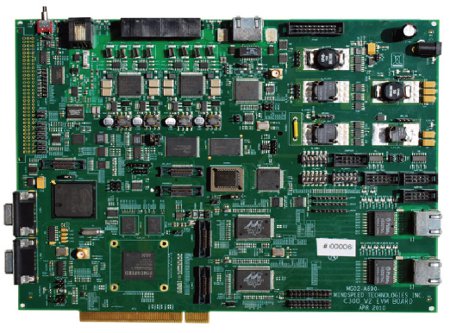 Comcerto 300xv Evaluation Module
(Click to enlarge)
An optional Comcerto 300xv Evaluation Module (EVM) provides all necessary memory, a TSI, four FXS POTS lines, and an FXO trunk line, says Mindspeed. Other touted features of the board (pictured above) include dual gigabit Ethernet ports with an SFP option for optical connectivity, as well as a T1/E1 interface.
In addition, the EVM is said to include a system expansion connector designed to mate with Zarlink's family of SLIC/SLAC EVMs, for configuring POTS systems of eight to 72 ports. Support packages are available for both Linux 2.6.22 and VxWorks 5.5/6.6 operating systems, says the company.
In January of this year, Mindspeed introduced a Linux-ready Transcede line of SoCs. The processors specifically target mobile broadband 3G/4G basestations, including femtocells and macrocells.
According to market research firm Infonetics, by 2014, worldwide PON revenue is expected to increase to $4.9 billion, representing a 2009-2014 compounded annual growth rate (CAGR) of 22 percent, says Mindspeed. By 2014, Infonetics expects total PON ports to increase to just over 31 million, representing a five-year CAGR of 28 percent, adds the company.
Stated Tricus Wang, product manager for Mindspeed's communications convergence processing (CCP) business unit, "The Comcerto 300xv provides a complete, low-cost, high-value VoIP media and control processing solution between narrowband time-division multiplexing (TDM) and Ethernet, allowing inexpensive POTS termination systems to be built on an Ethernet / LAN-based architecture."
Availability
The Comcerto 300xv is sampling now, and is scheduled for volume production in the second half of 2010, says Mindspeed. Pricing, including Linux production software, starts at less than $18 in OEM volumes of 10,000 for the lowest performance member of the family, the M82321, says the company.
More information may be found here, and the PDF datasheet should be here.
---
This article was originally published on LinuxDevices.com and has been donated to the open source community by QuinStreet Inc. Please visit LinuxToday.com for up-to-date news and articles about Linux and open source.