Mar 3, 2009 — by Eric Brown — from the LinuxDevices Archive — views

MontaVista has launched a community website for embedded Linux developers. The new "Meld" site is open to all embedded Linux developers, offering social networking technology like a graphical "People Map" (pictured below) to help developers find each other for collaborative projects, says the company.
(Click for larger view of MontaVista's Meld site)
The Meld site formally opened today, but has been in beta since early January, said MontaVista VP of Marketing Joerg Bertholdt in an interview last week. The "non-commercial" site fills a gap in other open source communities, said Bertholdt, in that it focuses on embedded Linux devices instead of embedded devices in general, and yet it is not tied to a particular company, platform, or architecture. Meld provides a forum for embedded Linux developers, from beginners to experts, to share information, ideas, and even code around embedded Linux designs, he added.
Meld features are said to include:
Discussion groups to collaborate on difficult design problems
People Map feature (pictured at top) for finding others who share similar interests in architectures, host operating systems, and other topics
Forum for the emergence of subject matter experts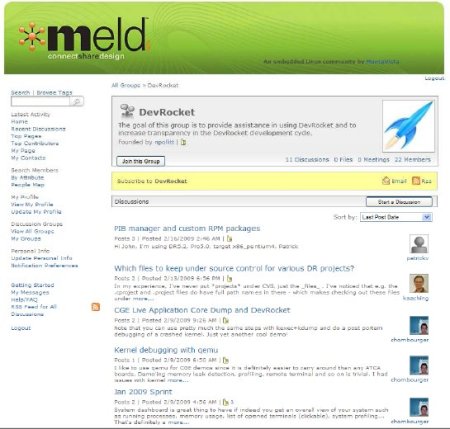 Meld forums
(Click to enlarge)
According to Bertholdt, Meld is not an open source project intended for code development, but users are encouraged to share open source code and designs on the site. Meld is also not intended as a MontaVista marketing forum, he claimed, nor will it replace the MontaVista Zone support site, which is focused on one-on-one interactions with customers.
"Meld's focus is on commercial open source Linux technology, but it is not tied to a particular distribution," explained Bertholdt. In fact, he said that during the project's beta phase, although there have been forums established on MontaVista technologies, such as DevRocket, "most of the chat has been about Eclipse."
Meld fills a need in addressing the growing fragmentation and information overload of the embedded Linux development community, continued Bertholdt. "Embedded Linux developers are having a hard time keeping up with all the different open source communities," he said. "There is a lot of information out there, but some of it is old and other information is from questionable sources, so validating information is a real challenge. This market is heavily fragmented, with many different processors, architectures, hardware platforms, and I/O configurations, and a lot of the information may be irrelevant to one's project."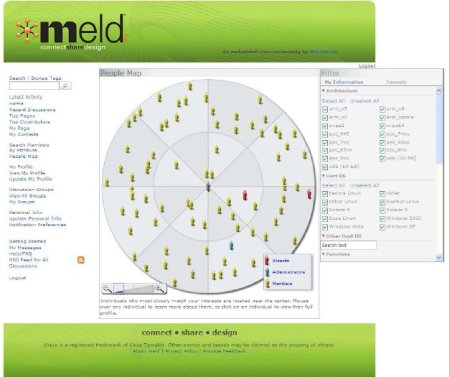 Meld's People Map
(Click to enlarge)
In addition to filling a "community" gap for embedded Linux developers, MontaVista also saw an opportunity to offer a more attractive and useful community experience with newer web technologies and social networking features such as the People Map (pictured above). With Meld, everyone has the option to indicate tech preferences, architecture, and host OS when they join, and then the People Map uses this information to draw a social networking map for developers. It places the user at the center of a graphical radar screen, with other member icons arrayed in the circle, and their proximity determined by shared technical interest. A member can identify others by clicking through various filters, and then click on the user icon to see what posts other members have made, send them private message, or meet them in a forum.
"There's a real desire out there in the development community to connect with other like-minded users," added Bertholdt.
Availability
MontaVista's Meld site is open for free registration now, here.
---

This article was originally published on LinuxDevices.com and has been donated to the open source community by QuinStreet Inc. Please visit LinuxToday.com for up-to-date news and articles about Linux and open source.