Aug 13, 2010 — by Jonathan Angel — from the LinuxDevices Archive — 10 views
Axon Logic announced a 10-inch tablet designed to run Linux, Windows, or — the company coyly suggests — Apple's OS X. The Axon Haptic has a 320GB hard drive for multiple operating system (OS) installation, a resistive touchscreen, optional Bluetooth and Verizon-compatible 3G, plus a 1.6GHz Atom N270 processor, the company says.
Axon touts its Haptic tablet as giving "you the choice of easily choosing which OS you want to boot up to, whether you want Linux the one day or Windows the next."
The device apparently ships without any installed operating system, but a hidden hard disk partition is said to include the kernel and system-specific kexts (kernel extensions) for Darwin, the open-source, UNIX-like OS that's at the heart of Apple's OS X. "That means you can effortlessly install your favorite Darwin OS," the company adds.
Darwin, currently available in a distribution known as Pure Darwin, cannot itself run Macintosh OS X applications. But, by including the Apple logo on an image of the Haptic (below), Axon is clearly suggesting that its tablet will be able to run the Mac OS.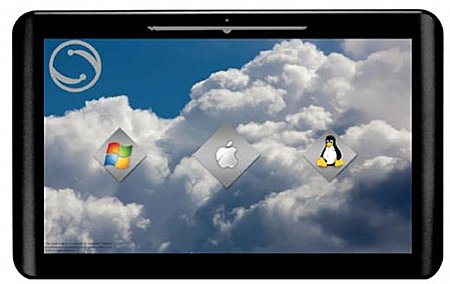 Axon Logic's Haptic
The company says coyly, "Apple Inc.'s Snow Leopard is a Darwin OS; however, the EULA specifically prohibits installation on a 'non-Apple-branded' computer."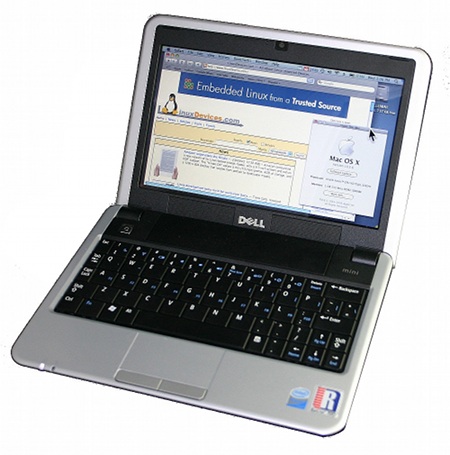 While Apple's legal eagles are likely to pounce on Axon's logo usage at the very least, the notion that the Haptic tablet can run Snow Leopard is entirely credible. After all, the "Hackintosh" community has been putting OS X on Atom N270-based devices — such as the Dell Mini 9 pictured at right — for several years, using tools such as Netbook Installer.
Axon's Haptic paves the way by sticking with the N270 itself, along with the tried-and-true 945GSE and ICH7M southbridge. And, just like a zillion — yes, that's our latest count — netbooks, the device has a 10.1-inch screen with 1024 x 600 resolution.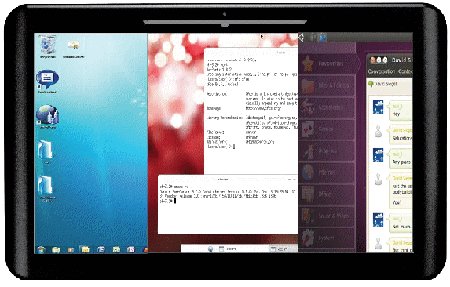 The Haptic running Darwin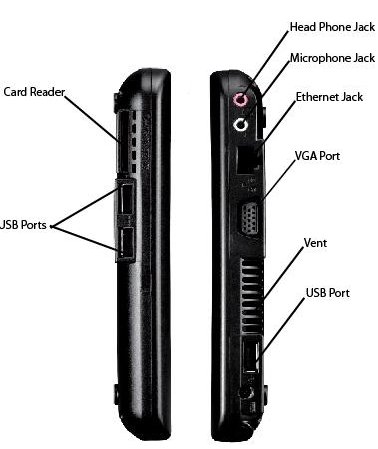 The Axon Haptic includes a resistive touchscreen, said to be operable either via a stylus, fingers, or a gloved hand. In an apparent dig at Apple's iPad, Axon adds, "Most important, don't be limited to what you touch. Touch a full-blown OS instead of an OS meant for a phone."
The Haptic's other hardware ingredients are netbook-like, including a 320GB SATA hard disk drive, 2GB of RAM, and a 1.3 megapixel webcam. As pictured at right, the tablet is also said to include three USB 2.0 ports, a memory card reader, an Ethernet port, a VGA port, plus headphone and microphone jacks.
According to Axon, wireless capabilities include 802.11a/b/g/n local area networking, plus optional Bluetooth and a CDMA cellular modem compatible with the Verizon network. The two-pound Haptic is said to have a 3000mAh removable battery, though expected life wasn't specified.
The Crunch Gear blog yesterday posted the blurry photo below, purporting to show the Haptic running Apple's Macintosh OS X.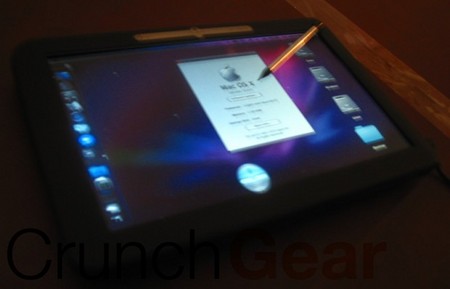 Axon's Haptic running Apple's Mac OS X
Source: CrunchGear
(Click to enlarge)
Further information
Axon, whose website is still a work in progress, did not provide a data sheet or further specifications for the Haptic. However, the device's hardware appears very similar to the S1, a tablet from Shenzhen-based Cool Rui Technology. Further details may be found on that company's website, here.
Axon's own page devoted to the Haptic may be found here. According to the company, the device will cost $750, and pre-orders are being taken now.
The CrunchGear item alluded to above may be found here.
---
This article was originally published on LinuxDevices.com and has been donated to the open source community by QuinStreet Inc. Please visit LinuxToday.com for up-to-date news and articles about Linux and open source.