Feb 13, 2006 — by LinuxDevices Staff — from the LinuxDevices Archive — 1 views

Linux smartphone pioneer E28 Limited has partnered with fixed-mobile convergence (FMC) infrastucture equipment pioneer Bridgeport Networks to demonstrate 3G/WiFi live-call handoff, at 3GSM this week in Barcelona. The joint technology uses Linux extensively, and offers operators a standards-based dual-mode package based on devices with feature-phone pricing.
E28 and BridgePort say their combined product offering is the first to conform to Voice Call Continuity (VCC) requirements recently defined by the 3GPP as part of its IMS (IP-multimedia subsystem) specification. IMS is a 3GPP umbrella framework aimed at converging cellular and Internet services.
E28 last month joined MobileIgnite, an industry association founded by Bridgeport and devoted to promoting the interoperability of SIP and IMS based fixed-mobile convergence (FMC) applications. FMC describes the enablement of mobile phones to use fixed network technologies, such as corporate LANs, WiFi networks, and VoIP PBXs. MobileIgnite has 29 members, including several mid-sized handset makers and Linux mobile phone software vendors.
According to BridgePort, E28's Linux-based FMC smartphone design is the first IMS-compatible device suitable for mass market deployment. CEO Mike Mulica explains, "Until now, all dual-mode device implementations of SIP and IMS based FMC have used relatively high-cost PDAs with very limited battery life. We can offer a true mass market smartphone solution for single number GSM/Wi-Fi voice and data convergence that meets the feature phone pricing, usability, and form factor needs of the consumer market."
Mulica adds, "Consumer seamless mobility is ready for market trials with realistic phones. With these devices, the cost and volume business case for operators is transformed."
The companies worked together to integrate E28's Linux-based smartphone designs with BridgePort Networks' MobileVoIP network equipment, BridgePort says.
E28 Founder Roger I. Kung stated, "MobileVoIP offers consumers an entirely new realm of flexibility in the mobile environment, through new applications and service offerings. Handsets are the touch points with consumers, therefore service providers and mobile phone manufacturers seek to offer compelling phone designs that are functional, stylish and feature rich. We've helped take some of the heavy lifting by delivering designs that meet the demanding requirements of today's mobile users."
E28's Linux mobile phone designs
E28 was the first company in the world to ship a smartphone based on Linux, and the company now offers five Linux-based smartphone designs. E28's current designs are intended to be customized and re-branded by service providers, and as such, are given only codenames, rather than product names. Current models (click for photo) include:
The E28 phones have 2.2-inch QVGA (320 x 240) LCD displays, and TransFlash external memory slots. E28 says its phone designs offer three hours of talk time, on either Wi-Fi VoIP or GSM, and 72 hours of standby time.
E28's phones are based on a Texas Instruments OMAP730, a highly integrated mobile phone processor that integrates an ARM9 applications processor with an ARM7/DSP baseband processor in a single chip, according to the company.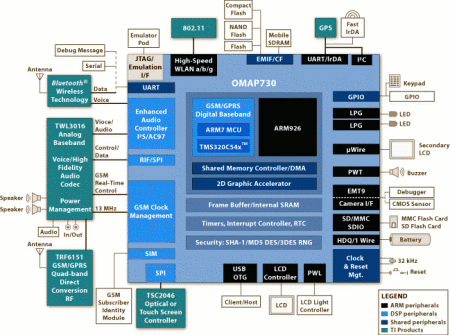 TI's OMAP730 is a single-chip mobile phone chipset
(Click to enlarge)
E28's Dual Mode, or "Hawk" FMC phone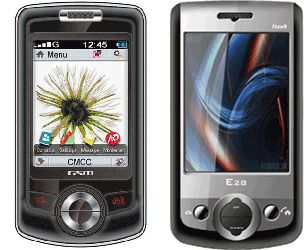 The Hawk FMC design has a "candybar" form-factor, measuring 4.1 x 1.9 x 0.6 inches (105 x 49 x 14 mm). It is available in two tri-band GSM/GPRS configurations (900/1800/1900 MHz or 850/1800/1900MHZ), and also supports WiFi 802.11b. It can be configured with a touch-pad screen and with an optional key pad, E28 says.
Multimedia software features include a two-megapixel camera, video recording and playback, MP3 player, picture address book, PIM functionality, SMS and MMS client, an Access Netfront web browser (HTML and WAP 2.0), Esmertec J2ME, and an email (POP, SMTP, eSMTP) client.
BridgePort's Networks NomadicOne
BridgePort's NomadicOne IMS is based on a blade chassis from IBM, and runs a Red Hat Linux operating system. It also runs an Oracle database, along with BridgePort's IMS software suite.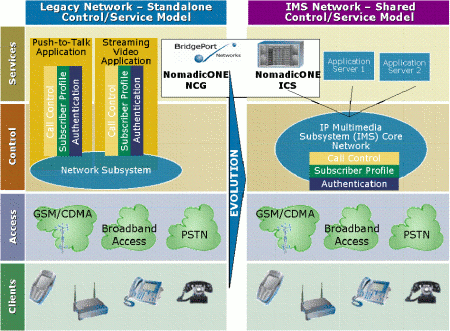 NomadicOne is available in legacy and IMS-based models
(Click to enlarge)
According to BridgePort, the NomadicOne supports:
The 3GPP's ICM- and 3GPP2 CTM-based call handover with integrated NeDS/CCCF functionality
IS41/GSM MAP Convergence Enhancements – messaging,
supplementary services, improved handover performance
Variety of Supported dual-mode devices, including Linux-based feature phones, Symbian V9.1, and Windows Mobile 2003 and 5.0, under both GSM/WiFi or CDMA/WiFi
A whitepaper is available from BridgePort that explains how its seamless MobileVoIP handover works (PDF download, rich with phone jargon).
---

This article was originally published on LinuxDevices.com and has been donated to the open source community by QuinStreet Inc. Please visit LinuxToday.com for up-to-date news and articles about Linux and open source.