Jan 12, 2010 — by Eric Brown — from the LinuxDevices Archive — 2 views
At CES, Nvidia demonstrated tablet-PC prototypes incorporating its Tegra 250 processor, including a Linux-based model from Foxconn, and Android-based models from ICD and Notion Ink, the latter using Pixel Qi display technology. Meanwhile, an Android version of HP's Windows-based "Slate" computer is on the way, say several reports.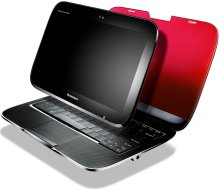 Consumer tablet computers (also called "slates") were the hot ticket at last week's Consumer Electronics Show (CES) 2010, although most of them were either prototypes like the HP slate (see farther below) or reference designs, such as Freescale's "smartbook" tablet design. Some appear to be reworked MIDs (mobile Internet devices) whose manufacturers now prefer to call them something more fashionable, such as Dell's 5-inch display "Streak" prototype. Others, meanwhile, are actually detachable screens incorporated into netbook designs, such as Lenovo's impressive looking IdeaPad U1 (pictured above, at right).
According to several reports, vendors are rushing to beat Apple to market for its highly anticipated tablet computer, hoping to ward off another iPhone phenomenon.
Meanwhile, as we reported last week, NVidia announced a new version of its Tegra processor, the Tegra 250 (sometimes called Tegra 2) system-on-chip (SoC), which it is touting as being "specifically designed for tablets." The Tegra 250 offers up to four times the performance of the previous Tegras, and can easily handle 1080p video playback, claims Nvidia. The SoC includes eight independent processors, and incorporates a dual-core version of ARM's Cortex-A9, clocked at up to 1GHz.

At CES, Nvidia showed five prototypes of Tegra 250-based tablets, two of which are said to run Android: Notion Ink's Adam and the Ultra from Innovative Converged Devices (ICD). We covered the Ultra (pictured at left) earlier today in a separate story, here, that also covered ICD's 15.6-inch Android tablet/kitchen computer.
Foxconn, meanwhile, showed off a Linux-based tablet prototype using the Tegra 250, and Compal and MSI were said to have demonstrated Windows-based devices. Foxconn's website does not appear to offer any information on the tablet, but a PC Magazine story on the Nvidia event by Cisco Cheng reports that the Foxconn device is a 10-inch capacitive touch-panel that runs a custom Linux UI.
Cheng notes that the device was shown running 720p and 1080p video clips, and has two full-size USB ports and a headphone jack. He also says the tablet is the thickest of the five tablets.
Notion Ink's Adam
Of all the Tegra-based tablet prototypes, the Adam prototype from India-based start-up Notion Ink appears to be garnering the most attention. The Adam was tipped last month, but there has yet to be a formal announcement, and the device is not likely to ship until at least April, according to reports. The company did post some photos of the device, however, (see images below), and several sources offered quickie hands-on reviews from CES.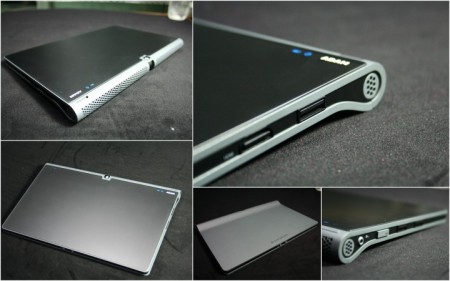 Notion Ink's Adam prototype
(Click to enlarge)
One of the evaluations comes from Mark Spoonauer at
Laptop,
which calls the Adam one of the few new devices at CES that made him say "Wow." The 10-inch (1024 x 600) touchscreen tablet is notable not only for its Tegra 250 processor, but also for its Pixel Qi dual-mode display, which enables users to switch from full-color mode to a monochrome ePaper mode with the push of a button, says
Laptop.
Notion Ink was also said to have told Spoonauer that the Adam's ePaper-mode battery life will be far longer than that of the Amazon Kindle e-reader.
The Pixel Qi technology is also notable for its low power consumption, fast video rate refresh, fully saturated color, low pricing, and its ability to be read in both ambient light and sunlight, says Pixel Qi. The company was created by former OLPC display technologist Mary Lou Jepsen, who invented the XO netbook's breakthrough, low-power display, and the new Pixel Qi technology is likely to appear in OLPC's next-generation XO-3 tablet device, due in 2012. Pixel Qi's flagship 10.1-inch display is now available for mini-laptops, multi-touch tablets, and e-book readers, says the company.
Aside from the Adam's HD-ready processor and cutting-edge display, the tablet is also notable because Notion Ink has developed "a wrapper around Android that will enable spectacular gameplay and incredibly zippy JavaScript performance with a tailor-made WebKit browser," says Laptop.
Spoonauer also liked the back-mounted touchpad, a trendy addition intended to avoid interference in viewing the display. Similar rear-mounted touchpads have appeared recently on devices such as Motorola's Backflip Android phone.
At PC, Cheng was just as enthusiastic in his hands-on evaluation of the Adam, saying that the Notion Ink tablet was "the most promising" out of the five Tegra tablets unveiled. According to the story, the device will offer an HDMI port, three USB ports, 3G, WiFi and accelerometers and sell for around $400. The company is hoping to sell the device via wireless carriers.

HP's smartbook and rumored Android Slate
As we noted last week, HP unveiled a Qualcomm Snapdragon-based Android "smartbook" prototype, (shown at right in an Engadget shot), while also announcing three netbooks using Intel's N450 "Pineview" processor that support SUSE Linux: the Mini 210, Mini 2102, and Mini 5102.
According to an eWEEK report by Chris Preimesberger, HP's ARM-based netbook was featured in a Qualcomm event at CES that also featured — somewhat awkwardly, thought Preimesberger — HP's rival Lenovo. The latter announced its own Skylight netbook (featured below at left), similarly running a Snapdragon.
Lenovo's aforementioned IdeaPad U1, which seems to have been one of the highlights of CES, according to numerous reports, is equipped with both an Intel Core 2 Duo and a Snapdragon processor.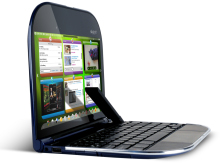 According to eWEEK, HP executive Todd Bradley described HP's unnamed touchscreen smartbook as a "thin, 3G device with an all-day battery." Bradley was further quoted as saying that, "It'll be an always-on device. Shut the lid and it stays connected to receive email. When you power it up later, your email is there waiting for you."
Bradley went on to describe the smartbook as having an "improved UI," with enhanced launch strip, a camera file manager, browser, messaging, and tabs for multiple pages like Firefox, says the story. "It'll have a preinstalled Exchange connection, so you can open an email attachment in Office," he was quoted as saying. "We'll also have new photo and music apps."

Last week at CES, Microsoft showed off an HP-manufactured "Slate" tablet running Windows 7, but did not offer many details about the device. (The prototype is shown in the TechCrunch image at right along with Microsoft CEO Steve Ballmer, plotting how to steal Apple's tablet thunder.)
Now TechCrunch's Erick Schonfeld is quoting an unnamed source as saying that HP also has an Android version of the Slate underway that looks identical to the Windows-powered Slate, except for being a little smaller.
According to The New York Times, meanwhile, HP is not only working on an Android tablet, but possibly one that runs Linux. The story by Nick Bilton, which quotes a different source, says that the Android version is much smaller — about twice the size of an iPhone.
Availability
More information on Notion Ink's Adam tablet prototype may be found here. The Laptop story on the Adam should be here, and the PC story should be here.
The eWEEK story on HP's smartbook prototype should be here, and the TechCrunch and The New York Times stories on HP's rumored Android-powered version of the Slate should be here and here, respectively.
---
This article was originally published on LinuxDevices.com and has been donated to the open source community by QuinStreet Inc. Please visit LinuxToday.com for up-to-date news and articles about Linux and open source.