May 12, 2010 — by Eric Brown — from the LinuxDevices Archive — views
Verizon Wireless CEO Lowell McAdam reportedly told the Wall Street Journal that it is working with Google on the latter's widely rumored Android based tablet computer. Meanwhile, an "HP insider" is said to have told Examiner.com that HP will release a WebOS-based tablet computer in the third quarter, code-named the HP Hurricane.
Despite Verizon Wireless canceling plans to offer Google's Nexus One phone, the McAdam interview suggests "a deepening relationship between the largest U.S. wireless carrier by subscribers and Google," writes Niraj Sheth in the Wall Street Journal. In an article stemming from an interview with Verizon Wireless' CEO McAdam, Sheth said the company was working with Google on preparing an Android tablet, but did not mention the manufacturer, features, or what sort of branding the tablet would carry.
Nor did McAdam specifically mention timing, although subsequent remarks suggest that the tablet may not arrive on Verizon until the first quarter of 2011 (see farther below).
"What do we think the next big wave of opportunities are?" McAdam was quoted as saying. "We're working on tablets together, for example. We're looking at all the things Google has in its archives that we could put on a tablet to make it a great experience."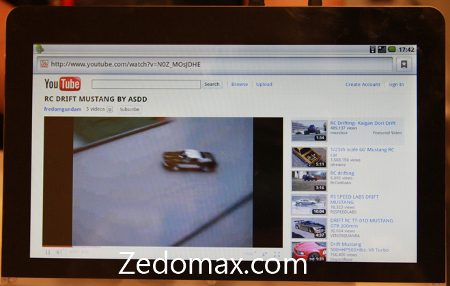 Google's Android tablet prototype running Adobe Flash and Air 2
(Source: ZedoMax)
Last month,
The New York Times
reported
that Google was working on a tablet computer based on Android instead of the expected Chrome OS. Last week,
ZedoMax
published a video of Adobe showing a prototype of an Android tablet from Google at Web 2.0 in San Francisco, running Adobe's Flash and AIR apps (see image above).
By the time Google and Verizon release their tablet, the market may already be awash in Android tablets. Yet, Verizon and Google may hope to bring enough name recognition and marketing clout to compete with the Apple iPad, which has already sold over one million units on AT&T's GSM-based 3G network. (AT&T also hosts Amazon's popular, Linux-based Kindle e-reader tablet.)
The Wall Street Journal article quotes Verizon CEO McAdam as acknowledging that Verizon will have to play catch-up to compete with AT&T in tablets. "They were able to get out of the box faster," McAdam was quoted as saying.
According to the Journal's Sheth, Verizon has been handicapped by its aging CDMA network technology, which is currently undergoing a major overhaul, but said that "his company will have devices ready to show early next year." Verizon hopes to run the upgraded network in 25 to 30 cities by the end of the year, says the story.
McAdam also told the journal that the higher bandwidth and new devices such as tablets will bring an end to unlimited-use pricing plans. Instead he expects carriers to take an approach that targets a "bucket of megabytes," writes Sheth. The story also reports that a Google spokesman declined to comment on a Verizon Android tablet.
Riding the Tegra
Last we

ek, after news of the Android tablet prototype emerged from Web 2.0, our sister publication eWEEK received confirmation from Adobe that the prototype ran Android, Flash, and AIR 2. The spokesperson also said the device ran on an Nvidia Tegra 2 system-on-chip (SoC). The Tegra 2 has been the processor of choice among a number of recently announced Android tablets, such as the Aigo N700 (pictured).
With the Tegra 2, Nvidia appears to have fulfilled the destiny that Qualcomm imagined for itself when it announced its expectations of a new wave of "smartbooks" based on its Qualcomm Snapdragon processor. Yet the only notable Snapdragon-based smartbook to be announced so far is the Lenovo Skylight, which is more of a netbook than a tablet.
As a not-so-shabby consolation prize, however, Qualcomm and its Snapdragon have run away with the high-end smartphone market. For example, the HTC Incredible, which is currently considered the state of the art in Android smartphones, is being sold by Verizon in place of the similarly Snapdragon-based Nexus One.
HP to enter heavyweight tablet fight with "Hurricane"?
After HP announced late last month that it had agreed to purchase Palm for $1.2 billion, it was widely speculated that the computer giant was more interested in using Palm's Linux-based WebOS operating system for tablets rather than smartphones. This week "an insider at HP" told Examiner.com that the company was developing a WebOS tablet under the code name HP Hurricane, to be released the third quarter of this year.
The talk about an HP tablet had earlier been fed by rumors that HP might drop its plans for a Windows 7-based "Slate" tablet. (Receiving less play, the Palm acquisition also suggested that HP would drop its rumored Android version of the Slate.)
According to the Examiner, the "Hurricane" tip strengthens the notion that the Slate, at least as currently prototyped, is dead in the water. The combination of the desktop version of Windows 7 with an aging 1.6GHz Atom Z530 CPU, helped turn the Slate into a hog, suggests Examiner.com.
"It is a really interesting device, but runs as slow as a turtle," the story quotes industry analyst Paul Mueller as saying. He goes on to state, referring to the Hurricane, "If rumors of this tablet are true, this can be a killer device — webOS is an outstanding operating system for a tablet."
An eWEEK story on the Hurricane tip, meanwhile, quotes Endpoint Technologies analyst Roger Kay as saying that a third-quarter tablet launch is a faster turn-around time than many expected.
"That schedule seems to imply that the project was already underway when the deal was announced," Kay was quoted as saying. "HP was very circumspect two weeks ago at an analyst day held in Cupertino."
And don't forget Ubuntu and MeeGo
HP and Google will have more than the iPad and Android to worry about when they release their tablet. Microsoft, which dominates today's corporate and vertical-market tablet PC market, is unlikely to miss out on the consumer tablet stampede, and by next year there may be slimmed-down tablets based on Windows Embedded Standard 7.
On Linux, there are already numerous Ubuntu Linux based tablets on the market. Meanwhile, Canonical's new "Unity" desktop environment for Ubuntu appears to target tablets as well as netbooks with advanced touch functionality.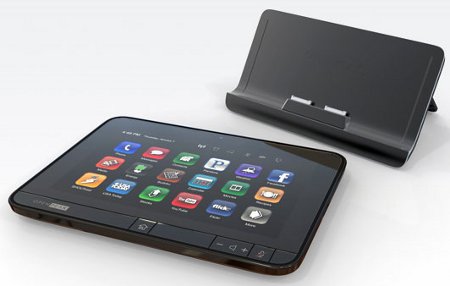 OpenPeak's OpenTablet 7 detached
Intel's new
Atom Z6xx "Moorestown"
processor, meanwhile, is heading for tablets running the Moblin Linux-based
MeeGo
operating system, which Intel is supporting along with Nokia. Already, OpenPeak has announced an
OpenTablet 7
device (pictured above) designed to run Moblin and MeeGo on the Atom Z6xx.
As an earlier story in eWEEK notes, many industry analysts see the energy-efficient MeeGo on Moorestown as a much more compelling platform for tablets than Moblin running on today's Intel Atom processors (see link below).
Availability
The Wall Street Journal story on Verizon's collaboration with Google on an Android tablet may be found here. An eWEEK story on the development may be found here, and an earlier story about Google's Android tablet may be found here.
The Examiner.com story on the HP Hurricane tablet should be here, and eWEEK's follow-up story may be found here.
eWEEK's earlier analysis piece on the role of the Z6xx Moorestown processor in consumer devices should be here.
---
This article was originally published on LinuxDevices.com and has been donated to the open source community by QuinStreet Inc. Please visit LinuxToday.com for up-to-date news and articles about Linux and open source.