Apr 23, 2009 — by Eric Brown — from the LinuxDevices Archive — 1 views

Satel announced a "smart radio modem" for long-distance industrial radio communications networks, combining TCP/IP functionality with a Linux development platform. The Satellar Digital System is based on an ARM9 processor, offers a modular design, and has a range of over 10 to 20 kilometers, says Satel.
(Click for larger view of the Satellar, fully equipped with radio and expansion module)
Despite its name, the Satellar is not a satellite radio, but a long-distance radio modem designed to operate on private networks in remote areas where phone cables are not available. Applications include oil and gas discovery, wind farms, electrical networks, and water distribution systems, says Finland-based Satel. With its wide temperature range, the Satellar is also touted for its abilities in applications ranging from snow guns (for preemptively setting off avalanches) to SCADA systems for monitoring oil or gas pipelines in the desert.
The Satellar is available with three modular units: a central unit housing a 200MHz ARM9 processor, a radio unit, and an expansion unit that offers an additional radio. The central unit's ARM9 processor is supported with 64MB RAM and 128MB of flash, says Satel.
Measuring 5.1 x 0.9 x 3 inches (130 x 21.7 x 76.5mm), the unit is equipped with a 2.4-inch, 320 x 240 display, as well as an Ethernet port and both USB host and device ports. The central unit can also be bought in a version that lacks the display, in which case it consumes about 1.4 Watts. The display version, meanwhile, is said to consume 2.0 Watts.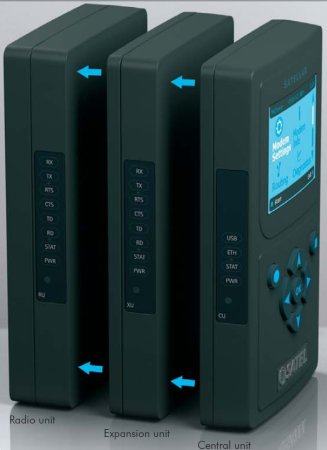 Satellar modules
(Click to enlarge)
The unit's flash memory holds customer-specific software applications, the unnamed Linux OS, an IP router, and a web configuration server. The Satellar supports networking capabilities that include SNMP, SSH, and firewalls, and its Linux distribution includes BusyBox, uClibc, and SQLite, according to the company.
The Satellar radio unit is said to provide a 20MHz tuning range within the 380MHz to 520MHz UHF frequency band. Offering a transmit power of up to 1 Watt and a receiver sensitivity of -119 dBm, the modem can deliver a range of over 10km (a little over six miles) in urban environments and over 20 kmin remote line-of-site deployments, claims the company.
Satel says customers can configure the carrier frequency in 6.25kHz steps and set the channel width to 12.5 or 25 kHz. Like the central unit, the radio unit is equipped with a rugged aluminum housing and offers a temperature range of -22 to 167 deg. F (-30 to 75 deg. C).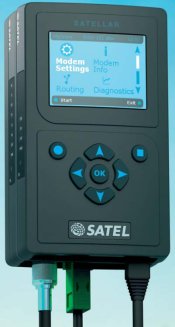 Satellar without expansion module
(Click to enlarge)
Typically, the central unit and radio units are combined when used in a network as a master station or in locations where an Ethernet connection is required, says the company. In radio router stations, however, the central unit may not be required, in which case the radio unit can stand alone.
Combined product packages, which can be enhanced with expansion radio modules, include:
Satellar-2DS — central unit and radio unit combined for full TCP/IP connectivity, but without display and keypad
Satellar-2DSd — same as Satellar-2DS, but equipped with a display and keypad
Satellar-1DS — radio unit alone
The Satellar offers a choice of two data transfer modes: transparent or packet. In transparent mode it is essentially replacing a wireline, using standard RS-232, RS-485, or RS-422 protocols. Designed for large networks of several hundred modems, transparent mode is optimized for low latency.
In packet mode, the Satellar can operate as a wireless bridge or router in an IP-based network. Packet mode is optimized for ease of use over latency, and enables collision avoidance on the air interface and packet routing in the radio modem network, says the company. Between these modes, numerous network topologies are said to be possible, from point-to-point links to a nationwide chain with multiple branches.
Stated Tuomas Pitkanen, CEO of Satel, "Our radio modems have been reputable for their reliability to transfer data wirelessly in critical systems. Now we are able to go much further and provide an environment for developing the exactly right applications our customers need for their systems. As fewer devices are needed to achieve the desired functionalities, costs and complexity can be lowered."
Availability
Satel did not provide pricing or availability information on Satellar, but more information may be found here.
---

This article was originally published on LinuxDevices.com and has been donated to the open source community by QuinStreet Inc. Please visit LinuxToday.com for up-to-date news and articles about Linux and open source.