Dec 13, 2011 — by Eric Brown — from the LinuxDevices Archive — 6 views
AndersDX has begun distributing CompuLab's Linux-compatible fit-PC3 mini-PCs in Europe, two weeks after CompuLab started shipping them from its online store in Israel. The fanless devices offer dual-core AMD G-series processors, up to 8GB of DDR3 memory, plus proprietary expansion modules, Mini PCI Express slots, and both HDMI and DisplayPort video outputs.
CompuLab announced the fit-PC3 in January with relatively few details and no announced price or ship date. It appears the device did not ship until late November, however, judging from this Slash-Gear story and other reports that came out at that time.
Now, Israel-based CompuLab offers more details on the computers, and its European distribution partner AndersDX is shipping the computer exclusively in the U.K., while also making it available in Europe.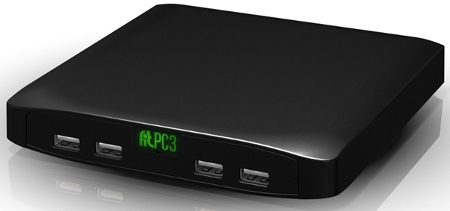 CompuLab fit-PC3 with basic FACE expansion module featuring four front-facing USB 2.0 ports
(Click to enlarge)
Tiny computers seem to be all the rage in Israel these days, as Israeli start-up Solid-Run just announced the availability of a 2.17 x 2.17 x 1.65-inch ARM-based computer called the
CuBox
. Earlier this year, CompuLab announced its own ARM-based mini-PC called the
Trim-Slice
, running Linux on an Nvidia Tegra 2 processor.


Standard rear I/O (left) and front-facing FACE module with four USB ports
(Click to enlarge)
The fit-PC 3 instead upgrades the company's older fit-PC line of x86 PCs, and is available as a barebones unit, or with Linux or Windows 7 preloaded. The fit-PC3 is billed as the most powerful member to date in CompuLab's line of Linux-compatible mini-PCs, which earlier included the Intel Atom-based
fit-PC2 and fit-PC2i
plus the AMD Geode-based
fit-PC
and
Fit-PC Slim
.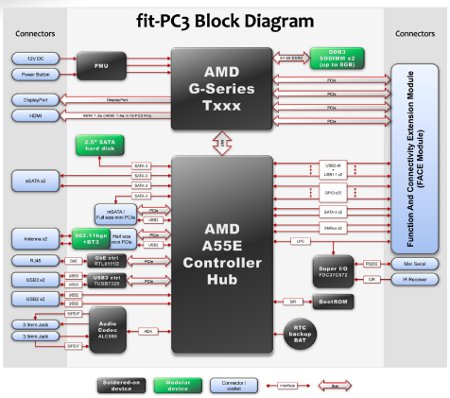 fit-PC3 block diagram
(Click to enlarge)
The fit-PC3 moves to the AMD Embedded G-Series line of processors, which integrate a single- or dual-core x86 CPU and discrete-class Radeon HD graphics processing units (GPU). CompuLab originally announced the computer with a choice of AMD's G-Series 1GHz T48N or 1.6GHz T56N. Now, the T48N has been replaced with three other options.
The four fit-PC3 models include the Value (AMD T44R, single-core, 1.2GHz), Basic (T40E, dual-core, 1GHz), LP (T40N, dual-core, 1GHz), and Pro (T56N, dual-core, 1.65GHz). The models vary in power consumption and the level of Radeon graphics supplied, but are otherwise identical.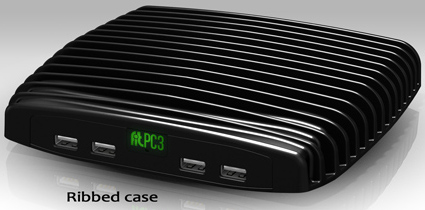 Top-of-the-line fit-PC3 Pro with ribbed casing
The exception is the Pro, which adds a bit to the standard 6.3 x 6.3 x 0.98-inch dimensions due to its ribbed case (pictured above), which presumably is required to handle the heat dissipation from the faster T56N. The Pro model also moves from HDMI 1.3 to HDMI 1.4, providing stereo 3D capabilities, says the company.
The fit-PC3 is passively cooled and protected by die-cast aluminum for industrial settings, says CompuLab. The company now offers power consumption estimates, claiming seven Watts and 15 Watts at idle and full load respectively for the Basic model, moving up to nine Watts and 24 Watts respectively for the Pro (see spec sheet below).
The previous fit-PC2 and fit-PC2i, which ran on the single-core 1.6GHz Intel Atom Z530 or 1.1GHz Atom Z510, were said to run at 10 Watts and 9 Watts respectively at full load.
The fit-PC3 offers standard I/O on one side and a front-facing expansion slot that has now been given a name: Function and Connectivity Extension (FACE). FACE modules can mix and match up to four PCI Express (PCIe) lanes, six USB 2.0 ports, two USB 1.1 ports, as well as SATA, SMbus, and LPC interfaces and up to 25 GPIOs, says CompuLab.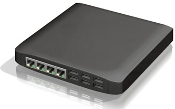 Custom FACE modules are said to be available for applications including networking, instrumentation, surveillance, and industrial control. For example, the model shown at the top of this story offers a FACE module with four USB 2.0 ports, while the model pictured at right features a FACE module with four gigabit Ethernet ports and six USB 2.0 ports. Reference designs are also said to be available that allow customers to create their own FACE modules.
While originally listed as offering up to 4GB of 1333MHz DDR3 memory via dual SODIMM sockets, the shipping models support up to 8GB. The box is supplied with a dual-head HDMI + DisplayPort video connection, says CompuLab. Digital 7.1 channel S/PDIF audio is said to be available, as are stereo line-out, line-in, and mic ports.
An internal 2.5-inch SATA hard disk drive (HDD) bay is provided. In addition, dual eSATA ports and dual mini-PCIe sockets are available, one of the latter supporting a wireless module (802.11n and Bluetooth 3.0) and the other supporting mSATA devices, says the company.
The fit-PC3 supplies a gigabit Ethernet port, and four USB 2.0 ports, including two USB 3.0 ports, says CompuLab. Other I/O is said to include a serial port and an infrared connection.
Features and specifications listed for the fit-PC3, from either CompuLab or AndersDX, include:
Processors:

Value — AMD G-T44R (single-core, 1.2GHz, 9W TDP); Radeon HD 6250 GPU
Basic — AMD G-T40E (dual-core, 1GHz, 9W TDP); Radeon HD 6250
LP — AMD G-T40N (dual-core, 1GHz, 6.4W); Radeon HD 6290
Pro — AMD G-T56N (dual-core, 1.65GHz, 18W TDP); Radeon HD 6320

Chipset — AMD A550E controller hub
Memory — up to 8GB of DDR3 (1333MHz, 64-bit) via 2 x SODIMM sockets (configurable)
Expansion:

mini-PCIe half-size (for wireless)
mini-PCIe full-size (for mSATA)
FACE proprietary expansion connector module options:

4 x PCIe
6 x USB 2.0; 2 x USB 1.1
2 x SATA
25 x GPIO
4 x SMBus; 1 x SPI
LPC

Storage:

2.5-inch HDD bay (configurable with HDD)
2 x eSATA ports up to 6Gbps
mSATA (multiplexed with full-size mini-PCIe)

Wireless (via mini-PCIe) — 802.11b/g/n with 2 x antennas; Bluetooth 3.0
Networking — gigabit Ethernet
Other I/O:

2 x USB 3.0 host
2 x USB 2.0 host
RS232
IR
DisplayPort (up to 2560 x 1600 pixels)
HDMI 1.3 (HDMI 1.4 with stereo 3D on Pro model only); both up to 1920 x 1200 pixels
Stereo line-out, line-in
7.1-channel SPDIF (via 3.5mm jack)

Power — unregulated 8-16 V input
Power consumption:

Value — TBD
Basic — 7-15W
LP — 8-17W
Pro — 9-24W

Dimensions — 6.3 x 6.3 x 0.98 inches (16 x 16 x 2.5cm); Pro: 7.48 x 6.3 x 1.57 inches (19 x 16 x 4cm)
Availability
CompuLab is now shipping the fit-PC3 from its fit-PC3 online store. Shipping, which like duty and VAT, is not included in the following prices, takes five to eight weeks.
Prices for barebones (no OS) models range from $345 for the Value model with 2GB of RAM to $403 for the 4GB Basic model, $415 for the 4G LP, and $446 for the 4GB Pro. Add to that about $80 for preinstalled Linux, and about $150 for preinstalled Windows 7.
In the U.K., the fit-PC3 is now being sold exclusively by AndersDX, which will also supply it throughout Europe. More information can be found at the AndersDX fit-PC3 page.
---
This article was originally published on LinuxDevices.com and has been donated to the open source community by QuinStreet Inc. Please visit LinuxToday.com for up-to-date news and articles about Linux and open source.