Jan 19, 2011 — by Eric Brown — from the LinuxDevices Archive — 10 views
Israeli computer firm CompuLab announced the first embedded industrial computer based on dual-core AMD G-series processors — either the 1.6GHz T56N or the 1GHz T48N. Measuring 6.3 x 6.3 x 0.98 inches, the fanless fit-PC3 offers 4GB of DDR3 memory, SATA 3 storage, an HDMI output, a Mini PCI Express slot, and a new "custom" expansion slot, according to the company.

The fit-PC3 is billed as the most powerful member to date in CompuLab's line of Linux-compatible mini-PCs, including last June's Intel Atom-based fit-PC2 and fit-PC2i (pictured). The earlier fit-PC and Fit-PC Slim both ran on AMD Geode processors.
The fit-PC3 moves to the AMD Embedded G-Series line of processors that were announced earlier today. The Embedded G-Series integrates a dual-core x86 CPU and discrete-class graphics processing unit (GPU) into a single accelerated processing unit referred to by AMD as an APU (accelerated processing unit).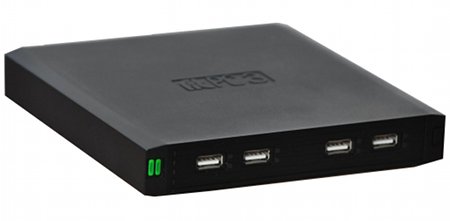 CompuLab fit-PC3
(Click to enlarge)

The G-Series represents the embedded wing of AMD's new family of "Fusion" line of processors — the fruit of the company's 2006 acquisition of ATI. Fusion CPUs appear to provide significantly better graphics than either Intel's Atom processors or its recently released "Sandy Bridge" Core processors. Intel's chips can only manage DirectX 10, whereas the Fusion offerings do "full" DirectX 11 and support OpenCL 1.1, OpenGL 3.2, and 2.1. They also have dedicated hardware for HD video (H.264, VC-1, and MPEG2 decoding), according to AMD.
The five new "G-series" Fusion parts — with clock speeds ranging from 1.0GHz to 1.6GHz — take AMD's fight against the Atom into embedded territory. According to AMD, its two-chip platform is about 13 percent smaller than Intel's Atom E6xx platform, and 60 percent smaller than the Atom 4xx/5xx ("Pineview") platforms.
The Atom is still superior at power conservation, however. While CompuLab does not list power consumption for the fit-PC3, the previous fit-PC2 and fit-PC2i, which ran on the single-core 1.6GHz Intel Atom Z530 or 1.1GHz Atom Z510, were said to run at 10 Watts and 9 Watts respectively. The TDPs listed by AMD for the CPUs employed in the fit-PC3 are 18 Watts for the 1.6Hz AMD T56N and 9 Watts for the 1GHz T40N.
Keep in mind, however, that the T56N and T40N are both dual core processors. (For more details on the G-Series, see our earlier G-Series coverage.)
New extension card slot available for expansion
The fit-PC3 is passively cooled and protected by die-cast aluminum for industrial settings, says CompuLab. Despite the smaller footprint of the G-Series processors, the fit-PC3 measures 6.3 x 6.3 x 0.98 inches (16 x 16 x 2.5cm), up considerably from the fit-PC2 and fit-PC2i, both of which measured 4.5 x 4 x 1.05 inches.
In part, the larger size may be due to the device's expansion slot, which will be offered with cards "that can be easily tailored to fit custom I/O requirements and to effectively bring out the rich set of interfaces provided by AMD Embedded G-Series platform," says CompuLab.
"One of the challenges in designing a miniature PC for the embedded industry is the variety of applications and specific I/O requirements each application has," explains Dimitry Katkov, Director of R&D at CompuLab, in a statement. "To address that we designed fit-PC3 as an open platform that can be extended with custom devices and I/O ports."
This would appear to suggest that CompuLab will publish the specs to its card format, although no more details were forthcoming. CompuLab has yet to post extensive specs on the fit-PC3, but says that in addition to the choice of the T56N or T40N processor, the system will offer up to 4GB of 1333MHz DDR3 memory via dual SODIMM sockets.
The box is supplied with a dual-head HDMI 1.3a + DisplayPort video connection, says CompuLab. Digital 7.1 channel S/PDIF audio is said to be available, as are stereo line-out, line-in, and mic ports.
An internal 2.5-inch SATA 3 hard disk drive is included, as are dual eSATA ports, says the company. In addition to the custom extension board, the fit-PC3 is said to offer dual mini-PCI Express (PCIe) sockets for expansion.
For connectivity, the fit-PC3 supplies a gigabit Ethernet port, 802.11n Wi-Fi, and six USB 2.0 ports, says CompuLab. All in all, the I/O options appear to be similar to the company's last generation of mini-PCs.
Stated Richard Janeicke, director, Product Marketing, AMD, "Complete solutions like the fit-PC3 from CompuLab significantly extend the reach of the AMD Embedded G-Series platform into fanless, small form factor markets."
Availability
CompuLab's fit-PC3 will be available through fit-PC worldwide distribution channels and through the fit-PC webstore — at some undisclosed time and price. The computer will be made available in a variety of configurations and offered with OEM customization services, says the company. Operating system support was not listed, but the earlier fit-PC models supported Linux, Windows 7, and Windows XP.
More information on the fit-PC3 should eventually appear on CompuLab's product page.
---
This article was originally published on LinuxDevices.com and has been donated to the open source community by QuinStreet Inc. Please visit LinuxToday.com for up-to-date news and articles about Linux and open source.