Apr 10, 2008 — by LinuxDevices Staff — from the LinuxDevices Archive — 3 views

The Mozilla Foundation says the mobile version of Firefox, planned for release later this year, has been sped up nearly 600 percent in its latest builds. The evolving product, which will run on Linux-based devices, has also received several interesting new user interface (UI) proposals.
Last week, the Foundation released its fifth beta version of Firefox 3, a new browser based on the Gecko 1.9 rendering platform. Said to include a multitude of performance, stability, and memory management improvements, Firefox 3 is expected to be available in one or more "release candidates" next month, and released in final form in June.
Meanwhile, the mobile version — recently code-named "Fennec" after the smallest species of fox — is under development for release later this year. Based on the same Firefox 3 codebase, it will "bring a true web experience to mobile phones and other non-PC devices," according to the foundation. It may also include a "bridge" allowing users to migrate cookies, bookmarks, history, form-fill data, and other information from their desktop browsers to their mobiles.
According to a blog posting by developer Christopher Blizzard, the latest builds of Fennec — not yet available publicly — have become substantially faster, especially on ARM processors. The graph below compares the performance of Fennec with the "MicroB" browser supplied with Nokia's Linux-based Tablet OS2008 operating system. The comparison is relevant because MicroB was based on code from Firefox 3, alpha 1, whereas Fennec has been treated to several extra months of development.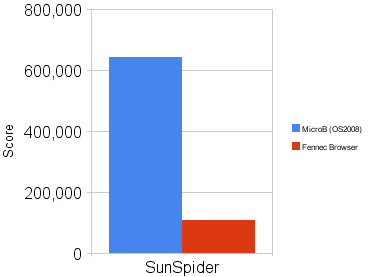 MicroB and Fennec performance compared (lower is better)
Source: Christopher Blizzard
Blizzard writes, "The Firefox 3-based mobile browser is a whopping 5.9 times faster than earlier versions. The really interesting fact here is that the great performance work that we've done has actually paid dividends [even] more on ARM than it has on the desktop. A great side effect."
Meanwhile, the Mozilla Foundation maintains a Wiki for programmers to post mockups of what the mobile version of Fennec might look like. Earlier this year, a main screen (below left) was proposed that features a thin title bar at its top. At its bottom left, an "embossed" back button allows allows quick access to the previous page. At its bottom right, it has an "embossed" Firefox logo that allows quick access to the most frequently used operations.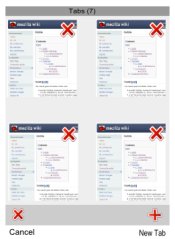 Prospective UIs for "Fennec"
(Click to enlarge)
Tapping on the Firefox logo causes toolbars to display at the bottom of the screen, as shown in the middle image above. Finally, tapping on a tab button brings up the tab screen (above right). Users would be able to tap on a thumbnail to switch to that tab, and drag the screen left, right, up, or down to display any additional tabs.
However, the Firefox logo's placement has been a continuing conundrum. While it helps "brand" the browser and can help save on screen real estate, it can be hard to see, and may be confused with parts of an underlying web page. To get around this, designers have tried giving it drop shadows, or moving most of it off the screen.
In the latest design proposals, Fennec displays a web site over its entire screen, except for the logo, which is only half-visible at the bottom of a page (below left). Tapping on the logo activates back and forward navigation arrows, a title and URL bar at the top of the screen, and icons representing the most frequently used functions (below right). The wheel can be "rotated" with a finger to access other operations.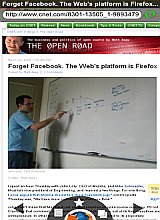 The latest Fennec proposals use a Firefox logo half-visible at the bottom of a web page
Further information
For more about the mobile version of Firefox and its competitors, see our earlier coverage, here. To see Christopher Blizzard's blog posting on Fennec's performance, go here. To look at the evolving user interface designs, see the Mozilla Wiki, here.
---

This article was originally published on LinuxDevices.com and has been donated to the open source community by QuinStreet Inc. Please visit LinuxToday.com for up-to-date news and articles about Linux and open source.