Mar 28, 2008 — by Eric Brown — from the LinuxDevices Archive — 1 views

A blog on Webkit.org's Surfin' Safari page claimed this week that a web browser built on the latest open source Webkit rendering engine achieved a perfect score on the demanding Acid3 rendering test. Meanwhile, Opera claimed that its commercial browser aced the test the same day.
Although Webkit build r31342 reportedly achieved a "perfect" score (pictured above and below left), according to Maciej Stachowiak's blog, there was a "slight glitch" in the text rendering that he says will likely be fixed soon. There was also a small glitch in the animation on test 26 (performance), but he pointed out that judging the smoothness of animation rendering is "somewhat subjective."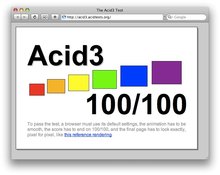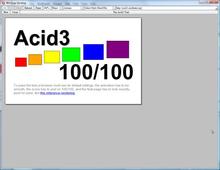 The Acid3 test: Webkit (left) and Opera (right)
(Click either to enlarge)
The
Acid3 test
was developed by the
Web Standards Project
. It is said to go beyond the CSS (Cascading Style Sheets) tests implemented by Acid2, testing "web 2.0" capabilities such as a browser's DOM (Document Object Model) scripting capability.
Build r31342 was said to have passed the full rendering test on Wednesday, apparently beating out a similar announcement from Opera in a photo finish. Since the Acid3 test was announced on March 3rd, there's been an informal race between the Webkit and Opera teams, with subsequent test results released over the last few weeks as the two have inched upwards toward 100 percent compliance.
Webkit is an open source HTML rendering engine best known for its use in Apple software including the iPhone, the Safari browser, Dashboard, Mail, and other Mac OS X applications. Nokia has used the browser technology in its Symbian S60 smartphones since 2005, and Adobe uses it as the basis for its AIR (Adobe Integrated Runtime) web development suite. The first complete open source browser based on Webkit, Pleyo's Origin, launched in August. Trolltech, meanwhile, is currently integrating Webkit into its Qt for Embedded Linux (formerly Qtopia Core) mobile application stack.
Webkit derived from the KHTML rendering engine used in the KDE project's Konqueror browser, but today offers more advanced support for "web 2.0" features, including asynchronous Javascript (AJAX). Webkit has a reputation for having a smaller footprint than Gecko, the rendering engine used in Firefox and many GNOME applications.
Opera was among the first commercial web browsers, competing in the mid-90s with browsers from Netscape and Microsoft. Smaller, faster, and more standards-compliant than its competitors, especially with regard to cascading style sheets, it achieved modest success on the desktop by promoting a free version subsidized by advertising, and charging a yearly subscription fee for an ad-free upgrade.
As the embedded device market matured, Opera was able to derive enough revenues from product licensing to offer Opera ad-free in 2005. The company has arguably been at the forefront of embedded trends such as browser-based device UIs and widgets, desktop/device browser synchronization, and small-screen rendering, among other areas. It has also remained a leader in supporting standards, both real and de facto, including DHTML, AJAX, Flash, Scalable Vector Graphics, and others.
In recent years, though, commercial embedded browser vendors such as Opera have started to face pressure from open source browsers like Webkit and Mozilla, observed market research firm VisionMobile last fall. Meanwhile, the newest Lenovo ThinkPads have switched their "ThinkVantage" pre-boot environment from the excellent quick-starting combination of Linux and Opera to a ponderous Windows-based setup. Most of Opera's news during the last six months has concerned its Opera Mini product, which combines a lightweight Java browser runtime with back-end error correction services, similar to technology from Good (recently acquired by Motorola) and various enterprise smartphone content service providers.
More information and test results are available here. For more information on Opera, be sure not to miss our 2006 interview with CEO Jon Tetzchner.
---

This article was originally published on LinuxDevices.com and has been donated to the open source community by QuinStreet Inc. Please visit LinuxToday.com for up-to-date news and articles about Linux and open source.