Dec 9, 2011 — by Eric Brown — from the LinuxDevices Archive — views
Coby Electronics says it will unveil five tablets running Android 4.0 ("Ice Cream Sandwich") at the CES show in Las Vegas, with shipments due in 1Q 2012. Meanwhile, Samsung is readying an Android 4.0 tablet for early 2012, offering 2560 x 1600 resolution and based on its Cortex A15-based Exynos 5250 processor, and Toshiba is prepping an "Excite" tablet running Android 4.0 on a TI OMAP4430 for February release, say reports.
Here come the Ice Cream Sandwich tablets. Whether leaked, tipped, or preannounced, more and more vendors are making it known that they'll be introducing tablets running Android 4.0 ("Ice Cream Sandwich.")
The first two ICS tablets announced were the quad-core Asus Eee Pad Transformer Prime — which ships with Android 3.2 but will soon get its ICS update — as well as a surprising $99, MIPS-based Novo7 contender from China's Ainol Electronics.
Now Coby Electronics is saying it will unveil five Android 4.0 tablets at the Consumer Electronics Show in Las Vegas (January 10-13) and ICS tablets have also been tipped from Toshiba and Samsung (see farther below).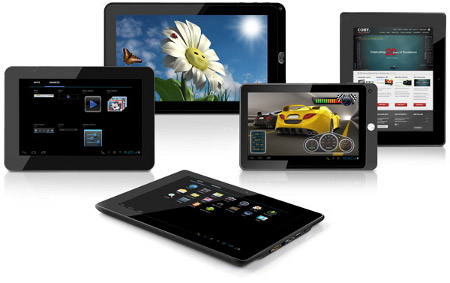 Coby's upcoming ICS-ready tablets
(Click to enlarge)
Coby's Android 4.0 tablet launch will include the following models, the company says:
a seven-inch MID7042
an eight-inch MID8042 (4:3 aspect ratio)
a nine-inch MID9042
a 9.7-inch MID9742 (4:3 aspect ratio)
a 10-inch MID1042
Proving that Android 4.0 is not just for high-end processors, the tablets will all provide 1GHz ARM Cortex-A8 system on chips rather than the latest, dual- and quad-core Cortex-A9 SoCs. All the tablets will offer capacitive multitouch screens, up to 1GB of RAM, and expandable memory up to 32GB, says Coby. Both Wi-Fi and HDMI 1080p output will also be standard, says the company.
A year ago, Coby announced a seven-inch Coby Kyros Tablet MID7015 tablet for $250, running Android 2.1 on an 800MHz, ARM11-based Telechips TTC8902 processor. The company now offers a dozen Android tablets ranging from seven to 10 inches, including five Kyros models. These will be joined by the five new ICS models in early 2012.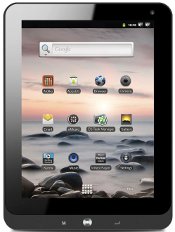 Among the existing models, the (relatively) high-end tablets include the Kryos MID1024, which switches from the Telechips processor used by most of the other tablets to a Samsung Hummingbird Cortex-A8 processor, but still runs Android 2.2. There's also the 10-inch MID1126 (pictured), which runs a Telechips SoC, and supplies Android 2.3.
Both tablets offer 1GHz speed, 4GB of internal storage, and 10-inch capacitive displays, although the MID1126 provides 1024 x 768 resolution and a 4:3 aspect ratio instead of 1024 by 600 pixels and 16:9 ratio for the Kyros. Mini-HDMI and USB 2.0 ports, as well as Wi-Fi, are standard, says the company.
The Kyros 1024 4G version is on sale for just $210 at Amazon.com, while the 4G version of the MID1126 is available for $248.
Stated Jodi Sally, vice president of Marketing, Coby Electronics, "Coby is thrilled to announce our premiere range of feature-packed Android 4.0-powered Internet tablets that will put the world in consumers' hands as never before."
Samsung readies Cortex-A15 ICS tablet with Retina resolution, says report
Samsung plans to unveil an 11.6-inch Android 4.0 tablet debuting its dual-core, 2GHz Cortex-A15 processor, the Exynos 5250, sometimes early next year, according to a Dec. 8 BGR report. The tablet will feature an unprecedented 2560 x 1600-pixel resolution with a 16:10 aspect ratio, according to the story.
Samsung's upcoming tablet, which BGR speculates will be unveiled at the Mobile World Congress in February, will also implement Android 4.0's Android Beam feature, for easy syncing of media with the Beam-ready Galaxy Nexus, says the story. A wireless docking mode with HDTVs is said to support gaming.
Samsung announced the Exynos 5250 in November, 2010, a few months after ARM unveiled its new Cortex-A15 architecture. The Cortex-A15 will initially be available in a 2GHz 32nm fabrication run before moving to a 2.5GHz 28nm version, says ARM. The architecture offers enhanced virtualization support, 1TB memory access, plus five times the performance of current smartphone processors — all with similar power consumption, claims the company.
Samsung's Exynos 5250 supports resolutions up to 2560 x 1600 pixels, and was scheduled for production in 2Q 2012.
Toshiba Excite will excite Canada in February
Toshiba Canada spilled the beans on a previously leaked Toshiba Excite tablet (pictured) equipped with a 1.2GHz Texas Instruments OMAP4430 processor running Android 4.0. As noted in a Cnet report, the initial announcement was somewhat misleading in that it promotes the tablet with a Christmas holiday theme, despite the fact that the Excite wasn't said to ship until January.
The Toshiba Canada page CNet links to has apparently been updated, since the mistletoe is gone, Android 3.2 has been replaced with Android 4.0, and the tablet is now said to be due in February.
According to Toshiba Canada, the Toshiba Excite is equipped with 16GB or 32GB of storage, and offers a 10.1-inch LCD display with LED backlighting. Other features include both five- and two-megapixel cameras, as well as 802.11 b/g/n and Bluetooth v2.1 +EDR, says Toshiba. Ports are said to include microSD, Mini USB 2.0, Micro HDMI, and 3.5mm headphone connections.
Toshiba has previously shipped the 10.1-inch Toshiba Thrive and more recently, the seven-inch, Android 3.2-based Thrive 7" Tablet.
---
This article was originally published on LinuxDevices.com and has been donated to the open source community by QuinStreet Inc. Please visit LinuxToday.com for up-to-date news and articles about Linux and open source.