Dec 5, 2011 — by Eric Brown — from the LinuxDevices Archive — 8 views
Ainol Electronics has begun shipping what it claims is the world's first Android 4.0 ("Ice Cream Sandwich") tablet. Now available in China for only $99, the Ainovo Novo7 comes with a MIPS-based, 1GHz Ingenic JZ4770 XBurst processor, seven-inch capacitive multitouch screen, dual cameras, an HDMI 1.3 port, a microSD slot — and a testimonial from Google's Andy Rubin.
Ainol's Ainovo-branded Novo7 tablet was announced by MIPS Technologies and its system on chip (SoC) partner in China, Ingenic Semiconductor. Now available in China for under $100, the tablet will be available in the U.S. and other markets "within the next several months" under brands from companies including Leader International and OMG Electronics, say the partners. Eight- and nine-inch versions are also said to be under development.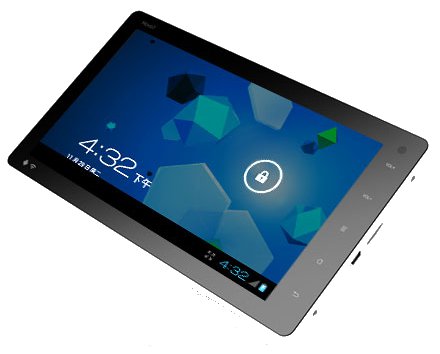 Ainovo Novo7

The Novo7 is the first shipping Ice Cream Sandwich (ICS) tablet, according to the partners. It represents nimble work indeed, since Android 4.0's source code was released by Google as recently as Nov. 14. (ICS had been expected to appear first on the well-reviewed quad-core Asus Eee Pad Transformer Prime, which will be available for the holidays running Android 3.2.1, with an ICS upgrade expected in January.)
Novo7 from another angle
The world's first ICS tablet offers a number of surprises. Not only is it running a MIPS-based SoC rather than an ARM processor, but it's a seven-inch model, and it's selling for a $99 price that makes even the $200
Amazon Kindle Fire
look overpriced. On the other hand, purchases outside of China require an additional $60 in shipping and handling, bringing the total to $159.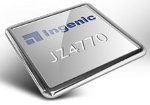 Ingenic's JZ4770 (pictured) is the latest in a line of MIPS-architecture "Xburst" processors, which appeared in early versions of the low-cost Velocity Cruz Android tablets before the company switched to a Cortex-A8 processor in its latest Velocity Micro Cruz T408 and Cruz T410.
In January of this year, MIPS announced that China-based Ingenic had begun formally licensing the MIPS32 architecture for its mobile device SoCs. Ingenics has been building MIPS-derived Xburst cores for years, but up until a year ago, hasn't paid any fees. Some 30 million XBurst CPUs have been shipped to date, says the company.
Ingenic's JZ4770 [translated product page] SoC uses the "Xburst1" architecture based on a MIPS32 R2 core clocked at 1GHz. The 65-nanometer fabricated processor core offers 2.5 DMIPS performance, and consumes less than 90mW of power at full speed with L1 cache, claims the company. Equipped with 16KB each of instruction and data cache, the Xburst1 is said to supply Ingenics' own SIMD instruction set atop the MIPS architecture.
The Xburst1 spec will move to a 40nm fabricated version that clocks at up to 1.5GHz, and in 2012, Ingenic's Xburst2 processor line is due to begin sampling, featuring 64-bit, dual-issue, dual-thread MIPS technology.
The JZ4770 SoC pairs the 1GHz Xburst processor core with a 444MHz Vivante GC860 3D graphics processing unit (GPU), offering support for OpenGL ES 2.0 and OpenVG 1.1, according to MIPS and Ingenic. The JZ4770 SoC also integrates a 1080p video processing engine capable of decoding 10-bit X.264 video for 1080p playback, say the partners. In addition, there are said to be various on-chip analog and application blocks on the SoC including audio codecs and GPS.
The entire SoC is said to consume about 250mW operating under full load. As a result, the tablet draws less than 400mA during active web browsing, claim the partners. That translates into a claimed battery life of six hours of game play, seven hours of web browsing, eight hours for video, 25 hours for music, and 30 hours on standby.
No memory or storage details were offered on the Novo7 except that a microSD slot is available. In addition, the tablet is said to supports Microsoft's exFAT storage format, which can store files of over 4GB each. The seven-inch, display uses capacitive multitouch technology, but no resolution details were supplied.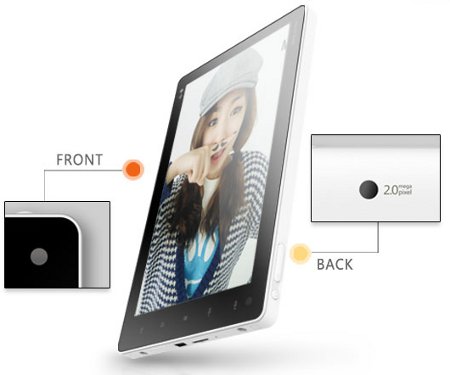 Novo7's dual cameras
(Click to enlarge)
Other standard features include 802.11 b/g/n, an HDMI 1.3 port, as well as a USB 2.0 port, supporting an external 3G module, says Ainol. The rear-facing camera is limited to two megapixels, and no details were offered on the front videocam.
The Novo7 ships with Google Compatibility Test Suite (CTS) certification, and even received a testimonial of sorts from Google's Andy Rubin (see farther below). The CTS compatibility indicates that Google apps such as Gmail, Google Talk, Google Maps, and Google Music (Beta) work perfectly on the tablet, claims Ainol. There are no claims that these apps are actually preinstalled on the tablet, but the Novo7 does offer Gameloft's Spider-Man game.
MIPS on Android background
MIPS helped support a port of Android to the MIPS architecture, a task that was completed in June 2009, based on Embedded Alley's initial Android to MIPS port. (Embedded Alley was since acquired by Mentor Graphics.)
MIPS has been running with the Android theme ever since. At CES 2010, MIPS demonstrated numerous Android-based IPTV STBs and related products — primarily using Sigma Designs processors. At CES 2011, MIPS showed off a Chinese-made Android smartphone design branded with the Sanno name. The company also announced new "SmartCE" TV set-top platform based on Android.
Stated Andy Rubin, senior vice president of mobile at Google, "I'm thrilled to see the entrance of MIPS-Based Android 4.0 tablets into the market. Low cost, high performance tablets are a big win for mobile consumers."
Stated Qiang Liu, chairman and CEO, Ingenic Semiconductor, "We are pleased to join with MIPS to announce these breakthrough high-performance, low-power, low-cost Android 4.0 tablets."
Stated Sandeep Vij, president and CEO, MIPS Technologies, "We applaud Ingenic's accomplishment in developing this new high-performance, feature-rich Android 4.0 tablet, and offering it at a price point that makes it widely accessible."
Availability
The Ainovo Novo7 is now available with Android 4.0 in China and online through Ainol Electronics at its Ainovo product page for $99 (U.S.) non-subsidized, according to Ainol. The product is said to be 30 percent off the regular price, and U.S. orders also require $60 in shipping and handling. The tablet will be available in other geographies within the next several months, say the partners.
---
This article was originally published on LinuxDevices.com and has been donated to the open source community by QuinStreet Inc. Please visit LinuxToday.com for up-to-date news and articles about Linux and open source.