Jan 28, 2010 — by LinuxDevices Staff — from the LinuxDevices Archive — 27 views
[Updated, Jan. 29] — Apple's newly announced iPad has been touted as "magical," "amazing," and "revolutionary" by company officials. But, key deficiencies in the device provide opportunities for competitors, who can craft better tablets that run Linux or Android.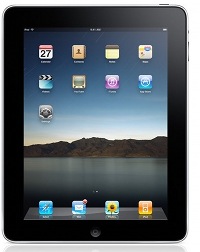 It's not necessary to say much about the good aspects of the iPad, because they've been covered ad nauseam elsewhere, often with almost messianic fervor. The gadget (right) is a 9.7-inch tablet computer, featuring a multi-touch screen and employing a 1GHz "A4" CPU (a result of Apple's 2008 acquisition of P.A. Semi), that, like the smaller iPod Touch, runs a version of the iPhone operating system.
Apparently beating all industry records for hyperbole, Apple's website touts the device as a "magical and revolutionary device at an unbelievable price." Key highlights are said to be: the iPad's 1.5-pound weight (1.6 pounds with optional 3G connectivity) and 0.5-inch thickness; its use of IPS (in-plane switching) technology, claimed to improve the screen's color accuracy and viewing angles; and battery life of "up to ten hours."
Notably, the iPad runs the iPhone OS, and is claimed to run "almost all" of the applications — more than 140,000, Apple says — already written for the iPhone and IPod Touch. Apple also announced $10, iPad-specific productivity apps, Pages, Keynote, and Numbers, which respectively provide word processing, presentation, and spreadsheet functionality.
No non-Apple device can run iPhone apps, giving the iPad a key advantage. Apart from this, however, the iPad breaks relatively little new ground. Tablets (or "slates") were all the rage this year at CES, but for years, many vendors have created tablet computers for Linux, various Windows CE and Windows Mobile flavors, and more recently, the Linux-based Android platform. (For a comprehensive look at what's already out there, see our regularly updated Linux-powered mobile tablets, webpads, UMPCs, and MIDs showcase.)
Tablets with screen sizes comparable to the iPad's have typically employed x86 processors and full-blown desktop OSes, which takes them out of the running where battery life and ease of use are concerned. But many smaller devices — historically burdened with the MID (mobile internet device) moniker — have already combined touchscreen displays with ARM processors and either Linux or Windows CE. Many also deliver iPad-like battery life.
Now, such devices are posed for further evolution, thanks to the release of SoCs (system on chips) such as Nvidia's recently announced Tegra 250. The new Tegra incorporates a dual-core version of ARM's Cortex-A9, decoding and encoding HD video while offering "days of battery life." Nvidia further claims twice the graphics performance of the previous generation Tegras, plus support for OpenGL ES 2.0 and hardware acceleration for Adobe's Flash 10.1.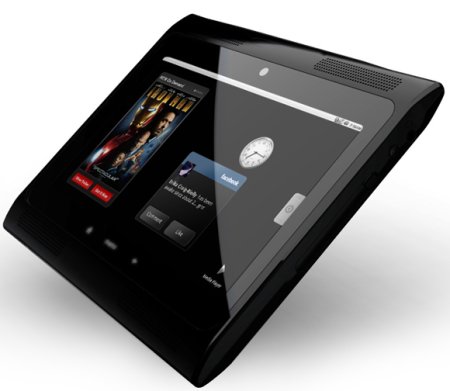 ICD's Android-based Ultra tablet
Nvidia showed off a variety of
Tegra 250-based tablets
at its Consumer Electronics Show (CES) stand earlier this month, including a Linux-based model from Foxconn, and Android-based models from Notion Ink and ICD (the
Ultra
, pictured above). Meanwhile, among other tablet announcements, Freescale showed off a "smartbook"
tablet reference design
that runs Linux or Android on its Cortex-A8-based 1GHz i.MX515 SoC.
Eight ways other tablets can beat the iPad
Apple supporters will claim that no competing tablet could offer the "iPad experience," no matter how similar the underlying hardware. However, we believe that thanks to a number of gaffes, the iPad may be less successful than expected. Below is a list of eight problems with the iPad that provide opportunities for competitors.
Display limitations — Multi-touch and IPS are good, but at 1024 x 768 pixels, the iPad's screen offers little more real estate than the typical netbook. (If you've owned one of the latter, you know that many web pages just aren't usable or enjoyable with such resolution.)

In an apparent compromise between video and e-book usage models, Apple gave the iPad a 4:3 display, meaning that movies display with thick black bars at top and bottom. We're not sure about reading a novel on this device, either; an E-Ink display wouldn't have worked here, but dual-mode Pixel Qi screens will allow future tablets to be legible even in bright sunlight.

Lack of multitasking — Apple's bull-headed insistence on not allowing iPhone OS applications to run in the background (except, of course, for a few of its own) is a deal-breaking deficiency. Not only is this limitation insulting to computer nerds, it's also a hassle for ordinary people, who just want to listen to music streaming from Pandora or keep an instant messaging client alive while they also browse the web.

Crippled video output — A tablet device should have an HDMI video output, for easy connection to an external TV screen, not just for movies but also for productivity purposes. Apple's device fails to, and add-on component or composite video cables provide resolution only up to 576p. This is a needless limitation, apparently designed to force those who want to purchase movies from iTunes to buy a separate Apple TV device.

No cameras — At the minimum, tablets should have user-facing cameras for video chats, and there's no reason they shouldn't also have cameras for taking pictures. The iPad willfully offers neither.




No Adobe Flash support — Apple touts the iPad as "the best way to experience the web." However, as even the company's debut demonstrations yesterday revealed, the iPad doesn't support Adobe's Flash technology, and Apple apparently has no plans to remedy this. Flash has many detractors, but it's an integral part of many websites, which are often incomprehensible without it.

Lack of Flash on the smaller iPhone and iPod Touch is excusable. But no Flash on a 9.7-inch screen? Epic fail.

No standard USB port or SD slot — This limitation was expected, since the iPhone and iPod Touch sport only proprietary dock connectors, and Apple has grudgingly added an SD slot to only two MacBook models. An SD slot, which would have been provided by any other manufacturer in the world, would be great for moving pictures and other media onto the iPad, and for adding internal storage. Apple says it will sell a dock-connector-to-SD add-on, but this is just one more thing to buy and is guaranteed to be misplaced when you need it.

As for a USB port, such could have been provided with both host and device capabilities. The former would have allowed connection of an inexpensive wired keyboard, generic battery charger, or even an external hard disk drive, while the latter would have allowed easy connection to a PC. Apple's own cable is sufficient for most of these needs, but the lack of USB underlines the iPad's closed nature: If it's like the iPhone and IPod Touch, the iPad won't emulate a disk drive (though the humble iPod Nano does), forcing owners to use iTunes for moving files to and from the tablet.

No real GPS — Unless you pay extra for 3G connectivity, the iPad doesn't include a GPS receiver. On the more expensive models, the device's navigation functionality is described as assisted GPS, meaning that it probably requires the user to have a cellular data plan and be within reach of a carrier network. Apple might have given the iPad the ability to revert to autonomous GPS — as provided by Linux-based PNDs (personal navigation devices), but we doubt it.

Awkward text input — This might seem like a niggling complaint on our part, given that the iPad does include a software keyboard and an optional keyboard dock. But the device does not appear to include anything to make the on-screen typing experience easier, such as the predictive technology, nor does it have haptic feedback to let a user know when a "key" has been pressed.
We could have padded out the above list to at least ten items by criticizing the iPad's looks (ugly large bezel), OS limitations (apart from no multitasking and reliance on iTunes, apps will only run full-screen), lack of a removable battery (of course, that's par for the course from Apple), or reliance on the beleaguered AT&T data network.
However, the eight deficiencies cited above provide manufacturers with plenty of ways to create a variety of iPad-beating devices.
Availability
For more details of Apple's iPad, see Apple's website, here, and coverage by our sister publication eWEEK, here, and with a more negative slant, here. Meanwhile, for the official Linux Foundation iPad slam, try out Jim Zemlin's latest blog, here.
---
This article was originally published on LinuxDevices.com and has been donated to the open source community by QuinStreet Inc. Please visit LinuxToday.com for up-to-date news and articles about Linux and open source.