Feb 24, 2010 — by Eric Brown — from the LinuxDevices Archive — 2 views
Amazon.com has signed a patent agreement with Microsoft over the use of Linux in its Kindle e-readers. In other open source legal news, the Jacobsen v. Katzer model railroad software case was settled, providing precedent for open source developers to seek monetary damages for copyright infringement, says BetaNews.
The Microsoft/Amazon cross-license agreement provides each company with access to the other's patent portfolio, says Microsoft. In addition, Amazon will pay Microsoft an undisclosed amount of money under the agreement.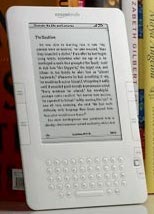 The contents of the cross-license agreement were not disclosed, except to say that it covered covers "a broad range of products and technology, including coverage for Amazon's popular e-reading device, Kindle, which employs both open source and Amazon's proprietary software components, and Amazon's use of Linux-based servers."
Amazon joins a growing list of embedded Linux vendors that have settled with Microsoft over the latter's patent claims. As with most other such agreements with Microsoft, it was not clear what Microsoft patents Amazon might have infringed upon with the best-selling Kindle e-reader (pictured).
Stated Horacio Gutierrez, corporate VP and deputy general counsel for Intellectual Property and Licensing at Microsoft, "This agreement demonstrates our mutual respect for intellectual property as well as our ability to reach pragmatic solutions to IP issues regardless of whether proprietary or open source software is involved."
Over 600 firms served
Since launching its IP licensing program in December 2003, Microsoft has signed more than 600 licensing agreements (up from "over 500" only last July), says Microsoft. Embedded Linux firms that have signed patent agreements with Microsoft include Melco Holdings, the parent company of Buffalo, which last July settled over Buffalo's Linux-based networked-attached storage (NAS) and router equipment. Before that, Redmond settled with companies including LG Electronics, Samsung, Fuji Xerox, Kyocera Mita, Brother International, and most notoriously, TomTom.
In the latter case, the Dutch vendor of personal navigation device (PND) devices dared to resist Microsoft, resulting in a formal lawsuit against the company by Microsoft. This in turn revealed one of the key sources of the patent conflict: Microsoft's claims over the Linux implementation of the FAT file system, for which Redmond claims to own the patent. In the end, TomTom, too, was forced to settle.
The Buffalo agreement in July occurred only a few days before Microsoft made the surprising announcement that it was releasing 20,000 lines of code under GPLv2 for three Linux device drivers, for potential contribution to the Linux kernel. In September, Microsoft further reached out to the open source community by announcing the formation of the CodePlex Foundation, chartered with enabling the exchange of code and understanding among software companies and open source communities.
Yet, the Amazon agreement shows that Microsoft is continuing its pressure on firms that use Linux in their embedded devices. And that pressure appears to be somewhat selective, suggests Linux Foundation executive director Jim Zemlin in a blog. "Amazing how despite the 'broad range of products and technology' covered in their cross license, Microsoft chose to focus on Linux and open source — distinctly calling it out from 'proprietary software' and wasn't specific about any patents," writes Zemlin.
Kindle, Droid come up big in gadget awards
After the recent holiday sales season, Amazon announced that the Kindle was its most gifted item over the holiday season, and the most gifted item in the history of the company. Analysts were said to have estimated that 2009 sales of all the Kindle devices totaled a half million units.

The Kindle also won E-Reader of the Year this week in Engadget's 2009 Engadget Awards in both the Reader's Choice and Editor's Choice categories. The hot-selling, Android-based Motorola Droid (pictured) also came up big, winning Gadget of the Year in both Reader's and Editor's category, as well as smartphone of the year among readers (the editors chose the iPhone 3GS).
The Droid also won editor and reader picks for best GPS device, based on its debut of the Google Maps Navigation app, while the Linux-based, navigation focused Garmin-Asus Nuvifone G60 earned worst gadget of the year from the editors. Finally, Novatel Wireless' Linux-based MiFi mobile hotspot received the editors' nod for best wireless device or technology.
Victory for FOSS in model train case
Settlement documents in the case of Jacobsen v. Katzer were filed last Friday in U.S. District Court in Northern California, signaling a victory for free and open source software (FOSS), according to BetaNews. As a result of the settlement, a pending appeal of the U.S. Court of Appeals for the Federal Circuit ruling last August is now terminated, and there will be no further legal action in a case that was previously upheld in August 2008 by a U.S. appeals court, says the site. (The appeal, available from a link farther below, cites lawsuits from Monty Python, as well as Ms. Universe, as precedents.)
According to BetaNews, based on an interview with Linux Foundation attorney Andrew Updegrove, legal precedent has now been made permanent for the right of open source software developers to seek monetary damages for infringement of their copyrights. The precedent is said to apply even if products are being distributed freely.
The case was originally set in motion when model railroad software developer Robert Jacobsen sued Katzer, based on his discovery that the commercial railroad parts maker was using his software without his permission, his license, or his original copyright attached, says BetaNews. The basic question decided by the court, says the story, was whether the copyright that protects open source software "is entitled to the same monetary evaluation as the copyright for commercial software," says the story.
After the Appeals Court decided that open source software was entitled to some remuneration, the two parties agreed to award the plaintiff $100,000 plus costs. Both sides have agreed to dismiss any pending and future action on this matter, says the story.
Availability
The Microsoft announcement of its patent agreement with Amazon may be found here, and Jim Zemlin's Linux Foundation blog response should be here.
The Engadget 2009 award announcement should be here.
The BetaNews story on Jacobsen v. Katzer may be found here, and the appeal by Katzer, citing Monty Python, may be found in this PDF, here.
---
This article was originally published on LinuxDevices.com and has been donated to the open source community by QuinStreet Inc. Please visit LinuxToday.com for up-to-date news and articles about Linux and open source.