Jan 5, 2011 — by LinuxDevices Staff — from the LinuxDevices Archive — 2 views
Motorola is now officially two companies, after having been "tangled in its own underwear," in the words of one analyst. Motorola Mobility will be focused on smartphones and tablets while Motorola Solutions will produce a range of enterprise solutions including 4G wireless equipment.
The former Motorola is now officially two companies. On Jan. 4, the Illinois-based business completed its planned separation into two publicly traded companies.
Motorola Solutions, trading under ticker symbol MSI, now offers solutions for enterprise mobility and vertical markets, including public safety and government, with data-capture products, WLAN solutions, and Windows-based handheld computers.
Motorola Mobility Holdings, now trading as MMI, will act as an umbrella company over a Mobile Devices business unit — offering smartphones, tablets, etc. — and Motorola Mobility, which leverages the capabilities of both the Mobile Devices and Home businesses.
Tomorrow at CES in Las Vegas, Motorola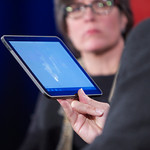 Mobility and Verizon Wireless are expected to unveil Motorola's first Android tablet, a prototype of which is shown at right.
"After more than two years of planning, today we begin operating as a financially strong, independent company trading on the New York Stock Exchange," Sanjay Jha, chairman and CEO of Motorola Mobility, said in a statement. "We are well-positioned to build on the strong momentum we have in smartphones and end-to-end video solutions — and to take advantage of opportunities resulting from the convergence of media, mobility, computing and the Internet."
It has been reported that the split was partially the result of pressure from billionaire investor Carl Icahn, but Gene Delaney, Motorola Solutions' executive vice president of product and business operations, has said this wasn't the case.
"The strategy of Motorola Inc. and the decision we've made was all driven for all the right reasons," Delaney told eWEEK in December. "It was not driven by any specific person. It was a holistic strategy focused on how best can we serve our customers."
Wicked wedgie untangled at last
Analyst Roger Kay, with Endpoint Technologies, believes the separation will indeed prove a good thing for customers, as well as for the companies.
"Moto was all tangled up in its own underwear, and this move does allow the two different divisions to pursue separate agendas," Kay told eWEEK following the announcement. "Splitting along segment lines — commercial/consumer — is a smart way to go. It shows a marketing orientation. Since selling, marketing and product planning for each segment is so different, one is often inhibited by the other in firms that try to get economies of scale across both."
Under the terms of the separation, stockholders received one share of Motorola Mobility Holdings common stock for every eight shares of Motorola Inc. Immediately following the distribution of the MMI stock, Motorola Inc. completed a 1-for-7 reverse stock split.
Financial services firm Jefferies & Co. recommended a "hold" on the Motorola Solutions in a Jan. 4 company update to investors that read: "Motorola Solutions' public safety focus should enable it to be a stable (if slow) grower with modest margin expansion; however, there is a fundamental headwind provided by rainy day government funds running out next summer but tax receipts not picking up until 2012."
Regarding 4G LTE (long-term evolution) technology, currently being rolled out by Verizon Wireless, the update added that MSI will be very bullish on 4G mobile video as a demand driver, "but 2011 will be a year of trials with little revenues."
LTE revenues are instead expected to begin ramping up in 2012 and 2013.
On MMI, Jefferies in a separate research note likewise recommended a hold, stating, "MMI is continuing its Android smartphone-driven turnaround and will soon be in tablets, but concerns about [first quarter] competition and longer-term product differentiation difficulties keep us at a Hold and a $33 price target."
Endpoint's Kay added regarding the separation that "shareholders should be pleased, but customers may be pleasantly surprised as well."
Michelle Maisto is a writer for eWEEK.
---
This article was originally published on LinuxDevices.com and has been donated to the open source community by QuinStreet Inc. Please visit LinuxToday.com for up-to-date news and articles about Linux and open source.