Jan 17, 2011 — by Eric Brown — from the LinuxDevices Archive — 3 views
Massive pre-orders show that demand is high for the Motorola Xoom Android 3.0 tablet, as well as the RIM PlayBook tablet, says an industry report. Meanwhile, Asus has denied rumors that its Eee Pad tablets will be delayed and won't run Android 3.0, says another report, and LG's G-Slate gains a sign-up page on T-Mobile.
The two tablet computers that made the biggest splash at the CES show earlier this month are now making a big splash with retailers and distributors, according to DigiTimes.
The Taiwan-focused tech publication reports that Quanta Computer has begun producing one million Research In Motion (RIM) PlayBook tablets for the first quarter, and said that Motorola has placed orders for 700,000 to 800,000 Motorola Xoom tablets from its Taiwanese original device manufacturer (ODM) Compal Electronics. The Xoom orders are expected to ramp up to one million by the end of the first quarter.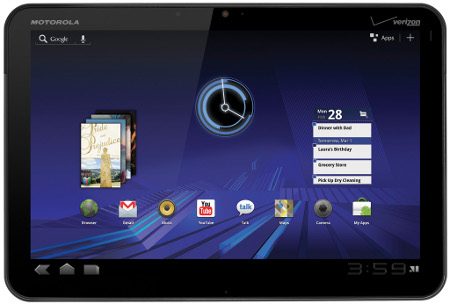 Motorola Xoom with Android 3.0
In a separate story posted today,
DigiTimes
reports that Compal CEO Ray Chen said that
Compal expects to ship 3.8 million tablet PCs in 2011
, giving it the largest volume among tablet ODM makers. Some 90 percent of the tablets will be ARM-based, Chen was quoted as saying.
On Friday, Bloomberg quoted Chen making the same projections of 3.8 million Compal tablet shipments with 90 percent ARM share in 2011. The story also quoted Chen as saying that 90 percent of those tablets would run Android.
Coupled with the one million-plus Samsung Galaxy Tabs already sold, the Compal claims would mean that three million non-iPad tablets will have shipped through the first quarter of this year, according to calculations made in a story in our sister publication eWEEK. To put that into perspective, however, the story notes that Apple sold 4.2 million iPads in the last quarter alone, and has sold anywhere from 14 million to 15 million units to date, says eWEEK.
Meanwhile, Apple is expected to ship an iPad 2 early this spring, featuring a second, video-oriented camera, larger speakers, and a higher-resolution screen.
The Motorola Xoom will launch in February on Verizon's 3G network, and will be upgradable to Verizon's 4G LTE network later this year, says Motorola. The Xoom was a hit at CES, standing out with its LTE support, dual-core 1GHz Nvidia Tegra 2 processor, 10.1-inch, 1280 x 800 screen, and especially, its use of the upcoming, tablet-optimized Android 3.0 "Honeycomb".
Eee Pad delay rumors denied by Asus
Some of the few other Android 3.0 tablets on display at CES, aside from the Xoom, were Asus' trio of Eee Pad tablets. Last week, The Inquirer reported that Asus was not sure whether the tablets would actually offer Android 3.0, as promised, and also said that the tablets were being delayed until the third quarter instead of the 2Q release originally mentioned by Asus. The tip was attributed to comments made by Asus marketing specialist John Swatton.

Surprised by the finding, TechInStyle.tv called up Swatton, who said The Inquirer had misunderstood or misinterpreted what he said. In fact, assuming that Google is on schedule with Android 3.0, the Eee Pads are all on track for their staggered releases in the second quarter, Swatton told TechInStyle.tv.
Swatton also reportedly shot down another claim made by the The Inquirer — that Android tablets lacking phone functionality could not access Android Market. Not true, said Swatton. The 7.1-inch, telephony enabled Eee Pad MeMo, and the two non-telephony 10.1-inch Eee Pads will all offer Android 3.0 with Android Market support, he told TechInStyle.tv.
The Qualcomm Snapdragon-based Eee Pad MeMo is joined by two 10.1-inch keyboard convertible tablets: the Eee Pad Slider, which offers a slide up design, and an Eee Pad Transformer (pictured above, at right) with a fold-up, detachable design. The 10.1-inch models both run on dual-core Nvidia Tegra 2 processors.
G-Slate ready for its sign up
Other Android 3.0 tablets announced at CES include the Toshiba Tablet, and the still mysterious LG Electronics G-Slate.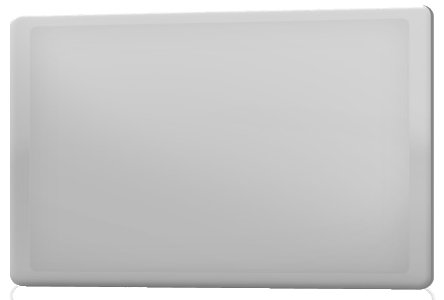 LG G-Slate
The G-Slate became just a wee bit less mysterious when T-Mobile posted a
sign-up page for the G-Slate
, as well as an official photo. Yet, no new details were provided aside from its apparent availability in white. As announced previously, the tablet will offer 4G support on T-Mobile.
---
This article was originally published on LinuxDevices.com and has been donated to the open source community by QuinStreet Inc. Please visit LinuxToday.com for up-to-date news and articles about Linux and open source.