Aug 25, 2010 — by LinuxDevices Staff — from the LinuxDevices Archive — 2 views
Eat your heart out, "Retina display." A new technology unveiled yesterday will allow creating pixels eight times smaller than the ones on Apple's iPhone 4, eliminate the need for polarizer layers, and allow screens to make much more efficient use of available light, say University of Michigan researchers.
According to Jay Guo, an associate professor in the University's Department of Electrical Engineering and Computer Science, conventional LCDs (liquid crystal displays), are inefficient and manufacturing-intensive to produce. Only about five percent of their backlighting travels through them and reaches our eyes, he added.
As Guo notes, LCDs contain two layers of polarizers, a color filter sheet, and two layers of electrode-laced glass in addition to the liquid crystal layer. Chemical colorants for red, green and blue pixel components must be patterned in different regions on the screen in separate steps.
Guo and fellow researchers Ting Xu, Yi-Kuei Wu, and Xiangang Luo report creating a new type of color filter made of nano-thin sheets of metal, with precisely spaced gratings. It's said the gratings, sliced into metal-dielectric-metal stacks, act as resonators, trapping and transmitting light of a particular wavelengths.
For example, according to Guo, red light emanates from slits set around 360 nanometers apart; green from those about 270 nanometers apart, and blue from those approximately 225 nanometers apart. The differently spaced gratings essentially catch different wavelengths of light and resonantly transmit through the stacks.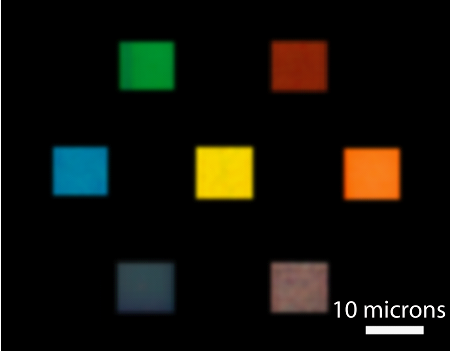 Tiny color pixels created by nanostructuring
Source: University of Michigan News Service
(Click to enlarge)
Guo stated, "Simply by changing the space between the slits, we can generate different colors. Through nanostructuring, we can render white light any color."
Because these new displays contain fewer layers, they would be simpler to manufacture, Guo adds. The new color filters contain just three layers: two metal sheets sandwiching a dielectric (a material that does not conduct electricity). Red, green and blue pixel components could be made in one step by cutting arrays of slits in the stack, according to the researchers.
The "nanoresonators" act as a polarizer simultaneously, eliminating the need for additional polarizer layers, according to Guo and his colleagues. It's said that not only would this increase the efficiency of a display's backlighting, it would also allow reflected light to be recycled, saving illumination that would otherwise be wasted.
"Amazingly, we found that even a few slits can already produce well-defined color, which shows its potential for extremely high-resolution display and spectral imaging," Guo added.
The pixels in the nanoresonator displays are about ten times smaller than those on a typical computer screen, and about eight times smaller than the pixels on the iPhone 4, which are about 78 microns, according to Guo. Such pixel densities could make the technology useful in projection displays, as well as wearable, bendable or extremely compact displays, according to the researchers.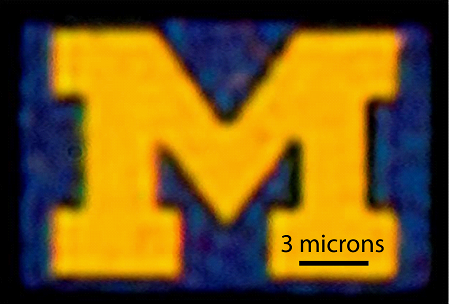 The world's smallest University of Michigan logo
Source: University of Michigan News Service
(Click to enlarge)
To demonstrate the technology, the University of Michigan researchers used it to create what's said to be the smallest-ever color rendition of the school's logo. At about 12 x 8 microns, it's said to be about 1/6th the width of a human hair. (Shown above, the "M" appears slightly blurry only because it has been magnified thousands of times, the researchers say.)
Further information
The paper by Ting Xu, Yi-Kuei Wu, Xiangang Luo, and Jay Guo, entitled "Plasmonic nanoresonators for high-resolution colour filtering and spectral imaging," was published yesterday in the journal Nature Communications and may be read online, here. Jay Guo's website may be found here.
---
This article was originally published on LinuxDevices.com and has been donated to the open source community by QuinStreet Inc. Please visit LinuxToday.com for up-to-date news and articles about Linux and open source.