Apr 12, 2010 — by LinuxDevices Staff — from the LinuxDevices Archive — 69 views
Qualcomm's reflective, power-saving color display technology will enter volume production this year in a version suitable for tablet PCs and e-readers, says the Taiwanese publication DigiTimes. The 5.7-inch Mirasol displays will offer XGA (1024 x 768 pixel) resolution, video at up to 30 frames per second, and extremely low power consumption, says Qualcomm.
Last year, Qualcomm's MEMS (micro-electro-mechanical systems) division announced a collaboration with Foxlink (Cheng Uei Precision Industry Co. Ltd.), though which the latter would devote a facility to manufacturing "Mirasol" displays on "generation 4.5" glass. The Longtan, Taiwan-based plant opened on June 15, since when Mirasol offerings have included a 1.2-inch monochrome display with 128 x 96 pixels (aimed at pagers, simple phones, and the like) and a 1.4-inch color display (for phones, MP3 players, and simple GPS systems) with 176 x 144 pixels.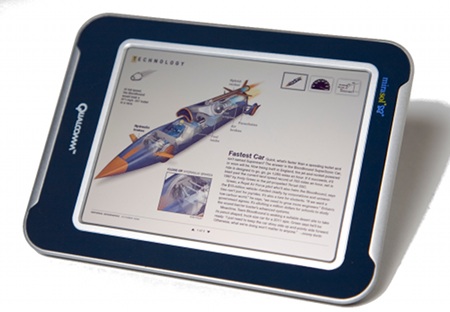 Qualcomm's 5.7-inch XGA screen
(Click to enlarge)
A 5.7-inch version (above) with XGA resolution was announced at January's Consumer Electronics Show (CES), at which time it was tipped as being suitable for tablet PCs as well as e-readers. Now, this display is set for volume production during 2010, according to DigiTimes author Susie Pan, who adds that "Qualcomm is expected to launch more Mirasol panels for different applications in the second half of 2010."
Like the monochrome electrophoretic displays produced by E Ink and found in devices such as Amazon's Kindle, Mirasol displays are touted as using little or no power when a static image is being shown. For example, the 1/4-inch version mentioned above is said to use under one milliwatt in such instances.
But compared to E Ink, the sunlight-readable, reflective Mirasol displays also offer color, according to Qualcomm MEMS. Not only that, they can also display video at up to 30 frames per second, the company adds.
Qualcomm says the Mirasol displays work by using interferometric modulation (IMOD), the natural manipulation of light that is also found in butterfly wings, sea shells, and peacock feathers. Each IMOD element in a display is built using two conductive plates: One is a thin film stack on a glass substrate, while the other is a reflective membrane.


Qualcomm's Mirasol technology
(Click to enlarge)
When no voltage is applied, light hitting the substrate is reflected back, resulting in an element — one per pixel, presumably — that looks (more or less) white. When a small voltage is applied, the plates are pulled together by electrostatic attraction and the light is absorbed, turning the element black. At the same time, Qualcomm adds, color can be produced by manipulating voltages so as to vary the size of each gap, reflecting different wavelengths to the viewer's eye.
An alternative that's already in production
With their color capabilities, video/web browsing compatibility, and high resolution, Mirasol's XGA displays will compete with LCDs now being produced by Pixel Qi, a spinoff from OLPC (One Laptop Per Child). Pixel Qi founder Mary Lou Jepsen is said to have invented the XO-1 laptop's sunlight-readable display technology while at OLPC.
Pixel Qi says its first product, a 10.1-inch for netbooks and similar devices, is now available to manufacturers. The technology will appear in the Notion Ink's Android-based Adam tablet, and is rumored to be a part of OLPC's Linux-ready , third-generation XO-3 design. In addition, a blog entry last month by Jepsen stated that kits will be available during the second quarter allowing users to install Pixel Qi screens in their existing laptops in "a five minute operation."
Unlike displays from Qualcomm or Mirasol, Pixel Qi's screens use conventional LCD technology, and require at least some power whenever they're on. Akin to the screen offered back in 2002 by NEC's pioneering Versa DayLite E120 notebook, however, the Pixel Q1 displays come with a switch that can change them from standard, color transmissive mode to a monochrome reflective mode. In the latter mode, the screen picks up all its illumination from ambient lighting, making e-books easier to read and slashing power consumption by up to 75 percent, Pixel Qi claims.

A video of the 5.7-inch Mirasol display
Source: Qualcomm
(click to play)

A demonstration of Qualcomm's 5.7-inch tablet prototype
Source: TweakTown
(click to play)
Availability
More information on Mirasol displays may be found on the Qualcomm MEMS website, here. The DigiTimes item about production of XGA versions may be found here.
Pixel Qi founder Mary Lou Jepsen's blog, including information about a recently announced cross-licensing deal with OLPC, may be found here.
---
This article was originally published on LinuxDevices.com and has been donated to the open source community by QuinStreet Inc. Please visit LinuxToday.com for up-to-date news and articles about Linux and open source.