Oct 7, 2010 — by Eric Brown — from the LinuxDevices Archive — views
Data Robotics announced a new member of its Linux-based Drobo network-attached-storage (NAS) storage family that adds a Drobo Sync application for offsite backup. Compared to the earlier Drobo FS, the DroboPro FS boosts capacity to eight bays (16TB), adds a second gigabit Ethernet port, and increases performance by 15 to 20 percent, the company claims.
The DroboPro FS is a larger, turbocharged version of the Drobo FS announced in April. As a result of its greater speed, capacity, and replication capabilities, the DroboPro FS is aimed at the small business market instead of the Drobo FS' broader SOHO (small-office, home-office) focus.
Both the DroboPro FS and Drobo FS are file sharing NAS systems. By comparison, the Drobo, Drobo S, and the DroboPro are single-server, direct-attached storage systems, and the high-end DroboElite is a multihost iSCSI SAN storage device. (For more background on other Drobo products, please see our earlier coverage, here.)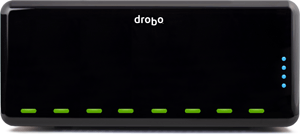 DroboPro FS
The new Drobo Sync feature allows users to replicate data on a second DroboPro FS, either locally on a company's LAN or offsite (when accessible via a VPN). Drobo Sync automatically replicates all data, either locally or remotely, transmitting only the portions of files that have changed, the company says.
Available with flexible scheduling options, Drobo Sync is a data replication process and not a generational backup utility, says Data Robotics. It is said to use checksums and hash tag algorithms to validate the accuracy of the files on the destination system.
Compared to the Drobo FS, the DroboPro FS moves from five to eight drive bays, enabling up to 16TB of storage, as opposed to 10TB. As with the earlier model, the DroboPro FS supports 3.5-inch SATA I/II hard disk drives (HDDs) of any manufacturer, capacity, spindle speed, and/or cache size. As before, the device supports a heterogeneous mix of all these storage variables on a single system.
As a result of its greater capacity, the device has expanded to 14.1 to 12.17 to 5.46 inches. Typical power consumption has bumped up to 85 Watts when fully loaded, says Data Robotics.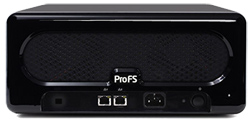 DroboPro FS
The DroboPro FS adds a second gigabit Ethernet port, with both ports enabled with new Active/Passive network failover capabilities for greater reliability, says the company. As before, LED indicators indicate various system conditions.
The device is 15 to 20 percent faster than the Drobo FS, with read speeds in the range of 30-66MB/sec, and write speeds in the range of 24-54MB/sec, claims the company. The device now supports up to 25 simultaneous users instead of the previous 10, and doubles the number of available shares to 64.
Data Robotics does not list the device's processor or memory, but the Drobo FS ran both VxWorks and Linux on paired ARM cores integrated in an unnamed Marvell system-on-chip (SoC). The company has confirmed that the new system also runs Linux.
The DroboPro FS shares the same BeyondRAID virtualized storage technology as the other Drobo products. Beyond RAID enables hot-swapping of drives, and lets users mix and match drive capacities, brands, and speeds, says Data Robotics. It also offers a one-click toggle between single- and dual-drive redundancy, with protection against up to two simultaneous drive failures, says the company.
BeyondRAID is said to offer "self-healing" technology that continually examines data blocks and sectors on each drive to flag potential issues. This "preemptive scrubbing" helps ensure data is being written only to healthy drive areas and automatically keeps data in the safest state possible, claims Data Robotics. In addition, the DroboPro FS provides perpetual thin provisioning options, says the company.
Compatible with Windows, Mac, or UNIX/Linux clients, the Drobo Pro FS supports protocols including Apple File Protocol (AFP) and Microsoft Common Internet File System (CIFS). To this the company has added Apple Time Machine support.
Stated Liz Conner, Senior Research Analyst, Storage Systems and Personal Storage, IDC, "Data Robotics has had success in addressing the personal and SOHO storage market with its Drobo FS. The company is aiming to meet the increasingly rigid requirements for data availability with its DroboPro FS by enabling off-site backups while preserving its simple-to-use nature that can scale with the capacity needs of its users."
Stated Tom Buiocchi, CEO, Data Robotics, "We are reinventing storage solutions that meet the specific requirements of small business owners."
Availability
The DroboPro FS is now available from select partners worldwide, including preferred launch partner CDW, here, at a starting price of $1,999 MSRP. Multiple configurations are available ranging up to $3,299 MSRP for a 16TB bundle.
More information may be found here.
---
This article was originally published on LinuxDevices.com and has been donated to the open source community by QuinStreet Inc. Please visit LinuxToday.com for up-to-date news and articles about Linux and open source.