Jan 21, 2010 — by Eric Brown — from the LinuxDevices Archive — 5 views
Synology announced it is shipping a Linux-based network-attached storage (NAS) device called the DiskStation DS1010+, offering a dual-core Intel Atom D510 and up to 10 drive bays. Earlier this month, the company also shipped a single-bay (2TB) DS110j NAS aimed at SOHO customers.
The DiskStation DS1010+ supercedes Synology's DS509+ NAS, moving up to Intel's new dual-core D510 Atom, clocked to 1.66GHz. Also new with the DS1010+ is the ability to expand from the standard five-bay configuration to 10 bays via a separate five-bay DX510 Expansion Enclosure. Together, these features make the DS1010+ suitable for growing small to medium-sized businesses that want an affordable alternative to a PC file server for centralized backups and file sharing, says the company.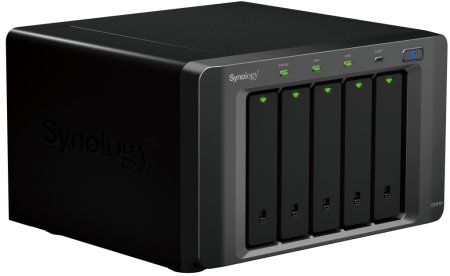 Synology DS1010+
(Click to enlarge)
We have not covered the DS509+, but did take a look at the four-bay
DS409
, which Synology shipped last June, running on Marvell's 1.2GHz 88F6281 "Kirkwood" processor. All of Synology's NAS devices, including the DS110j covered farther below, run on embedded Linux and offer the company's DiskStation Manager (DSM) application suite.
The DS1010+ delivers 250 percent faster performance than the DS509+, according to the company. Its Intel dual-core D510, like Intel's other new "Pineview" Atom processors, integrates northbridge capabilities within the CPU itself, thereby reducing space and power consumption.
The DS1010+ boasts an average of 116+ MB/sec reading speed under RAID 5 configuration in a Windows environment, and 103+ MB/sec writing, claims Synology. Meanwhile, its web server is claimed to be able to handle 1,000 simultaneous requests in 30.81 seconds.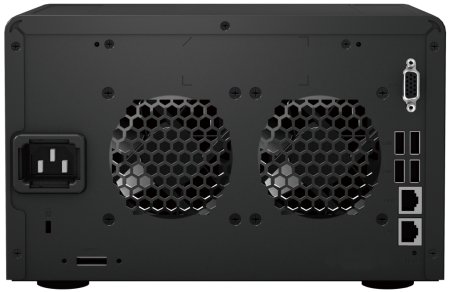 DS1010+ (rear view)
(Click to enlarge)
The DS1010+ is equipped with 1GB DDR2 RAM, expandable to 2GB or 3GB via an optional RAM module, says Synology. The device offers hot-swappable bays for up to five 2TB drives, and supports five more drives with the optional five-bay DX510 expansion enclosure.
Supporting 2.5 or 3.5-inch SATA devices, the DS1010+ supports RAID levels 1, 5, or 6. An external eSATA port can extend storage further, says the company, and the device also offers two gigabit Ethernet ports and four USB 2.0 ports.
The 6.2 x 9.8 x 9.2-inch (157 x 248 x 233mm) system is said to consume only 68 watts of power under normal conditions, and supports wake-on-LAN and disk hibernation for further energy savings. Equipped with two fans rated at a 23dB(A) noise level, the DS1010+ is said to operate at temperatures ranging from 40 to 95 deg. F (5 to 35 deg. C ).
The device ships with the Synology DiskStation Manager (DSM) 2.2 application, which supports Linux, Mac, and Windows desktops. DSM 2.2 enables automated backup features, remote file sharing, iSCSI target support, and multimedia streaming, says the company.
The software also includes a DNLA-compliant media server, the Photo Station 3 photo management application, and a built-in PHP + MySQL server, which enables remote web-based sharing of photos and other content. In addition, DSM 2.2 includes Surveillance Station 3, which lets users set up a surveillance station for up to 20 connected IP cameras. The software is said to support Apple's Time Machine, as well as two iPhone Applications: DS audio and DS photo.
DiskStation DS110j
Two weeks ago in conjunction with the CES show in Las Vegas, Synology announced it was shipping a single-bay DiskStation DS110j NAS device for home and small business users. Available for only $150 without pre-installed storage, it appears to be quite similar in design and features to the dual-bay DS210j announced last month.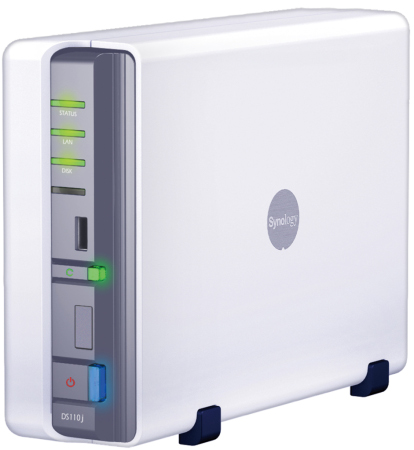 DS110j


(Click to enlarge)
Like the DS210j, the DS110j is equipped with an unnamed 800MHz processor with 128MB of RAM, and offers reading speeds of 45MBs/sec when run in a Windows environment, claims Synology. The single-bay device accepts a 3.5-inch or 2.5-inch HDD or SDD drive at up to 2TB, but does not support RAID.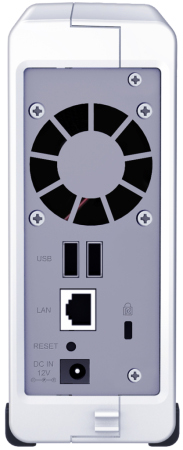 DS110j (rear view)


(Click to enlarge)
The DS110j further supplies a gigabit Ethernet port, and offers three USB 2.0 ports instead of the DS210j's two. As mentioned previously, the Linux-based DS110j ships with Synology's DSM 2.2 software, offering all the DSM features listed above for the DS1010+, including DLNA file-sharing and backup. Otherwise, the device is identical to the DS210j, whose spec list can be found
here
.
Availability
The DiskStation DS1010+ diskless model is currently shipping in the U.S. and Canada, and the DS1010+ 5100 (with five 1TB HDDs pre-installed) is currently shipping in the U.S. The DX510 Expansion Enclosure will ship in both countries in March. Pricing was unavailable, but more information may be found here.
The DiskStation DS110j diskless model is available now in the U.S. and Canada for $150, and the DS110j 1050 (one 500GB HDD pre-installed) and DS110j 1100 (1TB pre-installed) are now shipping in the U.S. No pricing on the latter models was offered, but more technical details may be found here.
---

Related Stories:
This article was originally published on LinuxDevices.com and has been donated to the open source community by QuinStreet Inc. Please visit LinuxToday.com for up-to-date news and articles about Linux and open source.