Apr 6, 2010 — by Eric Brown — from the LinuxDevices Archive — 1 views
Data Robotics is shipping a new network-attached storage (NAS) device focused on file-sharing and back-up for SOHO and small-office users. The Drobo FS is equipped with an ARM-based, dual-core Marvell SoC that runs both Linux and VxWorks, a gigabit Ethernet port, up to 10TB storage with automated "BeyondRAID" data protection, and access to Oxygen Cloud services.
Introduced in 2007, the original, VxWorks-based Drobo was touted as an easier-to-use alternative to RAID-based storage systems for the SOHO (small-office, home-office) and consumer markets. In 2008, the company announced a Linux-based DroboShare networking companion that sat underneath the Drobo, enabling the device to share files over a LAN like a NAS device, and to support Linux applications.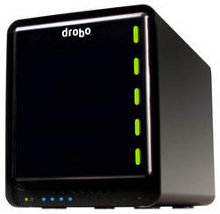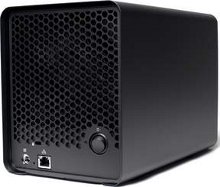 Drobo FS, front and back
Drobo FS now integrates the DroboShare capability, running both VxWorks and Linux on the paired ARM cores integrated in its unnamed Marvell system-on-chip (SoC). The new version falls in between Data Robotics' home-oriented Drobo and Drobo S models on the low end, and its higher capacity, SMB-focused DroboPro and DroboElite models on the high end. Instead of offering block-level automated storage like these other Drobos, however, it's more of a file-sharing server and NAS device, says the company.
Like the DroboPro and DroboElite, the Drobo FS offers gigabit Ethernet connectivity, supplying a single port, but it does not provide the FireWire and USB support offered by other models, including the DroboPro. The Drobo FS is equipped with one to five 3.5-inch SATA I/II bays, supporting hard disk drives (HDDs) of any manufacturer, capacity, spindle speed, and/or cache size, for a total of up to 10TB, says Data Robotics.
The Drobo FS shares the same 10.3 x 7.3 x 5.9 x -inch (262.3 x 185.4 x 150.3mm) chassis as the earlier Drobo S, and offers the same LED indicators to indicate various system conditions. Typical power consumption is 56 Watts with four activated drives, or 12 Watts on standby, claims the company.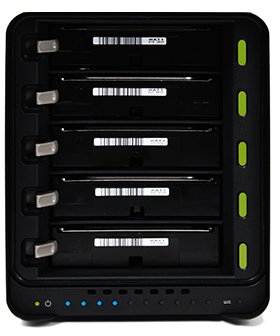 The Drobo FS offers five bays, supporting HDDs with different capacities and types
The device shares the same BeyondRAID virtualized storage technology as the other Drobo products. Beyond RAID enables hot-swapping of drives, and lets users mix and match drive capacities, brands, and speeds, says Data Robotics. It also offers a one-click toggle between single- and dual-drive redundancy, with protection against up to two simultaneous drive failures, says the company.
BeyondRAID is said to offer "self-healing" technology that continually examines data blocks and sectors on each drive to flag potential issues. This "preemptive scrubbing" helps ensure data is being written only to healthy drive areas and automatically keeps data in the safest state possible, claims Data Robotics.
The Drobo FS is focused on ease of use for non-technical users, providing a "plug in and share set-up experience," says the company. Supporting Windows, Mac, or UNIX/Linux clients, the Drobo FS supports protocols including Apple File Protocol (AFP) and Microsoft Common Internet File System (CIFS).
DroboApps and Oxygen Cloud support
Data Robotics first opened up the Drobo platform to Linux developers in July 2008, releasing a Linux-based software development kit (SDK), and in October of that year it announced its first DroboApp, called the Linux Dashboard. Now the DashBoard is one of a growing library of about 30 Linux-based DroboApps available for the devices, including the Drobo FS.
The most popular DroboApps are said to include a TimeMachine-based backup utility, a DLNA and UPnP multimedia server, and a "JumboFrames" app that changes the Ethernet payload size (MTU) to increase file transfer performance. The latest apps include a Firefly iTunes server, a Yoics remote access utility, and a web-based admin utility. Other DroboApps include an HTTP server, a BitTorrent client, an FTP server, and an SSH utility.
With Drobo FS, Data Robotics is debuting a private cloud feature in partnership with Oxygen, the company's Mark Fuccio told LinuxDevices.com today. Storage on the Oxygen Cloud service will be offered free for a single access license, while business users with over 20 clients will pay various fees, he added. Oxygen also sells cloud administration tools for use with its cloud service.
With Oxygen Cloud, users can copy the entire contents of their Drobo FS drives to the cloud for disaster recovery, said Fuccio. The private cloud service offers users access to information such as where a particular Drobo FS system resides, and they have more control over each device's physical security, he added.
Liz Conner, research analyst for IDCs storage systems and personal storage practices, was quoted as saying, "More than ever before, home users and small offices want to access and share a growing amount of data, but they don't need a large, expensive system that requires specific expertise or extensive management. With DroboApps, users can customize the Drobo FS to serve their unique storage requirements. This is the Drobo for which many users have been waiting."
Stated Seth Resnick, co-founder at D65, "Drobo FS comes with just the functionality we need, so it is easy to use while still providing the automated data protection that comes with BeyondRAID. The additional DroboApps allow us to add new features as we need them, which is really unique."
Availability
The Drobo FS is currently available at a starting price of $700 without built-in storage, ranging up to to $1,450 for a 10TB (five 2TB drives) version. Purchases can be made at the DroboStore, available here. More information on the Drobo FS may be found here.
---
This article was originally published on LinuxDevices.com and has been donated to the open source community by QuinStreet Inc. Please visit LinuxToday.com for up-to-date news and articles about Linux and open source.