Jun 20, 2001 — by Rick Lehrbaum — from the LinuxDevices Archive — 17 views
[Updated March 22, 2002] Hewlett-Packard Company (HP) unveiled a prototype of a new Linux-powered consumer music appliance at the Tech X NY trade show in New York during the week of June 25, 2001. Although the device — called the HP Digital Entertainment Center — contains more computing power than most desktop PCs, it is narrowly focused on being a "single function appliance" in which… "simplicity and ease-of-use" are high priorities, according to HP Product Manager George Prokop.
The HP Digital Entertainment Center has the look and feel of a stereo receiver. Developed by the Colorado Personal Storage Solutions Division, the source of HP's CD-RW, DVD+RW drives and technologies, the device is the first consumer product from that group that is not itself a peripheral to some other device.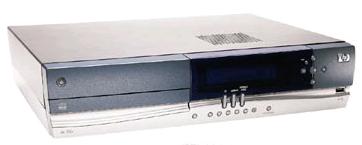 What can it do?
HP's entertainment center is basically a standalone appliance that is intended to make it easy to download music from the Internet and play it on a home stereo. It also has a built-in CD-R/W drive (made by HP, of course) which can be used to burn music CDs, or to load the contents of up to 750 CDs (or 9000 tracks) worth of music onto an internal 40 Gigabyte hard drive.
But that's not all. It also generates an output video signal which connects to a TV. That lets you use a TV display for a number of purposes, including . . .
initializing and programming the device

downloading MP3s and music samples, and purchasing music from online providers

viewing information about the current track and artist

creating playlists and organizing a music collection

locating Internet radio stations and setting up radio favorites

viewing and downloading streaming video
A front-panel VFD (vacuum fluorescent display) readout makes it possible to use the device without turning on (or connecting it to) a TV, so in normal use the remote control is all that's necessary to relax and enjoy your favorite music.
What's it made of?
Embedded inside the HP entertainment system are most of the functions of a desktop PC. In this case, that includes a 566 MHz Intel Celeron processor, 64MB of RAM, and a 40 Gigabyte hard disk. The resemblance to a PC doesn't end there, for, like many PC motherboards, much of the computer subsystem is implemented by means of the highly popular Intel 810 chipset.
As far as input/output connections are concerned, the unit provides a fairly complete set, including . . .
10/100 Mbits/sec Ethernet port

V.90 modem

HPNA interface (HPNA provides 1 megabit/sec data rates over ordinary in-home telephone wiring)

three USB ports (one on the front, two on the back)

IR port for the remote control

stereo audio jacks for connection to audio components

composite and S-Video outputs for connection to video components
All this, and Linux too!
The average consumer will never be aware of it, but the HP entertainment system also comes with a Linux 2.4 kernel and the X Window system embedded inside. But don't expect to see anything as familiar as a Linux command prompt or a KDE or GNOME windowing environment.
That's because HP has gone to great lengths to make this device as easy-to-use as possible, targeting a highly focused purpose: listening to music and viewing streaming video.
To this end, the graphical user interface is a unique HP graphical program that runs directly on top of the X Window system. Rather than using the HTML browser approach that is popular in many new Linux-based set-top boxes, the HP entertainment system's on-screen display is driven by XML formatted data from a dedicated Internet portal site which HP created to support the new device.
The HP portal will provide access to various online services, including e-commerce, artist information, and streaming audio and video. According to Prokop, access to the online portal by the device, which is required for using its Internet-based features, will be free of fees — at least for the basic services. There will, however, be additional services and products that can be accessed (or purchased) through the portal on an e-commerce basis.
A "walled garden" approach
Given the fact that the system's internal hardware and software are more than capable of doing most anything a desktop PC can do, it's natural to wonder whether Web browsing on a TV will be supported.
"The HP entertainment system is a single function, music-centric appliance, not a multi-function PC-like device," explained Prokop. "We've taken a walled garden approach" rather than providing the kind of unrestricted Internet/Web access provided by a desktop PC.
So what happens when a competitor such as Nokia, with its Media Terminal, begins offering multiple functions in an equal- or lower-priced device?
"It's a very new market space, and there's plenty of room for both multi-function and single-function appliances," said Prokop.
On the other hand, since the device's software is fully upgradeable, features can always be added in the future if they turn out to be required by consumers.
How much will it cost, and when can I get one?
As of March 22, 2002: The HP de100c Digital Entertainment Center is currently being sold for $999 at HP's hpshopping.com website. Availability is listed as "In Stock: orders placed by 10PM ET (M-F) ship same day."
---

This article was originally published on LinuxDevices.com and has been donated to the open source community by QuinStreet Inc. Please visit LinuxToday.com for up-to-date news and articles about Linux and open source.