Aug 9, 2010 — by Eric Brown — from the LinuxDevices Archive — 1 views
Several weeks after announcing the phase-out of its HTC-manufactured Nexus One phone for the consumer market, Google says that it has recast the phone as the official Android 2.2 Developer Phone. The Nexus One Developer Phone is being offered unlocked for $529, runs Android 2.2 on a 1GHz Snapdragon processor, and offers a 3.7-inch AMOLED touchscreen and five-megapixel camera.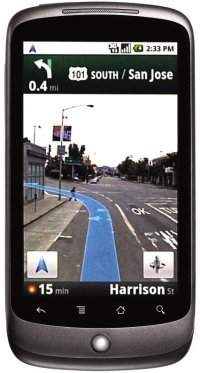 On Aug. 5 Google made the HTC-manufactured Nexus One its official phone for developers, three weeks after announcing that it had received its last shipment of the device from HTC. At that time, Google announced that the Nexus One (pictured) would not be restocked, but that the company will continue to provide customer support for current Nexus One customers, who began receiving Android 2.2 upgrades over the air in late June.
The latest shipment is apparently enough to satisfy the needs of Google's registered community of Android developers, who now can buy the Nexus One unlocked for $529. This is the same price Google offered to consumers with its short-lived "Webstore" experiment with direct sales. Google also sold the phone on T-Mobile in the U.S. for $179 with contract.
In May, Google discontinued its Webstore after slow sales, and presumably some friendly pressure from its carrier partners. Despite reasonably strong sales of more than a quarter million units, Sprint and Verizon both pulled out of arrangements to sell the Nexus One by early May.
The developer version runs Android 2.1, but can be immediately updated to Android 2.2. The Nexus One boasts a 1GHz Snapdragon processor, a 3.7-inch AMOLED touchscreen, and a five-megapixel camera. The original version offered 512MB each of RAM and flash memory, and supplied a microSD card slot pre-installed with a 4GB memory card, expandable to 32GB.
The Nexus One is further equipped with 802.11n Wi-Fi, as well as GPS and Bluetooth 2.0. A micro-USB port, 3.5mm headset jack, accelerometers, and various sensors are also said to be provided.
According to the Google blog announcement by Tim Bray, the Nexus One Developer Phone is "a good choice both for people who want to build Android applications using either the SDK or the NDK, and those who want to experiment with modified versions of the Android platform."
Third Developer Phone a charm
Since launching Android, Google has offered several unlocked phones to registered Android developers for testing purposes. Whereas the original Android Developer Phone 1 (ADP1) was based on the HTC G1, the ADP2 or so-called "Google Ion" phone was based on HTC's second-gen, touchsceen-only design found in the HTC Magic (Vodafone) and MyTouch 3G (T-Mobile), which runs Android 1.6.
When rumors first started popping up in October that Google was planning to sell its first self-branded phone on its own website, there was considerable uproar among the press. It was widely suggested that Google's carrier partners, and to a lesser extent handset vendors, would take umbrage at the search giant's apparent power play.
It seemed so unlikely that Google would take such a risk, in fact, that we speculated that the Google-branded phone was actually just another Android Developer Phone, albeit based on more cutting-edge technology. We were wrong, of course, but ended up getting it right in the long run. From the beginning, in fact, the Nexus One was a developer-focused phone, and it never really caught on with the typical consumer.
Availability
The Nexus One Developer Phone is available now, unlocked, to registered Android developers for $529 from the Android Developers site. The Google announcement of the Nexus One Developer Phone may be found here.
An eWEEK story that alerted us to the Nexus One's new developer reincarnation may be found here.
---
This article was originally published on LinuxDevices.com and has been donated to the open source community by QuinStreet Inc. Please visit LinuxToday.com for up-to-date news and articles about Linux and open source.