Jan 19, 2010 — by Eric Brown — from the LinuxDevices Archive — 1 views
Juniper Research is projecting that the number of wireless M2M (machine to machine) embedded devices will rise to almost 412 million by 2014. The fast growth will be led by utility metering, followed by mobile connected buildings, telematics, and automated retail and banking connections, says the company.
The "rise of the machines," as Juniper refers to the coming boom in M2M, stems from several trends from dropping costs to increasing energy efficiency initiatives to the growing interest and control by mobile operators.
First, the cost of M2M components has dropped considerably over the last two years. Although Juniper does not focus much on technology here, it does mention the role of cellular radios, as well as WiFi, ZigBee, Bluetooth, and NFC, listed here in order of descending wireless reach.
Of course, embedded boards are often required to control or communicate with such devices, so the M2M ecosystem appears to be fairly broad. As for cellular technology, Juniper notes that M2M devices do not typically require 3G bandwidth.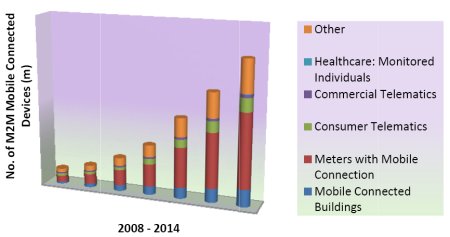 Number of Mobile M2N connected devices in millions (2008 to 2014); Source: Juniper Research)


(Click to enlarge)
A second reason for the re-emergence of M2M is the growing saturation in wireless carriers' core businesses, says the U.K.-based research firm. This is leading mobile operators to "re-evaluate and invest in the potential of M2M," says Juniper. Already, Vodafone, O2, Verizon, and KPN have invested significantly in M2M units, with Verizon recently forming an alliance with Qualcomm on M2M, says Juniper.
As noted in a 2007 ABI Research report on M2M, the reason operators have not shown greater interest before is the lack of profitability compared to human-driven voice and data services. "Since ARPU for M2M and embedded devices is lower than for standard mobile services," says Juniper, mobile operators are now realizing that large scale is essential to a profitable M2M business.

According to Juniper, new and expected restrictions on carbon footprint and energy use are increasing the demand for smart meters, which are designed to wirelessly communicate with central utility servers. In many cases, these devices also communicate with a new class of local, GUI-enabled monitoring and control devices, such as OpenPeak's Home Energy Manager (pictured at right).
Power meters are expected to be the clear leader in driving the M2M business in the coming years, says Juniper. "The most widespread category will be connections related to smart metering, driven partly by government initiatives to reduce carbon emissions," said Anthony Cox, senior analyst at Juniper Research, in a statement.
After smart meters, vehicular telematics and "connected buildings" will track at a distant second at about the same fast-growing levels over the next five years, according to the study. The connected building market includes wireless sensors that track everything from temperature to security.
A late bloomer will be healthcare monitoring devices, which will begin to reach the commercial roll-out stage in 2012, says the research firm. Healthcare should be particularly lucrative, however, for providing add-on services, which is key for mobile operators' plans on making money off of M2M, notes Juniper. Services will also be the most costly component of M2M, representing over 70 percent of total costs.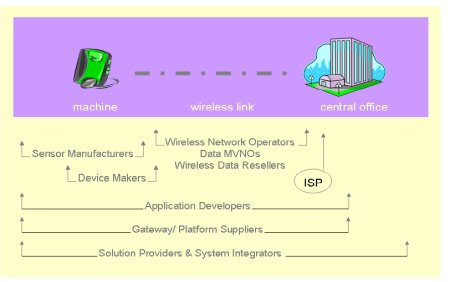 The M2M supply chain (Source: Juniper Research)


(Click to enlarge)
Now that mobile operators are taking on M2M deployments and services that were previously offered by a variety of resellers and MVNOs (mobile virtual network operators), the M2M segment will finally have the regional or global scale required to take off, says Juniper. Nevertheless, the mobile operators face the challenge of market fragmentation, both vertically due to the large number of different industries, regulations, devices, and applications, as well as horizontally due to the complexity of the M2M supply chain. The latter ranges from embedded device makers to wireless data resellers, says the research firm (see diagram above).
Availability
The 97-page Juniper Research report, "Embedded Mobile & M2M Strategies: Healthcare, Telematics, Metering & Connected Buildings 2009-2014," is available now at prices starting at 1750 Pounds (about $2,860 U.S.). The report is said to include six-year forecasts and analysis for key mobile M2M parameters and attributable service revenues.
More information may be found here, and a white paper is available for free download with registration, here.
---
This article was originally published on LinuxDevices.com and has been donated to the open source community by QuinStreet Inc. Please visit LinuxToday.com for up-to-date news and articles about Linux and open source.