Feb 6, 2009 — by Eric Brown — from the LinuxDevices Archive — 1 views

The smartphone market will slow to a 13 percent growth rate in 2009, but will rebound in 2010, projects Forward Concepts in a recent study. Forward Concepts also suggests that Linux's current share (11 percent) has been given a boost by the Android-based HTC G1 (pictured).
The "Smartphone & Chip Market Opportunities" study projects 13 percent growth in the smartphone market to 164 million units this year. The rate is down from 19 percent growth in 2008, but still better than that projected for most electronics segments this year, says Forward Concepts. The research group rather optimistically projects that smartphone growth rates will bounce back up again as early as 2010. Over the next five years, it estimates that the segment will see an overall 21.7 percent growth rate, to 387 million units in 2013.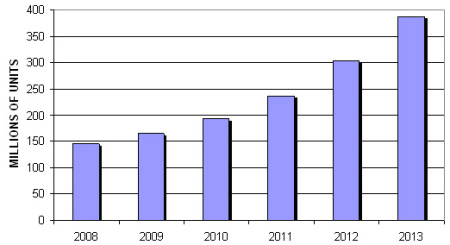 Smartphone shipments. (Source: Forward Concepts.)
At the end of 2008, Forward Concepts sees the OS breakdown for the smartphone market like this:
Symbian — 49 percent
Microsoft Windows — 14 percent
RIM — 13 percent
Linux/Android — 11 percent
O/S X (iPhone) — 10 percent
Palm — 2 percent
Danger — 1 percent
The firm offers little analysis of OS share, except to say that, "Although Symbian is expected to remain dominant, market penetration and shares of most of the other [platforms] are projected to grow." Forward Concepts also says that Windows "has grown to" its 14 percent share, and that Linux and Android "have reached" 11 percent share, suggesting that both these platforms are on the upswing.
In addition, this appears to be one of the first studies to reflect the first sales of HTC's Android-based G1 phone (pictured at top), which according to T-Mobile, has sold quite well. Considering that most other recent smartphone surveys prior to the late October G1 launch have put Linux share at well under 10 percent, this 11 percent estimate would seem to suggest a Linux surge based on the G1. (For example, a Gartner smartphone report based on the 3Q results, showed Linux at 7.2 percent, and a Canalys study covering the same period pegged Linux even lower, at 5.1 percent.)
Although Forward Concepts did not define the smartphone genre, the study most likely reflects other Linux smartphones, from companies like Motorola, NEC, and Panasonic. These typically LiMo-compliant models are generally considered feature-phones, rather than smartphones, by other market research firms.
The study is too early, of course, to reflect sales of the Linux-based Palm Pre, which runs a new WebOS Linux distribution, and is not due until the second quarter. Meanwhile, several more LiMo-based Linux phones are also expected to ship this year, including a smartphone from an undisclosed vendor to be sold by Vodafone.
In the vendor analysis, Nokia continues to lead in smartphone sales with a year-end 2008 share of 34 percent for its Symbian-based phones, says Forward Concepts. Nokia is followed by RIM (BlackBerry) at 13 percent, Apple (iPhone) at 9.6 percent, and Sharp (mostly Windows Mobile) at 5.7 percent. Sony Ericsson is next with a 5.3 percent market share, followed by HTC at 5 percent, Motorola at 4.6 percent, and Samsung at 4 percent. Another 16 vendors represent the remaining 18 percent share (see table below). Linux handset market leader Motorola recently announced more low sales numbers for its mobile phones, and also said it would focus on building Android phones this year, returning to Windows Mobile development next year.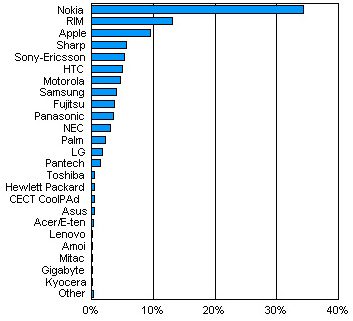 Smartphone units by vendor share. (Source: Forward Concepts.)
Japan still leads in smartphone consumption, with a 21 percent share, says the study, followed by Western Europe at 18 percent, and North America and China, each with 17 percent apiece.
The study analyzes the top 24 smartphone vendors, and provides forecasts by global region, wireless technology, operating system (OS), and processor platform through 2013, says the group. The report also forecasts handset components including:
Digital basebands
RF transceivers and PA's
Communication processors
Application processors
Graphics
Multi-touch screen controllers
Memories
Specialty chips for:

Camera sensors
WiFi
Bluetooth
FM
GPS
Mobile TV
NFC
Fingerprint sensors
Accelerometers
Stated Will Strauss, president of Forward Concepts, and editor of the report, "Despite the slowdown in the overall mobile handset market, the strong growth for Smartphones is partly due to the uptake in mobile data which leads to higher revenue for the operators. Because of the higher data revenue that it brings, we project that higher-end feature phones will lose market share to Smartphones, as a result of the narrowing spread in (subsidized) up-front net cost to the end user."
Stated Satish Menon, co-author of the report along with Carter L. Horney, "Strong 3G mobile Internet demand will drive a long-term growth trend in the global Smartphone market with 2013 penetration levels exceeding 50 percent in the major operator-subsidized regions of North America and Western Europe."
Availability
The 607-page "Smartphone & Chip Market Opportunities" study, which costs $3,750, profiles over 80 companies and includes 64 figures and 152 tables, plus an appendix, says Forward Concepts. More information may be found here.
---

This article was originally published on LinuxDevices.com and has been donated to the open source community by QuinStreet Inc. Please visit LinuxToday.com for up-to-date news and articles about Linux and open source.