Jul 28, 2011 — by Eric Brown — from the LinuxDevices Archive — views
Nielsen released its U.S. smartphone subscriber numbers for June, showing Android inching up to 39 percent share ahead of Apple's iPhone with 28 percent. Meanwhile, some Android smartphone devices are being returned at a rate of 30 to 40 percent, claims an industry report.
Nielsen's June U.S. subscriber numbers show Android reaching 39 percent share, up from 37 percent in March, representing slower growth compared to earlier this year. At the end of January, Android was said by Nielsen to have reached 29 percent share, for the first time breaking a statistical tie with Apple's iOS and Research In Motion's BlackBerry platforms.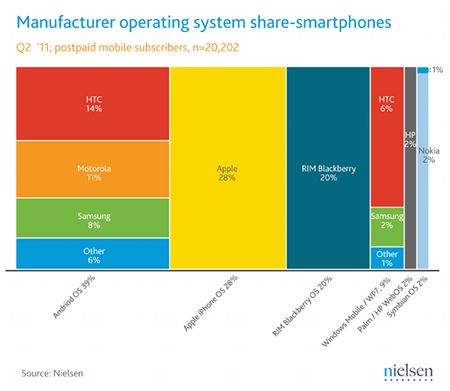 June 2011 smartphone market share
Source: Nielsen Research
(Click to enlarge)
By the end of June, Apple rose to 28 percent compared to 27 percent in March, says Nielsen. RIM's BlackBerry, meanwhile, was said to have declined to 20 percent from 22 percent in March.
The combined Windows Phone and Windows Mobile numbers were estimated at 9 percent, compared to 10 percent in March. New models may boost the Windows Phone totals, such as the recent IS12T from Fujitsu Toshiba Mobile Communications. (Due in September, the phone features the "Mango" update to Windows Phone 7, as well as a 32GB of storage and a 13.2-megapixel camera. It's not clear, however, if this Japan-destined phone will reach the U.S.)
Trailing far behind at 2 percent share each are Hewlett-Packard's WebOS/Palm phones and Nokia's Symbian OS, says Nielsen. Nokia stayed the same since March, marking time until its first Windows Phone models hit by year's end or 2012.
The WebOS numbers dropped a percentage point from March. This year, HP has shipped only two new phones running the Linux-based WebOS — the HP Pre and Veer — and has so far announced no new models. The company appears to be more interested in pushing WebOS onto tablets and PCs than on phones. However, the company has revealed that it is negotiating possible licensing deals with other smartphone vendors.
Meanwhile, Android continues to push forward, albeit at a slower rate than earlier this year. Never have the signals been more mixed for Google's Linux-based operating system. Google and its hardware partners have been besieged on the legal front over Android patents from Apple, Microsoft, and Oracle, while platform fragmentation, malware, and developer backlash over Android Market continue to bedevil the platform.
In fact, Android appeared sufficiently vulnerable to Mozilla to inspire it to launch its own rival mobile OS, Boot to Gecko (B2G), partially based on Android. Yet, clearly, B2G faces an uphill battle.
Do Android phones have high returns?
Build quality and bad UI skins represent additional challenges for Android, at least on some phones. John Biggs at TechCrunch is reporting that "a person familiar with handset sales for multiple manufacturers" told him that "the return rate on some Android devices is between 30 and 40 percent."
By comparison, he writes, the iPhone 4 has a 1.7-percent return rate "as of Antennagate in 2010."
It would be instructive to know what "some" entails. Biggs seems to acknowledge this, however, by placing the word in italics in his story.
There are scores of Android smartphone models available around the world from several dozen vendors. If a few "lemons" suffer from high return rates, it would not be surprising. Product failures are a necessary by-product of the evolutionary, multi-vendor strategy for the open source Android. However, if "some" represents a larger trend, the Android world could be in for even more trouble.
Nevertheless, further gains for Android — at least on for smartphones — seem to be projected by most analysts, at least for the near future. In April, for example, Nielsen reported survey results saying that 31 percent of U.S. smartphone subscribers said they would prefer Android for their next phone, compared to 30 percent for the iPhone.
---
This article was originally published on LinuxDevices.com and has been donated to the open source community by QuinStreet Inc. Please visit LinuxToday.com for up-to-date news and articles about Linux and open source.