Feb 8, 2011 — by Eric Brown — from the LinuxDevices Archive — 5 views
Myriad Group AG today announced a Dalvik virtual machine claimed to let Android apps run on non-Android platforms. Myriad posted a video showing "Myriad Alien Dalvik" running Android apps on a Nokia N900, and said the software will be available for MeeGo later this year.
Myriad Alien Dalvik will enable operators, OEMs, and application store owners to deploy Android applications across multiple device operating systems, all without compromising performance, claims Zurich, Switzerland-based mobile software development firm Myriad Group. This is thanks to "very tight" integration of the Android runtime, as well as the use of Myriad's Myriad Dalvik Turbo technology, the company says.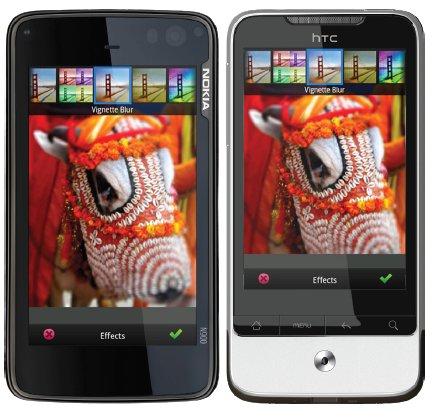 Myriad Alien Dalvik running on the Nokia N900 (left) with same Android Photoshop app running on an HTC Legend (right)
Dalvik Turbo is touted as a replacement for Android's standard Dalvik Virtual Machine that can increase Android app performance by up to five times. The VM is equipped with compiler bytecodes that implement advanced optimization techniques, says the company.
Myriad Alien Dalvik takes Dalvik Turbo software and makes it platform-independent, says the company. Alien Dalvik enables the majority of Android applications to run unmodified, letting app-store services easily repackage Android Package (APK) files to make the apps MeeGo compatible, claims Myriad. To the user, meanwhile, Alien Dalvik applications will appear as native and can be installed normally, says the company.
Should apps require modification for running on Alien Dalvik, the process is "simple and straightforward" using Myriad's Android SDK plugin, says the company. The initial version is also very tightly integrated with the MeeGo SDK (Nokia's QT Creator), which also helps to make it easy to modify, package, and test applications, says Myriad.
The video farther below shows Android apps like Twitter, Google Maps, Chess, Adobe Photoshop, and DropBox running (briefly) at about the same speed on both an Android based HTC Legend and a Nokia N900. Presumably, the N900 is running MeeGo, although the Alien Dalvik datasheet mentions support for Nokia's Maemo Linux, as well as the newer, partially Maemo-based MeeGo Linux.
Officially, the N900 is still offered with Maemo, although MeeGo can be run on it, and a MeeGo version is expected to be announced at Mobile World Congress next week, if not sooner.
The Legend and N900 offer equivalent performance, says Myriad. While it is true that they both run at a 600MHz clock rate, the N900 is arguably the faster phone. The legend runs on a standard Qualcomm MSM7227 ARM11 processor while the N900 offers a Texas Instruments OMAP3430, which is based on a more powerful ARM Cortex-A8 core.
Still, if Alien Dalvik offers performance that is even close to native, it could substantially change the smartphone landscape. The company says that later this year it will announce future platforms, which GigaOM's Kevin Tofel predicts will be Linux-based, suggesting HP/Palm's WebOS as one possible target. Yet, Myriad Group makes no such distinction, so it could conceivably be extended anywhere, from Symbian to BlackBerry.
Late last month, rumors popped up about Research in Motion (RIM) working on a possible Dalvik Virtual Machine for its PlayBook tablet, and possibly its BlackBerry phones. Since the Dalvik Java virtual machine, which sits atop Android's Linux kernel, is an essential component in running Android applications, adding Dalvik should make it much easier for RIM to support Android apps.
GigaOM's Tofel does mention one possible hitch in Myriad's alien invasion: Oracle's ongoing lawsuit against Google over the Dalvik VM. The patent infringement lawsuit claims that Google illegally implemented Dalvik in Android. Tofel notes, however, that whether or not Oracle's claims are valid, there is no indication that Myriad's VM "uses any code without proper licensing or permission from Oracle."
Myriad Group background
Myriad Group AG was created two years ago as a merger between Zurich-based Esmertec, a founding member of Android's Open Handset Alliance (OHA), and Purple Labs, a French vendor of mobile stacks compatible with the LiMo Platform. Even back in those early Android days of Feb. 2009, Esmertec billed itself as a specialist in Android and Java virtual machines.
Esmertec — and by extension, the new Myriad Group — is also known for its Jbed Java Phone Engine. To date, Myriad Group claims to have shipped over 3.7 billion software applications on more than 2.2 billion phones.
Stated Simon Wilkinson, Chief Executive Officer, Myriad Group, "The proliferation of Android has been staggering, but there is still room for growth. By extending Android to other platforms, we are opening up the market even further, creating new audiences and revenue opportunities."
Myriad Group's YouTube demo of Alien Dalvik running on Nokia N900 side by side with HTC Legend running native Android apps


(Click to play)
Availability
Myriad Alien Dalvik will be commercially available later this year on the MeeGo platform, says Myriad Group. Other platform support will be announced in the coming months.
Alien Dalvik will be demonstrated for the first time on the Nokia N900 at this year's Mobile World Congress in Barcelona from Feb. 14-17 at the Myriad hospitality suite located at The Avenue, Stand AV91.
More information may be found at Myriad Group site and on this Myriad Alien Dalvik page.
---
This article was originally published on LinuxDevices.com and has been donated to the open source community by QuinStreet Inc. Please visit LinuxToday.com for up-to-date news and articles about Linux and open source.