Jan 23, 2012 — by Eric Brown — from the LinuxDevices Archive — 2 views
Notion Ink says it will switch to a Texas Instruments OMAP 4 processor running Android 4.0 for its next generation Adam II tablet. In other tablet news, Pew Research found the percentage of U.S. adults who own a tablet computer nearly doubled from 10 percent to 19 percent between mid-December and early January, and RBC Capital estimated that Amazon.com will earn $136 in content-related revenue from each Kindle Fire customer.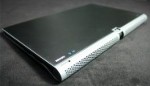 Notion Ink's Adam was one of the first 10.1-inch Android tablets to be announced when it was unveiled back at the Consumer Electronics Show in Jan. 2010. After wowing journalists and analysts, the tablet (pictured) was delayed until a year later, due in part to delays in the Pixel Qi display technology.
By that time, other tablets such as the Samsung Galaxy Tab had already shipped, and major players such as Motorola were drawing all the media attention with announcements of 10.1-inch tablets running Android 3.0 ("Honeycomb"). In addition, the Android 2.x-based Adam was hampered by some technical problems, as well as complaints about customer support and misleading product claims.
Bangalore, India-based Notion Ink is now trying again with an Adam II tablet that will hopscotch Honeycomb with an Android 4.0 ("Ice Cream Sandwich") build. Like many of the latest ICS tablets, the Adam II will switch from the Nvidia Tegra 2 processor to the similarly dual-core, Cortex-A9 Texas Instruments (TI) OMAP 44xx processor.
The OMAP 4 chip will provide the tablet with superior graphics, thanks to the processor's built-in, Imagination Technologies PowerVR SGX5xx GPU (graphics processing unit), says Notion Ink. It's unclear whether this will be the latest 1.8GHz OMAP4470 with the new SGX544 GPU, or the earlier 1.5GHz OMAP4460.
The only other hardware details mentioned by Notion Ink, which did not list an estimated ship date, was the presence of TI components like the WiLink 7.0 wireless chipset, Phoenix audio power amplifiers, and an integrated power-management IC.
The Adam II will ship with a modified version of Android 4.0 that features a "Modular Based Software Architecture" for easy drag-and-drop application modification, according to the company. This is said to feature node operations similar to those found in Blender, as well as application authoring tools aimed at non-programmers. The software also includes visual editors and a behavior-based logic system, says Notion Ink.
The development platform should enable easy creation of vertical applications, says the company. Possibilities are said to include using the tablet as a logic analyzer and medical imaging device, as well as a platform for 3D modeling, multimedia, and signal acquisition and processing applications.
Pew: U.S. tablet use almost doubles in less than a month
Pew Research released a report claiming the percentage of U.S. adults who own a tablet computer nearly doubled — from 10 percent to 19 percent — between mid-December and early January. A similar jump was said to apply to e-readers as well. The number of Americans owning either a media tablet or e-reader tablet jumped from 18 percent in December to 29 percent in January, according to the research firm.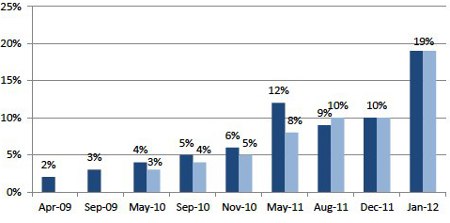 Estimated U.S. adult ownership of e-readers (dark blue) and tablets (light blue) since May 2009
Source: Pew Research
While a holiday boost was expected, the surge was nonetheless remarkable considering tablet ownership had grown very slowly since mid-2011, says Pew. Lower prices were key to the boom, especially with the hot-selling Amazon Kindle Fire and
Barnes & Noble Nook Tablet
, says the research firm.
Pew did not release OS market share breakdowns, but said that tablet sales were higher among wealthier, college educated Americans under the age of 50. E-reader sales over the last month have been particularly strong among women, adds Pew.
Whereas those identifying themselves as "white" dominated tablet e-reader sales in mid-December, African American and Hispanics had a proportionately equal share by January, says the study. Tablet sales have continued to show roughly equal popularity among ethnic groups through January.
Amazon's content income soars from Kindle Fire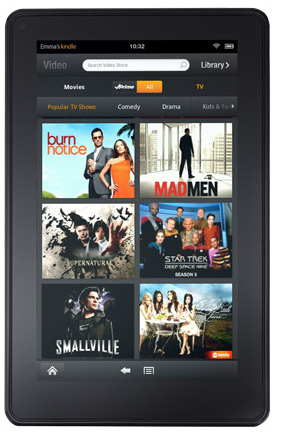 By all accounts, the best-selling Android tablet these days is Amazon's $200 Kindle Fire (pictured). iSuppli performed a teardown of the tablet in October and estimated Amazon was selling each Quanta-manufactured Fire for $10 less than it costs to build.
While it was not a surprise that Amazon was discounting its tablet in order to promote content sales, the extent of those sales was a matter of debate. Now RBC Capital has estimated that the Kindle Fire could be making Amazon $136 per device in content sales, as reported by our sister publication eWEEK.
RBC Capital polled 216 Kindle Fire owners and concluded that Kindle Fire tablets are making Amazon more money than was originally expected. The $136 figure is based on fourth-quarter sales estimated to range from three to four million units.
"Our analysis assigns a cumulative lifetime operating income per unit of $136, with a cumulative operating margin of over 20 percent," wrote RBC Capital analyst Ross Sandler in his research note.
Eric Brown can be reached at [email protected].
---
This article was originally published on LinuxDevices.com and has been donated to the open source community by QuinStreet Inc. Please visit LinuxToday.com for up-to-date news and articles about Linux and open source.