Oct 24, 2011 — by LinuxDevices Staff — from the LinuxDevices Archive — 1 views
OCZ Technology announced what it claims is the first 2.5-inch SSD (solid state drive) to include up to 1TB of storage, with a SATA 3.0 version delivering reads at up to 560MB/sec. Also released was a PCI Express-based hard disk/SSD combo that also packs 1TB, but revs performance to 910MB/sec., according to the company.
OCZ's new "Octane" SSD is claimed by its San Jose, Calif.-based manufacturer to be the first 2.5-inch SSD to offer 1TB of storage. We take minor exception to that, since Smart Modular Technologies announced a 2.5-inch SSD with 1.6TB of storage at the beginning of August.
That Smart Modular Optimus product didn't, however, use the same SATA interface as the portable computers or embedded PCs that most of us own. Instead, it's enterprise-focused, featuring a 6Gb/sec. SAS (serial attached SCSI) interface.
In contrast, OCZ's Octanes — available not only in 1TB size, but also in 128GB, 256GB, and 512GB models — come with either an SATA 3.0 (6 Gbits/sec.) interface or an SATA 2.0 (3Gbits/sec.) interface, according to the company. They also include "Everest" controllers, stemming from OCZ's $32 million acquisition of Indlinx earlier this year.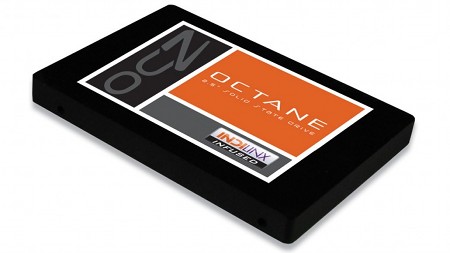 The 6 Gbits/sec. version of OCZ's Octane
(Click to enlarge)
As a result of the Everest technology, the Octane SSDs are said to boot twice as fast as OCZ's previous equivalents, and provide random access times as low as .06 milliseconds. Indilinx's "NDurance" technology has doubled the overall endurance of the drives to as high as 10,000 program/erase cycles over their lifetime, adds OCZ.
Performance highlights quoted by OCZ for the Octane drives are as follows:
SATA 2.0 version — reads at 275MB/sec.; writes at 265MB/sec.; can generate up to 30,000 IOPS (input/output operations per second)
SATA 3.0 version — reads at 560MB/sec.; writes at 400MB/sec; can generate up to 45,000 IOPS
Ryan Petersen, CEO of OCZ Technology, stated, "Until now SSDs have been tailored for specific applications, forcing users into a product which maximizes performance for a narrow band of applications, but is significantly lacking in others. The Octane series solves this problem by providing the highest level of performance across varied workloads — including mixed file sizes and mixed compressible and uncompressible data — all while nearly doubling NAND flash endurance."
An even-faster solution for PCI Express-equipped devices
OCZ also announced another 1TB drive that's even faster than the Octane — and no doubt, much lower in cost. Like devices such as Seagate's 2010 Momentus XT, it combines conventional rotating hard disk storage with flash storage, adding "intelligent caching" so one's operating system loads from the latter.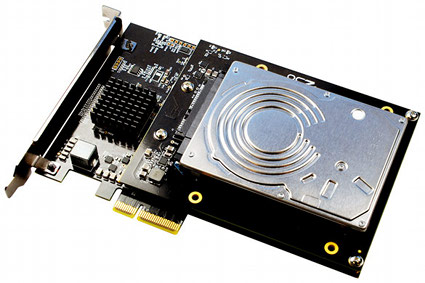 OCZ's RevoDrive Hybrid
(Click to enlarge)
OCZ's "RevoDrive Hybrid" is different from the Seagate solution, however, in that it isn't operating-system independent. (Sorry, Linux fans: the supplied Windows 7 driver is apparently mandatory.) Also, rather than using a 2.5-inch drive bay, it fits into a full-height PCI Express x4 slot, where it will take up a space two slots wide.
The RevoDrive Hybrid pairs 100MB of flash memory with a 1TB, 5400rpm hard disk drive. Apparently thanks to using PCI Express and OCZ's onboard controllers, rated performance is swift:
reads at 910MB/sec.; writes at 810MB/sec; can generate up to 100,000 read IOPS
"It would require two desktop SSDs running in RAID 0 to approach that kind of performance," Hot Hardware's Marco Chiappetta wrote in an Oct. 24 evaluation. He added, however, that the device has a controller heat sink that gets hot and would appear to benefit from direct, active cooling.
For its part, OCZ says the RevoDrive Hybrid uses 8.5 Watts when idle and 10 Watts when active. The device's flash virtualization software includes "exclusive command queuing and queue balancing algorithms, which can be handled by the onboard processing core for higher performance and reduced burden on the host resources," the company adds.
Further information
According to OCZ, its Octane SSDs will be available Nov. 1 in models ranging from 128GB to 1TB. Pricing was not announced, nor has a product page yet appeared on the company's website.
OCZ's 1TB RevoDrive Hybrid costs $500 and is available now. More information may be found on the RevoDrive Hybrid product page.
Jonathan Angel can be reached at [email protected] and followed at www.twitter.com/gadgetsense.
---
This article was originally published on LinuxDevices.com and has been donated to the open source community by QuinStreet Inc. Please visit LinuxToday.com for up-to-date news and articles about Linux and open source.