May 20, 2008 — by LinuxDevices Staff — from the LinuxDevices Archive — 2 views
Wind River will collaborate with Intel on an open source automotive infotainment stack for Intel's Atom processor, it announced. At the Telematics Detroit trade show this week, Wind River also announced plans to offer its second vertical market stack based on Linux — Wind River Linux Platform for Infotainment.
Both open source and commercial versions of the infotainment stack are scheduled to debut in August. The former will arrive as contributions to Moblin, an Intel-sponsored community project working on software stacks and tools optimized for Atom Centrino. Wind River hopes the latter will appear in products from "Tier 1" automotive equipment makers, and it lists Bosch, BMW Group, Delphi, and Magneti Marelli among the companies "actively supporting" its efforts to "drive Linux" so to speak into the automotive infotainment market.
In an interview, Wind River's John Bruggeman, chief marketing officer, said "We're taking a pure open source strategy. We're not going to provide a Linux distro, but a full and complete platform."
Vincent Rerolle, who leads Wind River's Linux division, added that Wind River's goal, as usual, will be to serve as a bridge between innovation in the community and the need for stable products with predictable delivery cycles, licensing assurance, support, roadmap, and also potentially some tools. He explained, "People can build [a Linux infotainment stack] from scratch, but they will have an easier time with our help."
Rerolle elaborated, "There has been a seemingly easy way people could integrate Linux-based components and create products, but the challenge is that all these parts move at different paces, and the cost of integration and carrying things forward is difficult."
Infotainment opportunity
Bruggeman said that as consumers clamor for relatively high margin features like GPS navigation, Bluetooth integration, multi-screen DVD playback, and so on, car makers and their suppliers are moving from the five-year, hardware-centric design cycles of the past toward a more rapid and open "consumer electronics" model. Automakers are demanding that infotainment systems be open to third party software integration, and to in-field service roll-out and delivery that can provide on-going post-sale revenue.
"Manufacturers are proscribing a set of requirements and demanding an extensible software platform, [but] Tier 1 suppliers are ill-equipped to be software platform providers," Bruggeman said. "Innovative manufacturers like BMW have said, 'We're going to drive an industry initiative to readjust to a software-based model.'"
Bruggeman intimated that the announcement could be the first of several related to Atom, and possibly the first of several new Linux Platforms for Wind River, which recently reorganized around the stated goal of moving more quickly within high-growth segments like mobile handsets and automotive infotainment. He observed "I believe there will be a mega-trend around Atom. Android is a huge big deal. There is very little difference between an automotive infotainment system and a mobile handset, portable gaming system, digital life home entertainment system, or a medical handheld unit."
Wind River Linux Platform for Infotainment
Wind River says its commercial Platform for Infotainment will integrate third-party networking and multimedia applications. So far, partners and their area of expertise include:
Nuance Communcations — speech-recognition and speech-to-text
Parrot — Bluetooth, echo-cancellation, noise reduction
Gracenote — music management and playlisting
Corel — LinDVD player
SMSC — multimedia networking
In a statement, Intel's Ton Steenman, GM of low-power embedded products, stated, "Automotive manufacturers [are] trying to integrate rapidly evolving multimedia requirements into vehicles that typically have long development cycles. Established open infotainment platforms that enable developers to more quickly and cost efficiently create products is paramount. By extending Moblin.org to automotive application developers, we expect to see greater innovation from the open source community."
Moblin Infotainment stack
Wind River said that together with Intel, it will create a new Infotainment "segment" within Moblin.org, the Intel-founded community project working to build software optimized for Intel's Atom Centrino processors. Other contributors to Moblin include Ubuntu, which will offer an Ubuntu Mobile and Embedded stack for Atom, and Red Flag Linux, which has built some of the first Linux stacks for LPIA (low power Intel architecture).
The centerpiece of Moblin.org's software is a Moblin Image Creator (MIC) designed to create several chroot environments layered like an onion on the developer's workstation. When first run, MIC downloads a Ubuntu Gutsy Gibbon filesystem, in order to standardize the native toolchain and build environment among Moblin developers. It then lets the user pick their target processor (mccaslin or menlow), Ubuntu flavor (Gutsy or Hardy) and tolerance for proprietary features like Flash, before providing a list of "fsets" or feature-sets that users can choose from. Presumably, Wind River's contributions in August to Moblin will take the form of one or more "fsets" aimed specifically at infotainment.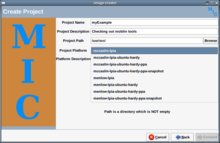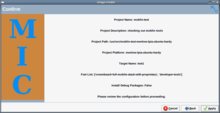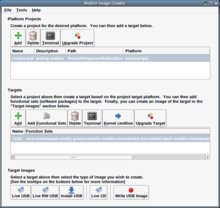 Moblin Image Creator
(Click to enlarge)
Finally, MIC provides an easy interface for launching chrooted terminals in each environment. Users without target hardware can simply launch the zephyr xserver from within the target environment in order to run Moblin software on their workstation.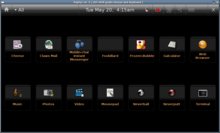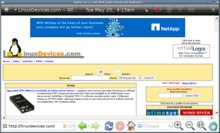 Moblin's homescreen and Mozilla-based "MIDBrowser"
(Click to enlarge)
Intel's contributions to Moblin include a "gcc compatible" compiler claimed to deliver up to a 30 percent binary performance improvement, by better accommodating the Atom architecture's in-order execution model. Another available tool, Powertop, helps developers make their Atom applications more power-efficient, and is also fun to use to extend battery life on Intel-based laptops running Linux. Intel gives away the compiler and associated tools, with free support for 15 days, offering optional support for $600 a year.
Availability
Wind River's infotainment fsets and Platform for Infotainment are expected in August. Pricing was not disclosed.
---

This article was originally published on LinuxDevices.com and has been donated to the open source community by QuinStreet Inc. Please visit LinuxToday.com for up-to-date news and articles about Linux and open source.