Dec 17, 2009 — by Eric Brown — from the LinuxDevices Archive — 2 views
The Novell-backed Moonlight project released the final Moonlight 2, an open source Linux/Unix clone of Microsoft's Silverlight framework that offers improved media streaming via open source media codecs. Novell and Microsoft also announced they will continue their Moonlight collaboration, and extend Microsoft's patent covenant to Moonlight distributors other than Novell.
As we reported when the Moonlight project released its beta version of Moonlight 2 in August, Moonlight is an offshoot of the Novell-sponsored Mono project, which created the Microsoft .NET clone, Mono. The Moonlight project introduced the first beta version of its clone of the Silverlight multimedia framework a year ago, following up with a final release of the open source browser plug-in February.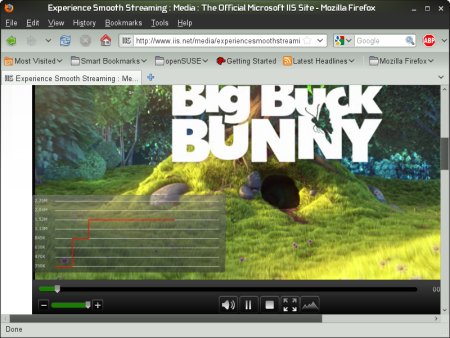 Moonlight 2.0 in action
(Click to enlarge)

Moonlight 2 offers improved streaming of multimedia content based on the quality of the user's connections, says the project. Version 2 is also said to embed Mono runtime functionality into Moonlight, "enabling developers to target Linux with rich Internet applications using a wide variety of programming languages, including C#, Ruby, Python and Javascript."
The new version supports Silverlight 2 features that enable users to provide their own code to fetch media from a server and provide their own stream de-multiplexors. It's said this allows developers to exploit content distribution networks, multiple-quality video and audio streams, and BitTorrent on demand.
While Microsoft has already released Silverlight 3, Moonlight 2 offers access to most Silverlight 3 content available today, the project claims. This is because Moonlight 2's API is a slight superset of Microsoft Silverlight 2, and already contains some Silverlight 3 features.
For example, the software supports Silverlight's 3 media pipeline, which is said to allow developers to plug C# code at various points in the media playback process. As a result, Moonlight can be used with the Mono project's OGG, Vorbis, and Dirac codecs to play media files, and users can plug in their own media codecs, says the project.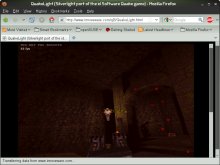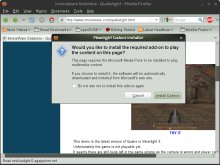 Moonlight 2 running QuakeLight (left) and installing codecs (right)


(Click on either to enlarge)
Silverlight 3 APIs said to be supported in Moonlight 2 include:
Easing functions
SaveFileDialog
MultiScaleImage 3 API enhancements
Enhanced MediaStreamSource, now with support for PCM audio data, RGBA, and YV12 video data for pluggable media codecs
WriteableBitmap
Novell/Microsoft pact extended to future versions, new patent protection
As part of the new extension to the collaboration agreement between Novell and Microsoft, the companies will extend their Moonlight collaboration through Silverlight 3 and 4, Novell. Microsoft will deliver new test suites and specifications for those versions to Novell.
Microsoft has also extended its patent covenant to all Moonlight end users. Previously, the covenant pertained only to users that obtained Moonlight from Novell or its channel, but it now covers users who "obtain Moonlight from any third party, including other Linux distributors," says Novell.
Moonlight is said to be catching up with Silverlight releases; however at least one Linux project has instead opted to go to the source. In September, Intel announced that Silverlight would be made available for use with its Linux-based Moblin netbook and mobile device distribution. Intel has reportedly predicted that Silverlight would run on Moblin-based netbooks, phones, and more, as of early 2010.
Availability
Moonlight 2 is available now for free download, here. A preview release of Moonlight 3 will be made available in the first quarter of 2010, with a final release scheduled for the third quarter of 2010, and Moonlight 4 will follow shortly thereafter, says the Moonlight project.
---
This article was originally published on LinuxDevices.com and has been donated to the open source community by QuinStreet Inc. Please visit LinuxToday.com for up-to-date news and articles about Linux and open source.