Sep 24, 2009 — by Eric Brown — from the LinuxDevices Archive — 4 views
The final Moblin v2.0 distro is available, says the Moblin project, which also released early-preview versions of a "Moblin Garage" app store, Moblin installer, and Moblin v2.1. Meanwhile, the first netbook with Moblin v2.0 comes from Dell, whose Mini 10v is available pre-installed with the 'Ubuntu Moblin Remix Developer Edition."
The final release of the open source, Linux-based Moblin v2.0 appears to be quite similar to the beta version released in May. Moblin v2.0 is touted for its fast boot times, speedy performance, and a netbook-oriented Linux stack that integrates internet browsing, media consumption, and social networking (see farther below for more details).
The software can stand alone as a full-fledged netbook distro, but will most likely see its largest circulation wedded to netbook versions of major Linux distributions. For example, shortly after the release of the beta, Novell announced it would release an OpenSUSE version of Moblin v2. Novell was soon followed by, among others, Xandros tipping a Moblin version of its Xandros Linux, and Canonical announcing that it would offer a Moblin version of its Ubuntu Netbook Remix distro, which itself is a netbook-focused version of Ubuntu Linux 9.04.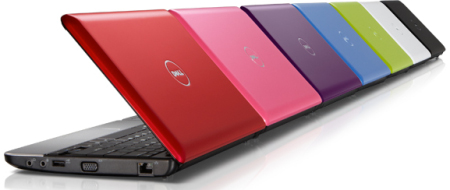 The Mini 10V shows its colors
Ubuntu Moblin Remix is now ready to roll, initially available as a developer's version that can be ordered pre-installed as an option for the
Mini10v
netbook (see image above), according to Ubuntu sponsor Canonical. The developer's release is being offered as an alternative to the usual Ubuntu Linux or Windows XP. According to Canonical, which says the version is currently tailored only for the Mini 10v, "we have labeled this distribution as a 'Developer Edition', as it is still a work in progress at this time."
Announced in May, the Mini 10v uses the typical 1.6Ghz Intel Atom N270 processor for which Moblin is optimized. Offering a 10-inch, 1024 x 576 display, the netbook provides 1GB of RAM, a 10/100 Ethernet port, a 1.3-megapixel webcam, a memory card reader, three USB ports, and either a 120GB or 160GB SATA hard disk drive, says Dell.
Fast boots and pretty panels
Moblin v2.0 is notable for its fast booting technology, which is said to load the desktop in as little as seven seconds. The new version also adds a novel user interface (UI), developed using the Clutter animation framework. Moblin's new top-line toolbar appears only when the cursor exposes it, thereby saving screen space.
The toolbar is divided into time and date, a selection of icon-like "panels," and system information. The panels include features such as status, people (contacts), Internet, media, pasteboard, applications, and zones.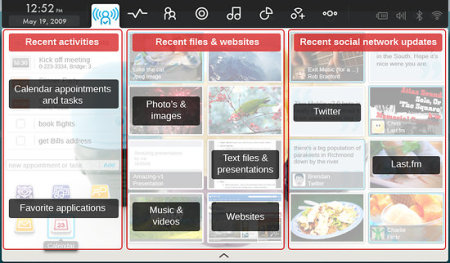 Beta version of Moblin v2.0's Myzone home screen
(Click to enlarge)
Also new is the "Myzone" home screen panel (pictured above). The interface offers at-a-glance access to activities like synchronized calendar items, tasks, appointments, recently used files, and real-time updates from social networking sites. The display is divided into recent activities, recent files and websites, and recent social network updates.
Other key features include an optimized Mozilla-based web browser revised into a Clutter shell, a zoomable media player, an updated connection manager (ConnMan), and support for a variety of Linux desktop applications via Gnome Mobile technologies.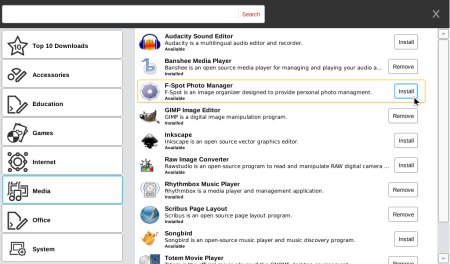 Moblin Application Installer
(Click to enlarge)
Moblin v2.0 will be backed up with a new Moblin Garage app store, as well as a Moblin Application Installer (pictured above), the Moblin project announced today. The Moblin Garage is an online applications catalog for open source apps compatible with Moblin, as well as "proprietary applications redistributed at no cost."
The Installer is a client app that is launched from the Myzone panel. It provides a categorized list of applications chosen from the Moblin Garage. These two integrated components are now available in an early preview release.
Moblin v2.1
The Moblin project also released an early preview version of Moblin v2.1, which "will be an incremental release over Moblin v2.0," says the project. The release target for the netbook/nettop version of Moblin v2.1 is said to be the fourth quarter. However, a Moblin v2.1 for Handhelds version, tipped yesterday by Intel in a preview, is also in the works.
According to the v2.1 announcement from the Moblin project, the v2.1 release will be "used as the base for future new user experience support for Mobile Internet Devices (MIDs), in-vehicle infotainment (IVI), and embedded devices, such as media phones."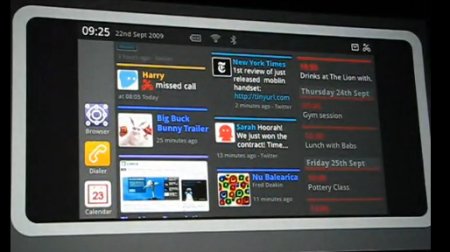 Screenshot from video of Moblin v2 for Handhelds demo at IDF, showing dialer on left (Source: UMPC Portal)
(Click to enlarge)
Indeed, as chief Moblin backer Intel has noted on several occasions, this new "Moorestown" processor-oriented version of what was previously called Moblin v2 for MIDs will include cellular telephony support. The project did not offer a roadmap for the Moblin v2.1 for Handhelds, but Intel has stated that the final version will arrive in the second half of 2010. (For much more background, as well as links to a YouTube video of the Handhelds demo, see our yesterday's coverage,
here
.)
Is Moblin heading for desktop PCs?
According to a story by Agam Shah today by PC World, meanwhile, Intel execs revealed at its Intel Developer Forum being held in San Francisco this week that Moblin v2.1 adds "native touchscreen input and gesture support, new user interface features, and support for more hardware drivers." It will also offer support for Intel's upcoming Pine Trail platform for netbooks, says the story.
According to Shah, an Intel rep was said to have noted that Moblin v2.1 will come not in two versions, as the project has suggested, but in three. The netbook/nettop version is being split into two separate releases, with one broken out for the small-footprint, low-power desktops known as nettops, writes Shah. The nettop version is said to support screen sizes beyond the typical 12-inch netbook limit.
If true, this development would seem to pit Intel more directly against its long-time partner Microsoft, which is targeting Windows 7 at precisely the same segment. It also places Moblin and Intel in competition with Google's upcoming Chrome OS, while apparently taking on Android with the Handheld version.
Silverlight to outshine Moonlight?
As noted yesterday, Intel announced that Microsoft's Silverlight media player technology would be made available for use with Moblin. At first glance, this seemed to be another way of Intel announcing that it was offering the Linux-compatible Moonlight Silverlight clone developed by Novell's Mono project. However, according to a story by ZDNet's Mary-Jo Foley today, Silverlight itself will run on Moblin next year.
According to Foley, Intel demonstrated Silverlight 3 running on an Atom-based Moblin device yesterday, and suggested that Silverlight would run on Moblin-based netbooks, phones and more, as of early 2010.
Stated Mark Shuttleworth, founder and CEO, Canonical, "Moblin keeps on getting more exciting as a project with new applications and improved user experiences. It's great to be delivering this release with Dell to developers wanting to participate in Moblin."
Stated John Thode, VP, small screen devices, Dell Consumer, "By collaborating with Intel and Canonical we can offer early adopters, developers, and Linux enthusiasts, a truly pioneering Moblin development platform, the Inspiron Mini 10v, optimized for overall better performance, quicker boot time, smaller footprint, and longer battery life."
Availability
The final version of Moblin v2.0 is available now for download, here, in both a standard live image and developer live image version. More information, as well as a preview release, of the Moblin Garage and Moblin Installer may be found here.
More information on Dell's Ubuntu Moblin Remix Developer Edition version of the Mini 10v notebook, may be found here and here.
The PC World story on Moblin v2.1 and Intel's nettop plans for Moblin may be found here. Mary-Jo Foley's blog about Moblin's upcoming Silverlight support may be found here.
---
This article was originally published on LinuxDevices.com and has been donated to the open source community by QuinStreet Inc. Please visit LinuxToday.com for up-to-date news and articles about Linux and open source.