Jul 16, 2010 — by Eric Brown — from the LinuxDevices Archive — 3 views
The Novell-backed OpenSUSE Project announced the final 11.3 release of OpenSUSE Linux, featuring Linux 2.6.34, the Btrfs file-system, improved netbook support, and desktops including the new LXDE 0.5.5. Meanwhile, eWEEK reviewed Novell's SUSE Linux Enterprise Server 11, praising its new virtualization features, despite a few "snags."
As we reported in our sister publication DesktopLinux in February when Milestone 2 of OpenSUSE 11.3 debuted, the new release offers upgraded versions of the Linux kernel (now up to the latest 2.6.34 release), along with updated graphics drivers. Version 11.3 has also added an experimental version of the Btrfs file-system, which is said by boosters to offer better fault tolerance and easier administration than the Ext file-systems.
Available for 32-bit and 64-bit x86 systems, the 11.3 release also provides new versions of major Linux desktop environments, which have been further updated since February. These include GNOME 2.30.1, which provides an option to install a preview version of GNOME 3.0 and its new GNOME Shell, as well as KDE 4.4.4, featuring the new Plasma interface (see image below).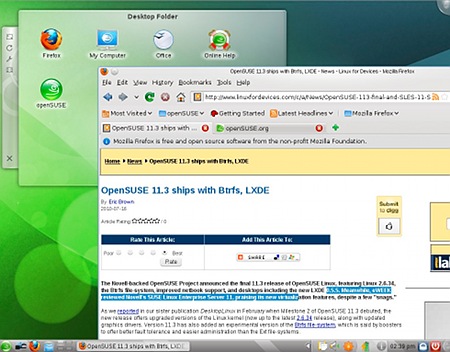 KDE 4.4.4 Plasma desktop in OpenSUSE 11.3


(Click to enlarge)
For those who prefer a stripped-down, faster performing "lightweight" environment, there are also new versions of the XFCE 4.6.1 desktop, as well as, for the first time, LXDE 0.5.5 "Lightweight X11 Desktop Environment." A
YouTube
demo of the latter is posted farther below.
KDE 4.4.4 itself now offers a more minimalist version of its desktop environment called the Plasma Netbook Workspace (see screenshot below, right). This netbook-oriented environment debuts a "Search and Launch" interface designed for the small screen, as well as Internet-focused features like micro blogging and social networking support.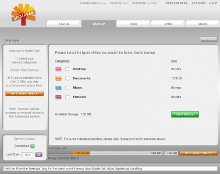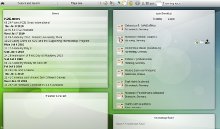 SpiderOak file sync and backup (left) and KDE's Plasma Netbook Workspace (right)


(Click on either to enlarge)
For another take on the netbook experience, OpenSUSE 11.3 is being distributed with a new pre-release version of MeeGo on OpenSUSE ("Smeegol"), developed by the
OpenSUSE Goblin team
. Based on the open source
MeeGo v1.0 for Netbooks
, which itself is forged from parts of Moblin, Maemo, and Qt, Smeegol offers the Banshee music player, as well as Digg, Facebook, MySpace, and Flickr integration. When it ships on netbooks later this year, MeeGo on OpenSUSE will also provide access to the Amazon MP3 store, says the project.
As noted in our earlier coverage, OpenSUSE 11.3 features new tabbing and social networking features, as well as network enhancements to the connection stack, including new versions of NetworkManager and ModemManager. This community upstream source for Novell's SUSE Linux release also includes version 2.6.4 of the Mono cross-platform implementation of Microsoft's .NET development framework.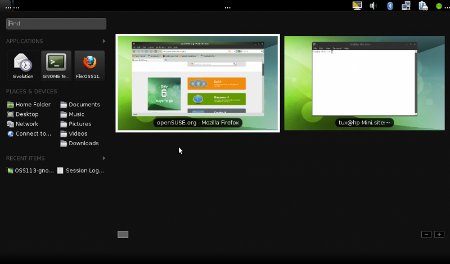 GNOME 2.30.1 with preview version of GNOME 3.0's GNOME Shell interface


(Click to enlarge)
Major new developments in the final version include the addition of the
SpiderOak
application for secure file backup and sync across the Internet, including support for Android, iPhone, and Symbian smartphones (see image farther above).
Other final release additions are said to include an updated Rosegarden 10.04 package for audio editing, improved indexing with Tracker, and enhancements to the Zypper package manager, says the OpenSUSE project. In addition, the project has added improved support for touchscreens, including the HP TouchSmart.
Additional updated packages include Mozilla Firefox 3.6.6, Thunderbird 3.0.5, OpenOffice 3.2.1, and the latest version of the GoogleCL command-line tools for Google data APIs, says the OpenSUSE Project. Virtualization support has been enhanced with VirtualBox 3.2.6, Xen 4.0, and KVM 0.12.3, says the project.
Enterprise users and developers, meanwhile, can turn to new MariaDB and MySQL Cluster services for servers and development platforms. There is also said to be a new Conntrack app to filter network packets for iptables.
Other developer-oriented tools include updated versions of GCC and GDB, as well as IDEs such as Netbeans and Qt Creator. Meanwhile "countless" additional libraries are said to be available through the OpenSUSE Build Service (OBS).
LXDE on OpenSUSE 11.3 demo on YouTube


(Click to play)

eWEEK Labs test drives SLES 11 SP1
OpenSUSE offers the upstream inspiration — as well as much of the actual code — for Novell's commercial SUSE Linux distributions, including SUSE Linux Enterprise Server (SLES). In May, Novell announced a major service pack update in SUSE Linux Enterprise 11 Service Pack 1 in both server and desktop versions, subsequently shipping the update in early June while also announcing a new OEM arrangement with VMware for SLES.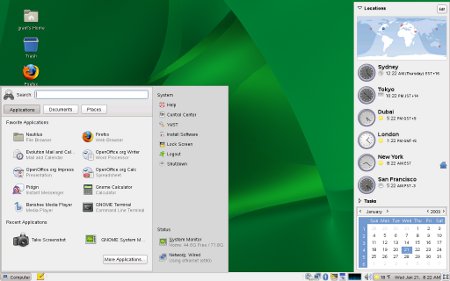 SLED 11 SP1, main screen


(Click to enlarge)
The server version advances virtualization capabilities with full support for KVM, while also boosting high availability clustering support. The desktop version updates audio, Bluetooth, and multi-monitor support, Novell says.
Now, eWEEK Labs has reviewed the SP1 update on SLES, Although a few problems emerged during testing, reviewer Jason Brooks noted that with all "the goodies that SUSE Linux Enterprise 11 Service Pack 1 brings relating to Xen, KVM, and Hyper-V, SUSE's enterprise-oriented Linux offering merits evaluation by organizations running virtual infrastructures of all stripes."
Brooks encountered problems with getting the Hyper V drivers to play nice with the lab test system, and also raps the Hyper V implementation for its poor mouse support. These problems were fairly quickly overcome, but in general, he found the Microsoft virtualization technology to be poorly documented by Novell.
Xen remains Novell's primary virtualization platform, despite rival Red Hat shifting away from the technology to KVM, and the Xen technology appears to continue to work fine in SP1. To keep up with the number one Red Hat, however, SLES 11 SP1 boosts support for KVM from a preview to a full supported version.
Brooks also had a few glitches with KVM, but found the implementation to be much improved. He was especially impressed with the "compelling features of the libvirt library," such as the ability to access and manage remote hosts from a local virt-manager instance.
Brooks concludes that despite the various snags he encountered, "I was impressed overall by the progress that Novell has made maintaining in SLES as a leading enterprise operating system amid industry shifts around virtualization and cloud computing."
Availability
OpenSUSE 11.3 is now available, free of charge, says the OpenSUSE Project. The announcement may be found here, and the release notes should be here, with downloads available here. The next release of OpenSUSE is expected in March 2011, says the project.
The eWEEK review of SUSE Linux Enterprise Server 11 SP1 virtualization features may be found here.
---
This article was originally published on LinuxDevices.com and has been donated to the open source community by QuinStreet Inc. Please visit LinuxToday.com for up-to-date news and articles about Linux and open source.