May 26, 2010 — by Eric Brown — from the LinuxDevices Archive — 19 views
The Intel- and Nokia-backed MeeGo project released version 1.0 of an open source operating system optimized for Intel Atom-based netbooks. MeeGo v1.0 for Netbooks — which we found to be speedy — comprises Google's Chrome browser, Nokia's Qt 4.6, plus a variety of other tools, and will be followed next month by a handset version, says the project.
Intel and Nokia announced the MeeGo platform in February. Hosted by the Linux Foundation, MeeGo combines two open source Linux projects: the Intel-backed Moblin and Nokia's Maemo distribution, as well as Nokia's Qt application framework.
In early April, the project released some early MeeGo code and announced reference platforms, including Intel Atom-based netbooks, the ARM Cortex-A8- and Maemo-based Nokia N900 smartphone, and Aava Mobile's Moorestown-based Aava phone design. Later that month, the project announced a wide range of supporting partners.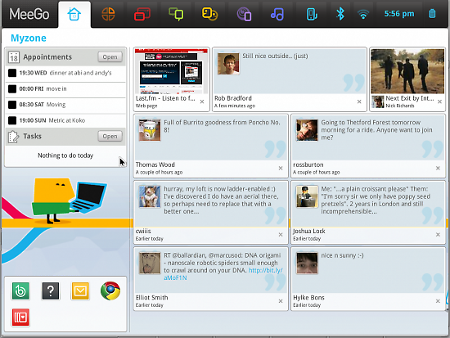 MeeGo Netbook Myzone main screen
(Click to enlarge)
A MeeGo Handset "environment" will be announced in June, but apparently without touch support. Meanwhile, a MeeGo 1.1 release is due for October, supporting touch-enabled handsets, tablets, and in-vehicle infotainment (IVI) devices, says the project.
The development tree for MeeGo v1.1 is now open, says the project, and various components of the v1.1 tree, including the Handset user experience, will be available in June.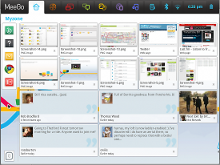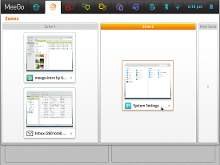 MeeGo Myzone social networking features and running applications ("Zones")
(Click on either to enlarge)
Meego Netbook features are said to include:
Instant access to synchronized calendar, tasks, appointments, recently used files, and real-time social networking updates through the home screen
Aggregation of social networking content on one screen, including status updates.
Google's Chrome or open source Chromium browser (the Handset experience will offer Mozilla's Firefox Mobile "Fennec")
Email, calendar, and media player apps
Support for Japanese, Korean, Chinese Simplified, Chinese Traditional, Swedish, Polish, Finnish, Italian, Brazilian Portuguese, French, German, Spanish, Russian, Dutch, English, and British English
In addition to releasing MeeGo v1.0 for Netbooks, optimized for Intel Atom-based netbooks, the MeeGo project has released the MeeGo v1.0 core software platform for the Nokia N900. The core platform is said to include:
Linux kernel based on 2.6.33
DeviceKit and udev for interacting with hardware devices
2D/3D graphics stack including Kernel Mode Setting, non-root X
Connman connection manager
Ofono telephony stack
BlueZ Bluetooth
Qt 4.6
Universal Plug and Play (gUPnP)
Media frameworks
Btrfs filesystem as default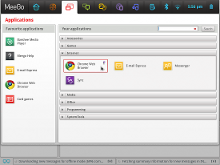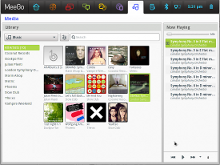 MeeGo applications (left) and media library (right)
(Click on either to enlarge)

Fast performance, novel interface
We downloaded MeeGo v1.0 for Netbooks and followed instructions for making a byte-exact copy of the operating system image on a USB drive. To our pleasant surprise, the OS fit with room to spare on a 2GB USB stick.
Subsequently, we tried booting the image on two different netbooks, a Dell Mini 10v with 1GB of RAM and a Dell Mini 9 with 2GB of RAM. For whatever reason, MeeGo would not boot on the 10v, but rapidly came to life on the Mini 9.
Even though the USB stick being employed was old and slow, MeeGo ran surprisingly fast. We didn't attempt formal benchmarks, but file and web browsing were both speedy — wired Ethernet was operable, but the Mini9's Wi-Fi wasn't working. Program launching and application switching were also swift.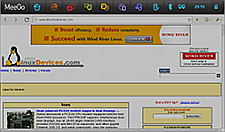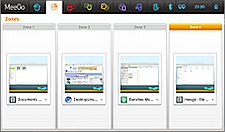 The MeeGo v1.0 for Netbooks browser (left, with task bar) and application Zones (right)
(Click either image to enlarge)
MeeGo's task bar, seen above left, is the key to launching applications and switching from one to another in "Zones" (above right). When not in use, the bar disappears, preserving screen real estate.
Liliputing's Brad Linder also tried MeeGo Netbook and found the operating system to be "really, really fast." The OS will run even faster when it is installed on a hard drive rather than a USB stick, he added.
The only negative: the lack of applications to run on it. "When I visited the MeeGo Garage, I was completely underwhelmed by the number of apps available to install," Linder writes.
While this is understandable for a new release, it should also be noted that the app gap has been a major impediment to the success of the Moblin OS so far. Still, Moblin can be thanked for delivering the lion's share of the interface here, and based on a quick look, the already admirable job done in versions 2.0 and 2.1 of Moblin appears to have improved even more in the MeeGo incarnation.
Liliputing

YouTube demo of MeeGo Netbook 1.0
(Click to play)
Availability
MeeGo v1.0 for Netbooks is available for free download now. The announcement may be found here, the release notes are here, and download/installation instructions are here.
The Liliputing story on MeeGo Netbook 1.0 should be here.
LinuxDevices Editor-in-chief Jonathan Angel performed software testing for this report.
---
This article was originally published on LinuxDevices.com and has been donated to the open source community by QuinStreet Inc. Please visit LinuxToday.com for up-to-date news and articles about Linux and open source.