May 4, 2009 — by Eric Brown — from the LinuxDevices Archive — 2 views
Palm is preparing a low cost follow-up to its upcoming Palm Pre, offering the same Linux-based WebOS operating system, says an eWEEK story. Yet, even as Palm prepares the "Pixie," the Pre is facing some manufacturing problems that could limit availability, says the story.
(Click for larger view of the Palm Pre)
At the well-received unveiling of the Palm Pre smartphone in January, Palm stated that it planned to release several phones based on WebOS, but since then has released no further details. The 3G-enabled Palm Pre may well be be the first Linux-based smartphone aside from Android phones from HTC and Samsung to offer an "iPhone"-like smartphone experience. Note, however, that several phones based on the LiMo (Linux Mobile) specification should ship this year that are expected to offer similar high-end features. (See farther below for more details on the Pre.)
The Pixie has been rumored of late by several publications, writes Michelle Maisto in our sister publication, eWEEK. She cites a Washington Post story in particular that claims that the Pixie is a candy bar-style phone with a fixed keyboard. The story also says the Pixie will be made available a few months after the Pre is released and, at $100, sell for half the price.

The rumored Palm Eos:
a Pixie by any other name?
(Source: Engadget)
It is unclear whether the Pixie is the same as another rumored Palm smartphone recently reported by Engadget. The publication showed a photo of a "Palm Eos" phone (pictured) that it said was a GSM version of the Pixie. However, at $350, the WebOS-based device does not appear to perfectly match the profile of the cut-rate phone mentioned by the Washington Post. The GSM/HSDPA Eos phone is said by Engadget to measure a nere 10.6mm thin, offer a 2.6-inch, 320 x 400 display, 2-megapixel camera, cellular video, and 4GB of storage. The story also noted, however, that its information was unconfirmed.
Technical troubles for the Pre?
The Palm Pre is set for a first-half ship date by Sprint, but according to industry analysts interviewed in a recent Laptop Magazine story, the company may well ship the phone as early as late May in order to avoid overlap with the much anticipated Apple WWDC (Worldwide Developers Conference), set for June 8-12. Apple is expected to use the conference, as usual, to show off a new version of the iPhone.
Palm may have trouble meeting such a timetable due to manufacturing troubles with its unnamed ODM (original device manufacturer) partner, suggests Maisto's eWEEK story. The article quotes an April 30 research note from Ashok Kumar, an analyst with Collins Stewart, stating that due to "multiple hardware and software issues, Palm has dramatically reduced its production orders for Pre with its ODM partner." As a result, Kumar was said to have opined, it is highly unlike that Palm will meet the 1 million units predicted by industry analysts to ship in 2009.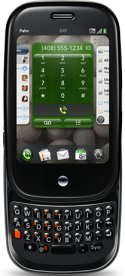 Palm Pre with
keyboard extended
(Click to enlarge)
The Palm Pre
Despite possible production troubles, early reports on the Pre continue to be positive, as suggested by the high marks given to the smartphone in the Laptop Magazine article. The general consensus among the analysts was that while WebOS could possibly be extended to mobile Internet devices (MIDs) and possibly even netbooks, a la Android, Palm is focused on smartphones for the near future.
The Pre features WiFi, GPS, 3-megapixel camera, 3.1-inch touchscreen, and Palm's homegrown WebOS Linux phone stack. Offering a rounded design with a keyboard that slides out on a curved slider, the Pre is slightly smaller than the first Android phone, the HTC G1, and it offers a more cramped thumb-oriented QWERTY keyboard compared to the landscape-style slide-out of the G1. Yet, the design appears sleeker than the G1, especially with keyboards extended. In addition, the Pre offers design innovations like a "gesture area" underneath the screen where one can swipe and flip away at the UI without obscuring the screen.
The Pre ships with 8GB of internal memory, of which 7.4GB is available to users. A microUSB connector with USB 2.0 Hi-Speed support is also said to be available. The 3.1-inch HVGA touchscreen offers 320×480 resolution and 24-bit color, accelerometers, and two additional sensors: a proximity sensor and a light sensor for automatic dimming. The Pre uses Sprint's EVDO 3G network, but a UMTS HSDPA model will come out later that will be aimed at Europe and other international markets, said the company.
The Pre's Linux-derived WebOS leverages industry standard technologies, including CSS, XHTML, and JavaScript, and will offer an open development environment, said Palm. WebOS is said to provide gesture-based UI that includes a card metaphor for sifting through screens and applications. It also offers unified messaging technology called Synergy, which aims to integrate information from multiple sources such as calendars, contacts, and messaging applications into combined, logical views.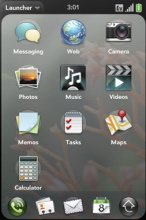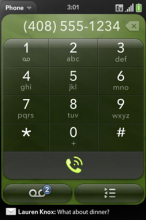 WebOS on Palm Pre: launcher, phone dialer with unobtrusive alert, and "card" view of web
(Click any to enlarge)
WebOS is said to offer extensive synchronization features, as well as persistent connections between applications and the web, providing updates in the background. Other touted features are said to include multitasking with easy switching between multiple open applications, a multi-touch interface with gesture and touch tricks, universal search, and unobtrusive notifications.
Availability
The Palm Pre is scheduled to be available in the U.S. exclusively from Sprint in the first half of 2009, says Palm. More information may be found in our previous coverage, here.
The eWEEK story, "Palm Mini-Pre Smartphone Is Code-Named Pixie, Reports Say," should be available here.
Photos of the Pre, taken by eWEEK staff at the CTIA show in Las Vegas, should be available in this slideshow.
The Laptop Magazine "Pre-Game Analysis" may be found here.
The Engadget blurbs on the rumored Eos phone may be found here and here.
---

This article was originally published on LinuxDevices.com and has been donated to the open source community by QuinStreet Inc. Please visit LinuxToday.com for up-to-date news and articles about Linux and open source.