Jul 19, 2011 — by LinuxDevices Staff — from the LinuxDevices Archive — 1 views
Patent concerns are apparently pushing Chinese phone vendors away from Google's Android operating system and toward Windows Phone 7. Huawei and ZTE plan to adopt Microsoft's smartphone operating system when the forthcoming "Mango" upgrade is released, according to a DigiTimes report.
Leading smartphone vendors such as HTC and Samsung have been obvious targets for litigation, as we review later in this story. But until now, many smaller companies releasing Android phones have apparently believed they could fly below the legal radar.
As a DigiTimes report by Jingyue Hsiao and Adam Hwang put it July 19, "Other vendors hold the opinion that China-based vendors are not so competitive and important in the global smartphone market as to become targets of Apple's or Microsoft's patent infringement lawsuits."
But, the authors add — citing a 21st Century Business Herald story we could not locate on that publication's own website — Apple's preliminary, Android-focused patent lawsuit victory over HTC last week is raising new concern (see farther below for details). That's because the ITC has the power to block imports of devices that violate U.S. patents, even if the manufacturers concerned have not yet lost any court battles.
According to DigiTimes, vendors are now drawing up three strategies — all of which could be injurious to Android — in order to cope:
develop their own operating systems
release phones using Windows Phone 7
partner with carriers, especially those already working with Apple and Microsoft, "for protection through binding common interest"
The story adds that Huawei and ZTE are now planning to adopt the updated "Mango" version of Windows Phone 7, scheduled to ship this fall. ZTE's move toward Windows Phone had already been revealed in a May 24 Microsoft announcement, and was further touted last week at Microsoft's Worldwide Partner Conference (WPC) in Los Angeles.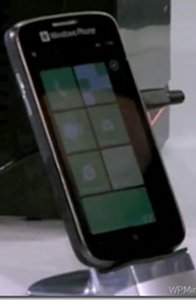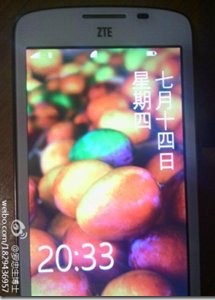 ZTE Windows Phone 7 devices were shown off at Microsoft's WPC (left) and via China's Weibo (right)
Source: Liveside.net
According to a posting on the Liveside.net website, ZTE is planning at least two Windows Phone 7 devices. One (above left) was shown off at the WPC event, whereas another (above right) was shared by Luo Zhong Sheng, general manager of mobile communications at ZTE, on his Weibo account (a Chinese equivalent of Twitter).
ZTE has spun a number of low-end Android phones, including the Racer. In October, it released a seven-inch Android 2.1 tablet called the ZTE Light (pictured below).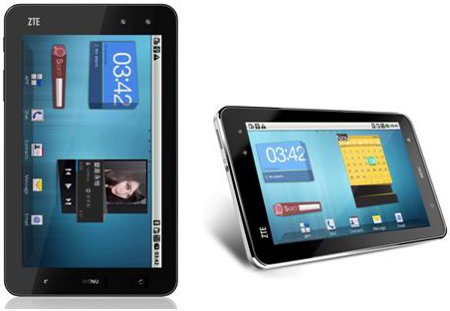 ZTE Light Android tablet
As far as we're aware, no details have surfaced regarding Huawei Windows Phone 7 devices. A ZDNet UK report at the end of May, however, quoted Chief Marketing Officer Victor Xu as saying the company is currently "just watching" the development of the Windows Phone 7 market, but has "had some discussions with Microsoft" and will "probably" release a device in 2012 using the smartphone platform.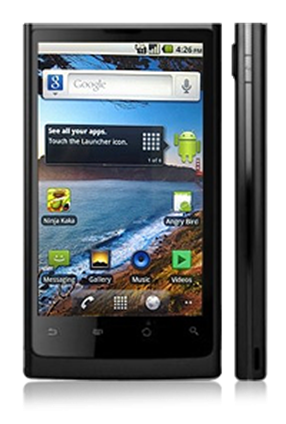 Huawei has launched several budget Android phones as well, but has more recently introduced some high-profile Android devices. These include the Ascend X 4G (pictured at right) announced earlier this month, featuring a 1GHz Snapdragon processor and a 4.2-inch display.
In June, the company announced the MediaPad, a seven-inch tablet running Android 3.2. In its announcement the company was the first to tip the new Android 3.2 release, which was officially unveiled by Google on July 15, and is now rolling out to the Motorola Xoom.
Last month, IDC predicted that Windows Phone 7 would overcome both Apple's iOS and Research In Motion's BlackBerry by 2015. At that time, Windows Phone will take some 20 percent of the market, while iOS will have 16.9 percent, Research In Motion's BlackBerry OS will have 13.4 percent, and others (including Nokia's soon-to-be-defunct Symbian) will have 5.6 percent, the research firm said.
But, IDC added, Android will continue to rule the roost, with an estimated 43.8 percent in 2012.
Meanwhile, in a May 31 research note, Gleacher & Company analyst Stephen Patel, advised investors to avoid Nokia stock, suggesting that the manufacturer's Symbian smartphone sales are falling off "faster than expected and we are skeptical that new Windows Phone (WP) models will be able to replace lost profits." He added, "We think sub-$200 Android handsets, including those from new entrants such as ZTE and Huawei, are hurting Symbian units."
Nokia's fortunes aside, if patent concerns induce Huawei and ZTE to move away from Android and toward Windows Phone 7, 2012 should bring a new crop of low-cost Windows Phone 7 devices.
Ample cause for concern
Apple scored a legal victory July 15 when the International Trade Commission (ITC) ruled that HTC had violated two Apple patents in the course of manufacturing Android phones. That decision, which is being appealed, is just the latest in a bevy of patent battles overshadowing Android.
These battles include attacks by patent holding companies — more popularly known as patent trolls — such as Kootol and Lodsys, plus others launched by Microsoft itself. For example, a July 6 Reuters report claimed that Microsoft has made a patent deal offer to Samsung, through which the latter would pay it as much as $15 for every Android handset it produces. Samsung would "likely seek to lower the payment" from $15 per phone to about $10 in exchange for "a deeper alliance with Microsoft" and its Windows Phone 7 platform, the story claimed.
This followed a July 5 deal with ODM (original device manufacturer) Wistron that was said to involve a patent-licensing agreement regarding tablets running both Android and Google's Linux-based Chrome OS. In June, furthermore, Microsoft corralled three other Android device manufacturers: General Dynamics Itronix, Onkyo, and Velocity Micro.
Meanwhile, HTC agreed in April 2010 to pay royalties to Microsoft in order to involve lawsuits involving Android smartphones. At the time, we described "Microsoft's FUD (fear, uncertainty, and doubt) invasion [as] … for the first time pushing into the Android world."
Then there's the fact Microsoft joined Apple, EMC, Ericsson, Research in Motion (RIM), and Sony in a consortium termed Rockstar Bidco LP — which successfully gained more than 6,000 Nortel Networks patents and patent applications at a bankruptcy auction. The $4.5 billion Rockstar bid beat out Google's own, which could have purchased some protection for Android, by more than $1 billion.
Jonathan Angel can be reached at [email protected] and followed at www.twitter.com/gadgetsense.
---
This article was originally published on LinuxDevices.com and has been donated to the open source community by QuinStreet Inc. Please visit LinuxToday.com for up-to-date news and articles about Linux and open source.