Jul 6, 2011 — by Eric Brown — from the LinuxDevices Archive — 2 views
Microsoft has demanded that Samsung pay a $15 patent royalty for every Android handset it produces, and a Windows Phone version of the very successful Galaxy S II Android phone is under consideration, according to two separate reports. Meanwhile, Samsung is preparing a defense against an Apple preliminary injunction that would keep four of the former's Android devices from being sold in the U.S.
Reuters reported Microsoft's patent deal offer to Samsung on July 6, citing the Korea-based Maeil Business Newspaper but not linking to a particular story. The newspaper was said to have received the tip from unnamed industry officials, presumably at Samsung.
Samsung would "likely seek to lower the payment" from $15 per phone to about $10 in exchange for "a deeper alliance with Microsoft" and its Windows Phone platform, reported Reuters, once again citing Maeil. Samsung made no immediate official comment, the news service added.
In the last two weeks, Microsoft has announced Android patent-licensing agreements with four different Android vendors. Including its earlier deal with HTC, the company can now boast five Android patent deals.
After signing up General Dynamics Itronix, apparently over its tactical GD300 handheld, the company roped in Velocity Micro due to alleged patent breaches on that company's Cruz tablets. Then came an agreement with Onkyo, presumably over its TA117 Android tablet, followed yesterday by a similar deal with Wistron that also covered Chrome OS.
While the earlier HTC deal has been reported as involving a $5 payment per Android device to Microsoft, amounts have not yet surfaced for the other vendors. At a steep $15, Samsung may decide to follow the course of Motorola and Barnes & Noble, both of which have chosen to defend against the Microsoft claims in court rather than pay Redmond.
Paying double?
Microsoft watcher Mary Jo Foley speculates on ZDNet that the $15 figure is "Microsoft's saber-rattling price." She cites a statement released by Barnes & Noble in response to the Microsoft suit, in which this figure was said to be "higher than what Microsoft charges for a license to its entire operating system designed for mobile devices, Windows Phone 7."
Foley says that Microsoft has kept private what it charges Windows Phone OEMs. "But let's pretend the double-per-device royalty B&N mentioned is the $15 that Microsoft is supposedly seeking from Samsung," writes Foley. "That would mean the 'regular' Microsoft royalty payment per Android phone would be in the $7 range. And the fee that Microsoft is charging Windows Phone OEMs per copy of the OS would be something just under $15 per copy."
Galaxy S II heading for a Windows Phone version?
The alleged "deeper alliance" discount mentioned in the Reuters report could be related to reports over the last week that Samsung is testing a Windows Phone version of the popular Samsung Galaxy S II.
On July 4, WMPU reported that some numerological clues showed up on a recent Bluetooth SIG list of devices. An SGH-i937 phone is listed that has the exact same Bluetooth profile as the Mango Windows Phone 7 stack, according to the publication. SGH-i937 would appear to be an update to the Galaxy S II, which is also known as the SGH-i927, says the story.
The story also points to an SGH-i937 phone showing up on an OccasionalGamer list of Windows Phone 7 handsets.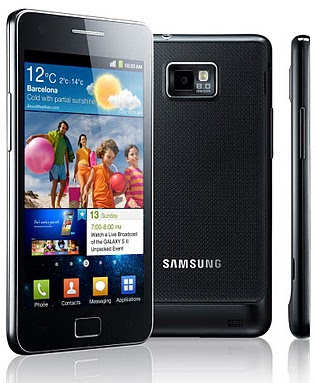 Samsung Galaxy S II
As John Cox
writes in NetworkWorld
, that's some pretty "thin evidence," especially considering the S II doesn't meet the current Windows Phone 7 hardware requirements. However, Cox notes that Microsoft is likely to upgrade and broaden the upcoming Windows Phone 7 profile in its
"Mango"
update due this fall. Mango is touted for improved multitasking, faster audio and file transfers, and faster application switching.
Samsung has shipped two Windows Phone models so far — the Samsung Focus and Omnia 7, both of which offer the standard Windows Phone 7 template, featuring 1GHz Qualcomm Snapdragon processors and four-inch, 800 x 480 touchscreen.

The Galaxy S II measures only 0.33 inches (8.49mm) thick
A Galaxy S II clone would up the ante considerably. The phone features a dual-core 1.4GHz
Samsung Exynos
system on chip (SoC), as well as a 4.3-inch Super AMOLED Plus display.
On July 3, Samsung announced it had sold three million units of the Galaxy S II. The phone is expected to hit the U.S. this summer, and according to one report, will be sold under a variety of odd names such as the Verizon Function, the AT&T Attain, and the Sprint Within.
According to the Reuters report, Samsung is the world's second largest handset maker, and has sold about 19 million smartphones in the April-June quarter, most of them running on Android. It is widely expected to emerge as the No.1 smartphone maker, replacing Nokia's more than 10-year reign, says the story.
Apple issues injunction against Samsung Android releases
As Samsung weighs its next moves with Microsoft, it also has to contend with Apple, which sued the company in April over alleged patent infringement related to its Android devices. Last week Apple filed a preliminary injunction against Samsung with the U.S. District Court for the Northern District of California, seeking to keep four of the company's Android devices out of the U.S., according to a Cnet report.
Apple claims the Galaxy S 4G, Infuse 4G, Droid Charge, and Galaxy Tab 10.1 infringe on three of its design patents, and one utility patent. Apple says it is "limiting" the preliminary injunction to avoid the Galaxy S II, as well as the Galaxy Tab 8.9 tablet, though it could add them later, says the story.
---
This article was originally published on LinuxDevices.com and has been donated to the open source community by QuinStreet Inc. Please visit LinuxToday.com for up-to-date news and articles about Linux and open source.