Jul 5, 2011 — by Eric Brown — from the LinuxDevices Archive — 4 views
Microsoft has entered into a patent-licensing agreement with Wistron that for the first time covers Google's Chrome OS as well as Android. The agreement — announced a day after a Microsoft-led consortium beat out Google for Nortel's wireless patents — covers smartphones, tablets, and e-readers, suggesting Wistron may be working on a Chrome OS tablet.
Under the terms of the Wistron agreement, the Taiwanese firm will pay Microsoft undisclosed royalties for its patents. Last week, Microsoft entered into Android patent-licensing agreements with three other Android vendors, so, including its earlier deal with HTC, the company can now boast five Android patent deals.
After corralling General Dynamics Itronix, apparently over its tactical GD300 handheld, the company moved on to sign up Velocity Micro due to alleged patent breaches on that company's Cruz tablets. This was followed by an agreement with consumer electronics firm Onkyo, presumably over its TA117 Android tablet.
The new agreement breaks new ground on several fronts. First, it involves an original device manufacturer (ODM) — Taiwan-based Wistron — as opposed to a commercial vendor. Second, it also specifically mentions Google's Linux-based Chrome OS in addition to Android.
This is the first such Microsoft patent agreement we know of (since HTC agreed to pay up last year, that is) that also specifically mentions smartphones. E-readers are also a first, although the Nook e-reader was front and center in Microsoft's lawsuit against Barnes & Noble, the first company we know of to have refused Microsoft's Android-related patent terms.
Wistron prepping Chrome OS tablet for Acer?
In addition to citing smartphones and e-readers, the agreement covers tablets. This suggests that Wistron may be working on a Chrome OS tablet. A tablet would be the logical next step beyond the current Chrome OS notebooks, as opposed to e-readers or smartphones.

If Wistron is prepping a Chrome OS tablet, it is likely designed for its longtime partner Acer, from which Wistron spun off in 2002. Acer is one of the first two companies to have offered ship a Chrome OS notebook — the AC700 Chromebook (pictured).
Wistron and Acer have continued on as frequent manufacturing partners, notes Mary Jo Foley on ZDNet. Foley also notes that Wistron was at one point manufacturing Microsoft's Xbox 360, so, combined with the tight Acer/Microsoft friendship, Redmond appears to carry a lot of clout in the relationship.
Back in February 2010, a few days after the original Apple iPad was introduced, pictures and a demo video of what a tablet computer running Chrome OS might look like surfaced on Google's Chromium open source website (see image below). Google subsequently suggested that its tablet efforts would focus on Android 3.0, leaving Chrome OS to start on netbooks and notebook and evolve to support desktops.
By December, however, Google's Chrome chief Sundar Pichai suggested that Chrome OS might eventually migrate to smaller screens after it debuted for netbooks.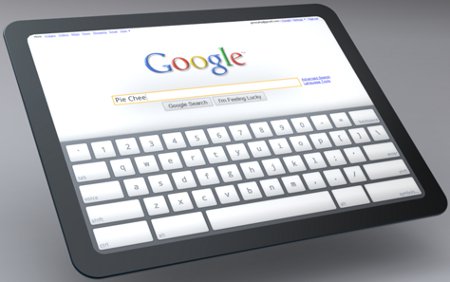 Chrome OS tablet concept posted by Google in Feb. 2010
In April of 2011,
Google confirmed
that it was baking specifications for a tablet based on Chrome OS, but offered no more information. Nor would it confirm details uncovered by
CNet
at the time, including a new command enabling touch-enabled websites to support Chrome OS.
Chrome OS was also said to have been updated with specs for a virtual keyboard with tab, delete, microphone, return, and shift keys. In addition, a revamped new tab page had been "optimized for touch," with application icons that may be moved around the screen, said Cnet.
Chrome OS enters Microsoft's sights
It is not surprising that the Linux-based Chrome OS would come under Microsoft's legal crosshairs, since Redmond has been forcing patent agreements with dozens of vendors over patents it claimed in relation to embedded Linux. When the cloud-oriented, Chrome OS was first announced, some speculated that it would be a major threat to Microsoft's Windows.
The threat seemed to have diminished in light of a perceived lack of interest in Chrome OS, as well as the decline of the netbook market. A June 17 story by InformationWeek, however, reported that at Amazon.com, the initially available Samsung Series 5 Chromebook was ranked a respectable #10 on the list of Bestsellers in Computers & Accessories, leading Google to say it was pleased with early Chromebook sales. (Currently, however, the Series 5 doesn't even crack the top 100.)
Wistron largely flies under the radar, and is known on LinuxDevices primarily as an ODM developer of the Wistron NeWeb Linux handset back in 2006, which appears to have formed the basis for the Neuf twin phone. More recently it showed off a Wistron W1 MeeGo tablet reference design. The W1 or its successor will presumably form the basis of an upcoming Acer MeeGo tablet.
Google's "Pi" bid fails to win Nortel patent auction
Microsoft couldn't help but rub the Wistron deal in Google's face, after the software giant joined a consortium that successfully outbid Google and others this week in an auction of 6,000 Nortel patents and patent applications.
The $4.5 billion bid from the consortium, which also included Apple, Research in Motion, EMC, Ericsson, and Sony, beat out Google's bid for the wireless-related patents, which might have helped Google ward off legal attacks against Android.
As reported by eWEEK, Microsoft general counsel Brad Smith tweeted on July 5, the day after the patents were awarded: "Our Wistron deal today makes for four Android patent license agreements in nine days. No need to calculate pi to figure that one out."
Smith is referring to the fact that Google bid $3.14159 billion — the first six digits of Pi — for the Nortel wireless and mobile patents. This was after it became clear that its original $900 million bid would lose against the consortium.
As Robert Cyran wrote in his Reuters analysis of the auction, the $4.5 billion winning bid, which was about three times the expected price, indicates that "Android paranoia can now be valued." Cyran goes on to note that the fast-growing Android's Achilles Heel is its vulnerability to patent lawsuits.
"Google is a relative newcomer to wireless devices, so it hasn't built up intellectual property in the way pioneers like Nokia or Nortel have," writes Cyran. "Manufacturers that license Android for handsets or tablets may be even more exposed than Google. Smaller electronics companies often lack a patent portfolio big enough to help them arrange a cheap cross-licensing deal."
---
This article was originally published on LinuxDevices.com and has been donated to the open source community by QuinStreet Inc. Please visit LinuxToday.com for up-to-date news and articles about Linux and open source.