Apr 15, 2008 — by Eric Brown — from the LinuxDevices Archive — 21 views

An industry group maintaining the PC/104 family of stackable single-board computer standards has adopted a new three-connector interface equipped with an x16 PCI Express (PCIe) bus. The PC/104 Consortium's 156-pin PCI/104 Express interface mounts a challenge to the stackable "SUMIT" interface also announced today at ESC.
(Click for larger view of the PCI/104-Express format )
The PC/104 Consortium is a mature standards body that originated PC/104, its PCI-equipped PC/104-Plus offshoot, and the PCI-only (no ISA bus) PCI-104 standards. It also looks after the EPIC and EBX embedded board form factors. It boasts some 22 members — roughly twice as many as the fledgling SFF-SIG promoting the SUMIT interface and Express104 form factor.
The PC/104 Consortium says its new PCI/104-Express format is backward compatible to earlier PC/104-based standards, and also ready to support PCI Express 2.0. It can be used immediately on PC/104, EPIC, and EBX form factors.
Compared to the earlier PCI-104 format, PCI/104-Express expands to three connectors and 156 pins. It offers full x16 PCI Express (PCIe) integration, while also offering a legacy PCI bus, except on a "PCIe/104" variant with 104 pins and two connectors instead of three.
By comparison, the rival SUMIT, announced today by the Small Form-Factor Special Interest Group (SFF-SIG) maintains PCI/104's 104-pin count. However, it has only x4 PCI Express, and requires bridge chips to support legacy PCI and ISA peripherals.


Comparison with EPIC and EBX formats
(Click to enlarge)
Like its rival Express104, PCI/104-Express evolved from EPIC Express. The PC/104 Consortium first announced its intention to develop a PCI Express version of the popular PC/104 standard in July 2006, and the following year the group stated that PCI Express support would be a priority. EPIC Express itself was initiated the previous year by the five SBC vendors that created the EPIC SBC form-factor.
Bringing PCI Express to stackable boards for industrial applications will enable the ongoing use of commodity PC components, such as SATA controllers and gigabit Ethernet chips. Commodity PC parts increasingly connect via high-speed serial interfaces like PCIe and USB, instead of older parallel interfaces like PCI. The use of commodity parts is essential to cost control. Yet, supporting legacy peripherals that connect to older expansion buses is also a requirement for many stackable board customers. Initially, it appears that SUMIT may win proponents among vendors of smaller form factor boards, while PCI/104 Express may have the greatest appeal among board vendors building larger systems around three-chip x86 chipsets.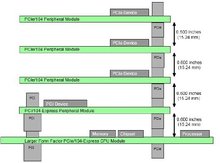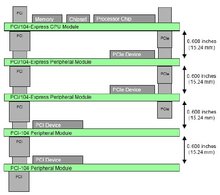 Stack-up (left) and stack-down (right) configurations
(Click any to enlarge)
Like PC/104 and its heirs, PC/104 Plus and PCI/104, PCI/104-Express is self-stackable, uses four-corner mounting holes, is fully PC compatible, and measures 3.6 by 3.8 inches (90 x 96 mm). According to the Consortium, the new format provides flexibility in design and stacking configuration, enabling support for PCI bridges, lane replacement, external cabling, high-speed connectivity, and large bandwidth products. The format provides for both a "stack-down" and a "stack-up" configuration (see diagram above).
The format adds a new high-speed surface mount connector that is said to be designed for rugged environments (see images below). The connector is optimized for the PC/104 architecture's 0.600-inch (15.24 mm) stack height and can handle high-speed signaling of PCI Express over large stack heights "while keeping Gen 2 in sight," claims the Consortium.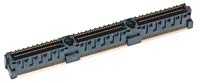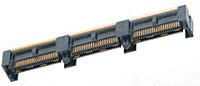 Top (left) and bottom (right) connectors
The following lists some basic specs for PCI/104-Express modules:
Modules per stack — 4 x1 and 1 x16 (host may configure as two x4 or x8)
Stack direction — Stack up or stack down (see diagrams above)
PCI bus throughput — 132 MBytes/sec (26 times ISA)
Single x1 link throughput — 500 MBytes/sec (4 times PCI)
x16 link throughput — 8,000 MBytes/sec (60 times PCI)
Total throughput — 10,000 MBytes/sec (75 times PCI)
PCI Express bus power — 84 Watts (+5V); 100 Watts (+12V)
The PC/104 Consortium has long maintained a series of popular stackable board standards, but now appears to face a considerable challenge from SFF-SIG, which was founded last fall by board vendors WinSystems, Via, VersaLogic, Octagon, and Ampro. Since then, SFF-SIG has gained CongaTec as a voting (founder-level) sponsor, along with general members General Standards, Portwell, Samtec, Silicon Systems, and Tri-M.
SFF-SIG's rival SUMIT spec appears to offer several advantages over PCI/104-Express, including a smaller connector footprint. On the other hand, PCI/104-Express can boast its own advantages, including better support for high-end networking and graphics with its faster x16 lane. A presentation comparing the two can be found at embedded blog site DeviceGuru in a post entitled When Stackable Buses Collide.
Availability
The PCI/104-Express specification is available now for free download, on a link from the PC/104.org's PCI/104-Express page, here.
---

This article was originally published on LinuxDevices.com and has been donated to the open source community by QuinStreet Inc. Please visit LinuxToday.com for up-to-date news and articles about Linux and open source.