Apr 9, 2010 — by Eric Brown — from the LinuxDevices Archive — 3 views
Over on DeviceGuru, Rick Lehrbaum has published an article on how to turn Cloud Engines' Marvell SheevaPlug-based Pogoplug device into an iPod server. In addition to showing how to use the Linux-based device to gain remote web access to his iPod's music collection, the story explores UPnP sharing on the newly rev'd Pogoplug.
"I recently acquired an iPod Touch, and soon found myself with an 80GB iPod paperweight knocking around and collecting dust," Lehrbaum explains on his A/V-oriented technology site, DeviceGuru. "Then it hit me: why not use a Pogoplug as an iPod server, effectively filling my nifty new iPod Touch with 80GB of music whenever I have WiFi access!"

The Pogoplug that Lehrbaum refers to is arguably the most popular of the many devices that have adopted Marvell's 1.2GHz, wall-socket pluggable SheevaPlug Plug Computer reference design for network-attached storage and remote media access. Lehrbaum uses the new version of the Pogoplug (pictured), which was announced by Cloud Engines in November.
Although larger and costing $30 more than the original, at $130, the new Pogoplug moves from one USB port to four, and adds synchronization, UPnP multimedia sharing, and social networking integration features. Like the original, the device offers a gigabit Ethernet port.
As Lehrbaum explains in his generously illustrated article, the Pogoplug lets users remotely access the contents of USB-connected hard or flash drives over the Internet, using a browser-based interface. The device supports remote access from a PC, or via a free mobile app on a handheld device such as an Apple iPhone or iPod Touch. The pogoplug.com web service acts as a control point and conduit, writes Lehrbaum, "securely moving data bidirectionally between up to four Pogoplug-connected drives and one or more authorized Internet-connected computers or mobile devices."
Lehrbaum launched his PogoPod project by prepping an 80GB iPod Classic for use as an A/V fileserver, restoring its firmware and configuration to Apple's default factory settings, and configuring the device to be accessible as a USB drive. Then, he copied over 37GB of music to the device from an Ubuntu Linux-based PC.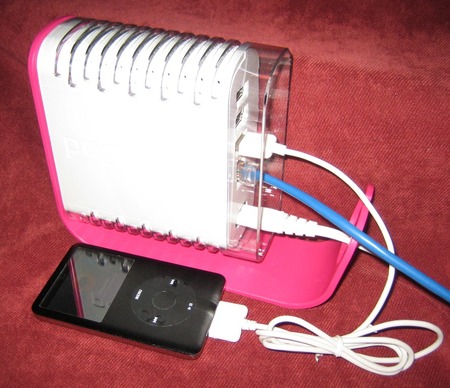 Pogoplug + iPod = PogoPod
Source: DeviceGuru
Next, Lehrbaum connected the Pogoplug using the iPod's USB cable, and then plugged the Ethernet and AC power cables into the Pogoplug (see photo above). He then logged in to the Pogoplug.com web service.
The Pogoplug and its iPod "disk drive" were soon recognized by the service, which began indexing the files it finds on the iPod. All the files became remotely accessible, using the Pogoplug's web management tool. Lehrbaum found that he could also access the music from his iPod Touch using the free Pogoplug iPhone app.
He admits that the solution does not offer a very sophisticated music player, but it works, he says. Now he has access to his collection from any WiFi-enabled hotspot in the world.
Exploring the Pogoplug's new UPnP features
The story then investigates the features of the Pogoplug and the iPhone app, as well as the Pogoplug's new UPnP file sharing capabilities. Lehrbaum goes on to explain the ins and outs of UpnP sharing with both the PlugPlayer iPhone app and the Media Link Player Lite UPnP content-rendering app.
In January, Marvell announced a new version of its Plug Computer design that has yet to be adopted by Cloud Engines for the Pogoplug. The Plug Computer 3.0 adds WiFi, Bluetooth, and a built-in hard drive, and moves up to a new 2GHz Armada 300 version of its ARM-based Armada processors.

Lehrbaum (pictured) has been called "the father of PC/104" for his early work at Ampro Computer on PC/104 embedded boards. He was also the founder and former editorial director of the DeviceForge family of sites, including LinuxDevices. He is no longer associated with the Ziff Davis Enterprise owned publications, having moved on to found DeviceGuru, among other pursuits.
Availability
The DeviceGuru story on the "PogoPod" may be found here.
---
This article was originally published on LinuxDevices.com and has been donated to the open source community by QuinStreet Inc. Please visit LinuxToday.com for up-to-date news and articles about Linux and open source.