Feb 22, 2010 — by LinuxDevices Staff — from the LinuxDevices Archive — 4 views
iWave Systems announced a COM (computer module) based on Freescale's i.MX51 SoC (system-on-chip). The iW-i.MX51 includes up to 512MB of RAM and 2GB of flash storage, runs Linux and Android, and works with an available iW-Rainbow-G8D development baseboard, the company says.
iWave's iW-i.MX51 employs Freescale's i.MX51, which began sampling at the start of last year and has already featured in a variety of other COMs. (Examples include the Avalue RSM-MX515, the Digi ConnectCore Wi-MX51, and the Direct Insight Triton-TX51.)
Unlike these earlier modules, the iW-i.MX51 appears to use the 70 x 70mm Qseven format, previously employed by iWave for its Intel Atom-based iW-Rainbow-G6. (For more on the Qseven format, see later in this story.)
The i.MX515 offers an ARM Cortex-A8 core clocked to 800MHz, a Neon floating point unit, a PowerVR graphics engine supporting OpenGL ES 2.0, and a hardware-implemented video codec. These capabilities are said to provide the iW-i.MX51 with D1 (720 x 480 pixel) video encoding at 30fps, and 720p (1280 x 720) decoding.
According to iWave, the iW-i.MX51 module is available with soldered on DDR2 memory in capacities ranging from 128MB to 512MB, and from 128MB to 2GB of NAND flash storage. The device also includes a microSD slot and a USB On-the-Go port (both visible at the top of the left-hand image below), according to the company.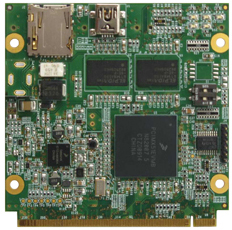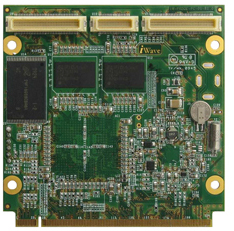 iWave's iW-i.MX51 module
The bottom of the module (above right) has three surface-mount connectors that apparently provide JTAG and debug interfaces, though iWave's product page for the iW-i.MX51 did not make their purpose definitively clear. Other signals pass through the edge-mount Qseven connector to an optional baseboard, including 10/100 Ethernet, video, audio, USB, serial, I2C, SPI, SSI, and GPIO, according to the company.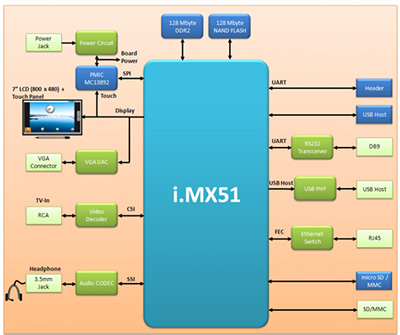 A block diagram of iWave's iW-Rainbow-G8D
(Click to enlarge)
A separately available iW-Rainbow-G8D baseboard (not pictured, but block diagram appears above) measures 8.26 x 5.1 inches (210 x 130mm) and incorporates a seven-inch touchscreen display, iWave says. Accepting the iW-i.MX51, the board provides two SD slots, two serial ports, two USB ports, a 10/100 Ethernet port, plus a composite video output and audio I/O, according to the company.
Specifications listed by iWave for its iW-i.MX51 module include:
Processor — Freescale i.MX515 clocked at 800MHz
Memory — From 128MB to 512MB of DDR2 RAM, and from 128MB to 2GB of NAND flash storage
Expansion — microSD slot
I/O:

Via onboard connectors:

USB 2.0 On-the-Go connector
UART interface for debug
JTAG

Via Qseven connector:

1 x 10/100 Ethernet
2 x SD/SDIO
2 x I2C
1 x USB 2.0 host
1 x USB On-the-Go
2 x serial
SPI
SSI
Display interface
Audio interface
1-wire touchscreen interface
TV out
GPIOs

Operating temperature — n/s
Power requirements — n/s
Dimensions — 2.75 x 2.75 inches (70 x 70mm)
About Qseven
Qseven is a COM standard released in January 2008 by a 14-member consortium, led by Congatec, MSC Vertriebs, and Seco. Promoted as ideal for mobile devices, the 70 x 70mm format includes "fast serial differential interfaces," including PCI Express and Serial ATA, while skipping support for legacy interfaces like EIDE and PCI. It also supports SDIO, plus newfangled graphics and digital media specs such as DisplayPort and HDMI.
The Qseven form-factor includes a "golden finger" connector originally designed for laptop graphics cards using Nvidia's MXM (Mobile PCI Express Module) format. The connector, re-purposed here as a CPU module interconnect, provides 230 positions, .020-inch pitch, and 5.5mm and 7.8mm height options.
Availability
According to iWave, the iW-i.MX51 module and iW-Rainbow-G8D baseboard are compatible with Linux, Android, and Windows CE. Pricing was not detailed, but the devices appear to be available now.
More information may be found on the iWave website here and here.
---
This article was originally published on LinuxDevices.com and has been donated to the open source community by QuinStreet Inc. Please visit LinuxToday.com for up-to-date news and articles about Linux and open source.