Nov 3, 2010 — by LinuxDevices Staff — from the LinuxDevices Archive — views
T-Mobile's HTC-manufactured G2 smartphone was reviewed by eWEEK and found to offer blazing speed using T-Mobile's 4G-like HSPA+ network. A strong feature set, Android 2.2, and reliable operation more than overcome a few flaws, Wayne Rash writes.
T-Mobile delivers the G2 — the successor to the original "Google phone," the G1 — with a full complement of quad-band GSM, tri-band 3G+, Bluetooth and Wi-Fi radios that enable voice calling over Wi-Fi and — network coverage permitting — access to T-Mobile's speedy HSPA+ digital network.
The device, which runs Android version 2.2, sports nearly every feature available on today's crop of smartphones, but lacks support for Android 2.2's standout tethering and hotspot features.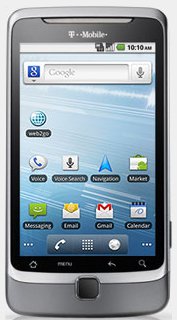 While the HTC-manufactured G2 (pictured) doesn't have the 1GHz processor featured by some of its competition (the G2's version of the Qualcomm Snapdragon runs at 800MHz), the phone's performance doesn't seem to suffer. In fact, using the phone's features in an area that's well covered by T-Mobile's HSPA+ digital network makes most network-based functions seem to happen instantly.
When I downloaded a series of 1.5MB photos from Gmail, for example, the process was about twice as fast as with a T-Mobile BlackBerry Bold 9700 also using HSPA+ in the same location.
The G2 has a 3.7-inch display and weighs 6.5 ounces. As expected, the G2 will stream audio and video files, and it comes with a variety of ways to do this, including a built-in YouTube player.
Overall, the T-Mobile G2 by HTC, which is priced at $199 with a two-year contract, is quite a good Android phone. It doesn't have every feature that can be found with the competition, but it has a few features the others don't have, most notably the very fast HSPA+ access. If you want an Android choice, this is right at the top of the list.
Testing the G2
Testing the speed of the T-Mobile network reveals a lot. I downloaded the same set of photos to the G2, to a BlackBerry Bold 9700, and to a ThinkPad T410 equipped with a T-Mobile Rocket 2 USB wireless stick. The Rocket 2, which operates on T-Mobile's HSPA+ network, was the fastest of the bunch, downloading the 1.5MB photos in six to eight seconds each.
The similarly HSPA+-capable G2 was nearly as fast, with each download taking 10 to 12 seconds. The BlackBerry, which lacks HSPA+ support, took 16 to 18 seconds per photo.
Note that the times varied even when transferring the same file. Part of the reason was a second or two of latency on some transfers. Once or twice, the process took significantly longer, requiring well over a minute in one instance.
Considering that this test was hardly a precise scientific measurement, the best conclusion to be drawn is that the G2 is indeed really as fast as T-Mobile says it will be. Probably the better measurement was in downloading apps from the Android Market, where the process was nearly instantaneous.
Video streaming was clear and without interruption, and without the appearance of artifacts in the images that would indicate a download that was overrunning its pipeline. I should add that another good indication of solid bandwidth is that Pandora Radio — which has caused me endless frustration on other devices — functioned without a glitch on my test drives around Fairfax, Va., where T-Mobile has a large HSPA+ footprint.
The high speed of the HSPA+ network shows up in surprising ways. Because the apps that Google supplies are all basically cloud based, they depend on reliable access, whether it's for the navigation features and images of Google Maps, or for access to the information in Google Goggles. With previous Android devices, getting the information to load always involved a wait. But as long as I was in the high-speed part of T-Mobile's 3G footprint, the whole cloud-based activity was seamless.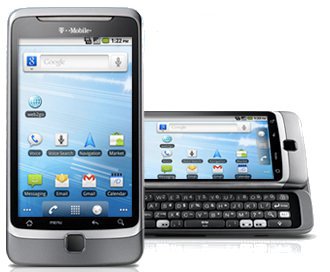 T-Mobile's HTC-manufactured G2
Of course, there's more to a phone than its 3G+ capabilities — as attractive as those might be. The G2 features a slide-out QWERTY keyboard in addition to its onscreen keyboard. It's fairly easy to type on, provides decent tactile feedback, but it's not as nice as the keyboard on Sprint's HTC Evo 4G.
The onscreen keyboard features the new Swype technology that is designed to make onscreen typing easier by just letting you trace a line from letter to letter. It works well, and I found it easy to use.
As expected from an Android 2.2 device, there's the full complement of support for image, audio and video types, and there's support for most types of e-mail including Microsoft Exchange. The software that comes with the G2 is the same as you'll find on other Android devices, and whatever isn't there is available on the Android Market.
The current version of the Android browser supports full HTML as well as Adobe Flash. The spec sheet claims that the device is capable of high-definition video with a 720p camcorder function. However, since the G2 does not provide any sort of output to allow connection to an external monitor, the only way to find out is to record the video to the memory card, transfer that to a USB memory reader, and then play it on a television with a USB slot. Having a high-definition multimedia interface connector would be a very nice thing.
Another nice thing that some Android devices have, but the G2 doesn't, is a Wi-Fi hot spot. With T-Mobile's fast 3G, this would seem like a natural, but it's not there. Still, this is a capable phone, at least when it's used as a communications device.
Using the G2 as a phone revealed a slightly fuzzy voice quality, apparently from a microphone that wasn't up to the task. Using it with a Bluetooth device did not show that same fuzzy quality.
I also noticed that the Wi-Fi reception was weaker than expected. Testing with the other radios turned off showed that the range for Wi-Fi was about 30 percent shorter than with the BlackBerry Bold. The tests involved both voice over Wi-Fi and data transfer over WiFi using a Cisco 802.11n multiple input, multiple output-equipped access point. However, the other radio receivers performed about equally, so this isn't a major shortcoming.
Wayne Rash is a Senior Analyst for eWEEK Labs and runs eWEEK's Washington bureau.
---
This article was originally published on LinuxDevices.com and has been donated to the open source community by QuinStreet Inc. Please visit LinuxToday.com for up-to-date news and articles about Linux and open source.