Jan 19, 2011 — by LinuxDevices Staff — from the LinuxDevices Archive — 1 views
Samsung has denied rumors that it wants to charge carriers for Android updates, forcing T-Mobile to withhold updates to the Samsung Vibrant. Whatever the case, the Vibrant kerfluffle is one more example of a slow Android update process that is confusing the market, say observers.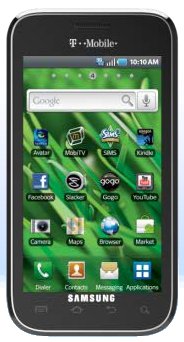 Samsung is making news of late, and it's not for the extraordinary sales figures on its line of Android-based Galaxy S handsets. Rumors are being traded across the Internet about the Samsung Vibrant (pictured at right), T-Mobile's Galaxy S handset, have put the phone maker in the hot seat.
AndroidSpin first reported Jan. 12 that Samsung was intentionally not updating the Vibrant's operating system to Android 2.2 — as customers had been promised — for fear that an update would decrease interest in the upcoming Vibrant 4G, a 4G-enabled version of the device that — should some leaked promotional materials prove accurate — could become the fastest device on the T-Mobile network.
A tipster purporting to be a T-Mobile employee, reportedly told AndroidSpin that Samsung was not "allowing" T-Mobile to push out the update over the air. In addition, the source wrote that the original Vibrant can "utilize 4G fully. Yes, fully. Not what they are telling you."
DailyTech added new details to the story Jan. 19, reporting that a class-action lawsuit has been filed against Samsung and T-Mobile, claiming deceptive trade practices, and that — according to a post on XDADevelopers — Samsung "wanted to charge carriers for Android updates on grounds that they added features to devices."
Samsung Mobile, apparently looking to clear up the matter, sent an email to PhoneScoop Jan. 18, saying, "No. Samsung is not charging carriers for Froyo updates to Galaxy S. We hope to have more detail on status shortly. Promise!"
Regarding the cause of the update's delay, a Samsung Mobile spokesperson wrote to CNET Jan. 13 that the update is a complicated matter that the company is working to get right.
With regard to the Froyo update, CNET reported that the spokesperson wrote:
We recently issued the following statement: 'Samsung feels it is important to make the Android 2.2/Froyo upgrade available only after we feel that we can give the millions of U.S. Galaxy S owners a simple and reliable upgrade experience. Due to the complexity and unique functionality of each Galaxy S device, we are performing additional testing and are working to make the Android 2.2/Froyo upgrade available to all U.S. Galaxy S owners, including the Samsung Vibrant, as soon as possible.'
Unfortunately for Vibrant owners, "as soon as possible" is as vague as Samsung's original statement, back during the late-June unveiling of its Galaxy smartphones. At that time Samsung said all the Galaxy S phones would soon receive updates to Android 2.2 — just as competing smartphones, such as the Motorola Droid X and HTC Evo 4G, have.

While Samsung has enjoyed the spotlight these past few months with the Galaxy S, as well as swift sales of its Galaxy Tab tablet, the update fiasco puts both CNET and DailyTech in mind of previous Samsung antics regarding the Behold II (pictured). According to CNET, Samsung simply "stopped pushing updates after Android OS 1.6."
While the average consumer may forgive or overlook such behavior, if he or she is even aware of it, the media, developers, and early adopters have long memories for such details, writes DailyTech. It continues, "Whatever its reasons for delaying, Samsung is going to have to work extra hard to regain the trust of these three key communities if it plans to make its next venture anywhere near as successful as the Galaxy S line."
Android updates: Too many cooks?
Other observers, meanwhile, note that the Samsung issue is just one of many that delay Android updates. In a ZDNet blog entry entitled "The flawed Android update process; too many cooks", James Kendrick walks the reader through all the modifications that must occur between the time that Google unveils a new Android release and the time it reaches market.
Not only must a host of manufacturers integrate the new code for multiple hardware designs, but many add their own UI layers that must also be configured for the release. In some cases, a second vendor applies their own branding to the phone, and then the carrier must prepare it for its networks, as well as, in many cases, integrating their own UI layers and software add-ons.
Concludes Kendrick: "It is time for Google to take the Apple approach with the iPhone, and take control of the OS back from the OEMs and carriers."
Michelle Maisto is a writer for our sister publication eWEEK.
---
This article was originally published on LinuxDevices.com and has been donated to the open source community by QuinStreet Inc. Please visit LinuxToday.com for up-to-date news and articles about Linux and open source.