Jan 13, 2011 — by Eric Brown — from the LinuxDevices Archive — views
Google will announce Android 2.4 "Ice Cream" in May, adding fuel to the theory that version 3.0 will fork Android, say reports. Meanwhile, Samsung is rumored to be prepping a "Vibrant 4G" phone for T-Mobile's HSPA+ network featuring 21Mbps downloads, Samsung and IBM are teaming up on mobile R&D, and the Google Goggles app gets a marketing-focused upgrade, says eWEEK.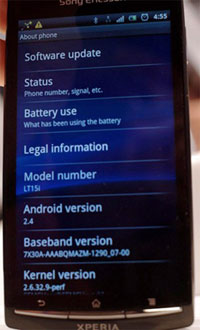 After Google wowed the Android community with a video demonstrating its upcoming, tablet optimized Android 3.0 ("Honeycomb") release last week, more rumors are mounting up about a previously tipped Android 2.4 for smartphones.
According to PocketLint, Sony Ericsson's acting head of global marketing Steve Walker told the publication that the CES appearance of an Xperia Arc phone labeled as running Android 2.4, was "a labeling error in the software." (The allegedly error-prone Arc is shown at right in a Tweakers.net shot.)
Yet, PocketLint cites several other unnamed sources in reporting that, whether or not the Arc runs Android 2.3 or 2.4, the latter is on tap for an unveiling at Google I/O in May and is code-named "Ice Cream." The mobile OS will then be released in June or July, says the story.
TechCrunch then followed up with a report claiming that the publication was informed by Google Android chief Andy Rubin that the release following Honeycomb will be called "Ice Cream Sandwich." TechCrunch steers clear, however, of stating what release number it will be, when it will be released, and whether or not Android 3.0 represents a fork of Android into tablet and smartphone versions.
At our sister publication eWEEK Clint Boulton tries to make sense of all this, and ends up surmising what some others are already assuming to be fact: that Android 3.0 represents a tablet fork of Android.
Writes Boulton, "It's possible Google wants to keep the 3.x number scheme for Android tablet builds, and continue the on the 2.x path for smartphones." If true, he adds, "that would lend more cannon fodder for the cries about Android being fragmented."
Samsung Vibrant 4G fastest T-Mobile phone ever?

T-Mobile's Samsung Vibrant (pictured at right), one of the many Android-based "Galaxy S" phones strewn around the globe, will soon be updated with a new 4G version that will be T-Mobile's fastest yet, says TmoNews.
While the Vibrant and other T-Mobile phones have supported its HSPA+ network at 14.4Mbps, the Samsung Vibrant 4G moves up to 21Mbps downloads, says the story.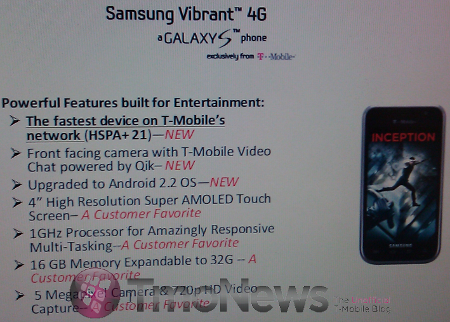 T-Mobile's Samsung Vibrant 4G marketing materials
Source: TmoNews
The publication unearthed some marketing materials on the phone, which was previously rumored to be called the Vibrant Plus. The materials, one of which is pictured above, list some specs and claim that the Vibrant has sold almost one million units to date, making the number one selling Galaxy S phone in the U.S.
T-Mobile's HSPA+ service is generally considered to be 3.5G, but is claimed to offer 4G-like speeds. Last week, however, T-Mobile announced that it is upgrading the network to 42Mbps speeds, which would give more credence to the 4G claim and should easily handle the Vibrant 4G's 21Mbps limit.
As eWEEK noted in a report on the tip, Samsung recently revealed that it will introduce several 4G tablets and smartphones at Mobile World Congress next month in Barcelona.
The Vibrant 4G has been upgraded to Android 2.2, and will include a front-facing camera with T-Mobile Video Chat, powered by Qik, says TmoNews. Like the Vibrant, the 4G version is said to feature a 1GHz processor (no doubt the Samsung Hummingbird), as well as a four-inch Super AMOLED display, and 16GB of memory, expandable to 32GB. It is also said to provide a five-megapixel camera that can record video at 720p.
Samsung and IBM team up on mobile R&D
Another eWEEK story reported yesterday that Samsung and IBM are extending their alliance to include Samsung's participation in R&D in semiconductor technology for mobile devices and other consumer products.
The move, announced Jan. 12, will mark the first time that scientists from Samsung will work with colleagues from IBM and the other vendors at the Albany Nanotech Complex, in Albany, N.Y., according to IBM. At the facility, researchers look into new materials and transistor structures, interconnect technologies, and packaging solutions for technology nodes.
Google Goggles visual recognition app rev'd
On Jan. 10, Google upgraded its Google Goggles visual recognition app for Android and iOS platforms with speedier barcode scanning and the ability to recognize print ads and solve Sudoku puzzles, reports eWEEK.
Google Goggles can now scan and search print advertisements, such as movie posters and magazine ads, says the story. Users can snap a picture of the ad and Goggles will recognize the print ad and return web search results about the product or brand.
Like the original version, the new Goggle app lets users take pictures of locations, art, and consumer products with their phone's camera. Goggles will scan the image and conduct a search on Google.com for information about the image subject.
An update last May added text translation, allowing travelers to take pictures of street signs, restaurant menus, and other text in other countries and read them in their native language.
---
This article was originally published on LinuxDevices.com and has been donated to the open source community by QuinStreet Inc. Please visit LinuxToday.com for up-to-date news and articles about Linux and open source.