Apr 29, 2010 — by LinuxDevices Staff — from the LinuxDevices Archive — 3 views
Pixel Qi claims its power-saving, transflective LCDs are finally on sale in "specialized products," and will be more widely available soon. The displays work in both color and monochrome e-paper modes, and are said to require less than half the power of an ordinary display.
Pixel Qi (pronounced "Pixel Chee"), which describes itself as a "fabless developer of a new class of screens," is a spinoff from OLPC (One Laptop Per Child), where the former's founder Mary Lou Jepsen is said to have invented the XO-1 laptop's sunlight-readable display technology. Pictured below, the technology allows a portable computer's screen to be switched from a standard, backlit color mode to a reflective monochrome mode, saving power and allowing the device to be used even in direct, strong sunlight.
Unlike the electrophorescent displays offered by E Ink Corporation, Pixel Qi's screens use conventional LCD technology. Thus, they require at least some power whenever they're on.
Akin to the screen offered back in 2002 by NEC's pioneering Versa DayLite E120 notebook, however, the Pixel Qi displays come with a switch that can change them from standard, color transmissive mode to a monochrome reflective mode. In the latter mode, the screen picks up all its illumination from ambient lighting, making e-books easier to read and slashing power consumption by up to 75 percent, the company claims.
Shipping delays
Pixel Qi first showed off its screens at last June's Computex show in Taiwan, at which time it claimed the displays would be available in netbooks later in the year. The company also said that production would have reached "hundreds of thousands a month" by early 2010.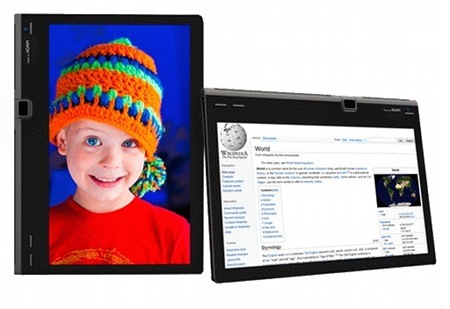 Notion Ink's Adam
None of that appears to have transpired, and, as far as we're aware, just one Pixel Qi-equipped device has been announced. That would be an Android-based tablet, the Adam (above), from India-based startup Notion Ink. An early version of the Adam was shown at January's Consumer Electronics Show (CES), but the device still hasn't shipped.

Now, Mary Lou Jepsen (left) claimed in a blog entry posted yesterday, "Our screens are for sale and have been for sale for several months now in products, but in specialized products that aren't sold in stores yet. These products are for professional use and bundled with, for example, monthly services; they might not ever be sold in stores."
Jepsen added, "Our initial manufacturing partner did get slowed down in the midst of the economic crises and that did affect our ability to ramp to the schedule our higher-volume customers wanted. We are beyond this now thanks to strong pull from these customers: some of the largest computer companies in the world and also from the broader community who want our screens now!"
Pixel Qi has said its transflective screens would be produced on existing LCD assembly lines by a contract manufacturer. The company added in June that the displays have been considerably refined over the one on the XO-1, not to mention the dim panel featured on the DayLite E120.
John Ryan, the company's COO and VP of sales and marketing, said at the time, "You can get a really nice e-paper reflective state. What has been difficult in the past is getting really good saturated color too."
For its screens' debut at the Computex show in Taipei, Pixel Qi reportedly modified off-the-shelf Acer netbooks, fitting them with transflective displays and drilling a hole for a switch that changes the screens from transmissive to reflective mode. In the video embedded at the end of this story, Ryan demonstrates the displays' ability to be read in "real tropical sunlight."
In her blog posting, Jepsen writes, "We are scaling to multiple manufacturers and beginning to ramp production to meet the strong demand. Added note: this will still take some time to work through the system to get into stores."

The Mirasol alternative
The delayed Pixel Qi screens will apparently face competition from another reflective, power-saving technology, the Mirasol displays created by Qualcomm's MEMS (micro-electro-mechanical systems) division. Already produced in 1.2- and 1-4-inch versions for simple devices, Mirasol screens will be manufactured this year in a 5.7-inch, 1024 x 768 pixel version aimed at tablet PCs, DigiTimes reported earlier this month.
Like Pixel Qi screens, and unlike E Ink displays, the Mirasol panels can display video at 30 frames per second, Qualcomm claims. In addition, the Mirasol screens are touted as using little or no power when a static image is being shown.
Qualcomm says the Mirasol displays work by using interferometric modulation (IMOD), the natural manipulation of light that is also found in butterfly wings, sea shells, and peacock feathers. Each IMOD element in a display is built using two conductive plates: One is a thin film stack on a glass substrate, while the other is a reflective membrane.
When no voltage is applied, light hitting the substrate is reflected back, resulting in an element — one per pixel, presumably — that looks (more or less) white. When a small voltage is applied, the plates are pulled together by electrostatic attraction and the light is absorbed, turning the element black. At the same time, Qualcomm adds, color can be produced by manipulating voltages so as to vary the size of each gap, reflecting different wavelengths to the viewer's eye.

Pixel Qi's John Ryan shows off the company's displays
Source: Techvideoblog.com
(click to play)
Availability
The blog entry cited above by Pixel Qi's Mary Lou Jepsen may be found here. More about the Notion Ink Adam may be found on the company's website, here.
---
This article was originally published on LinuxDevices.com and has been donated to the open source community by QuinStreet Inc. Please visit LinuxToday.com for up-to-date news and articles about Linux and open source.