Feb 17, 2010 — by Eric Brown — from the LinuxDevices Archive — 3 views
Samsung announced the first smartphone based on its Linux-based Bada operating system, and the first phone to offer both Bluetooth 3.0 and 802.11n. The Samsung Wave is equipped with a 1GHz processor, a 3.3-inch, 800 x 480 "Super AMOLED" display, plus the TouchWiz 3.0 UI layer, says the company.
Samsung announced its Bada operating system in November, and then followed up in December with a pre-release version of the Linux-ready Bada software development kit (SDK) and integrated development environment (IDE). The SDK should be ready in final form by March, Samsung now says.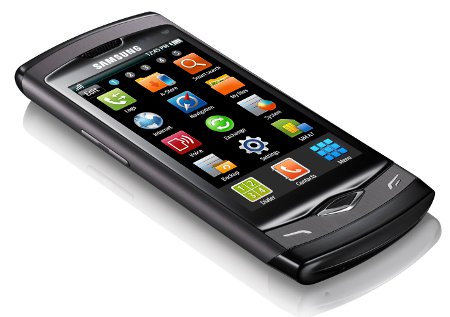 Samsung Wave
(Click to enlarge)
Samsung has said that the kernel-configurable Bada platform can be based on a Linux kernel or another real-time OS (RTOS). The company did not list the kernel configuration for the Wave, but a number of technology sites,as well as
Wikipedia,
flatly refer to Bada as being Linux-based, and an advanced smartphone such as the Wave would very likely require Linux.
The Samsung Wave (also known as the S8500) measures 4.6 x 2.2 x 0.4 inches (118 x 56 x 10.9mm), and is built around an unnamed 1GHz system-on-chip (SoC), says Samsung. These days, a Qualcomm Snapdragon would be the likely choice for a 1GHz smartphone SoC, but it may well be that Samsung's 1GHz, 45nm-fabricated S5PC110 may be making its debut here. The Cortex-A8-based, smartphone-targeted SoC was set to have started sampling in December.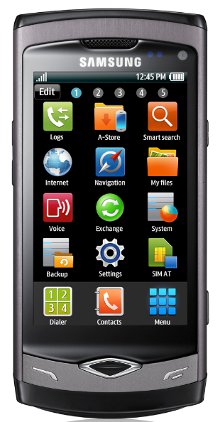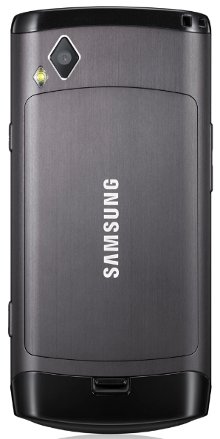 Samsung Wave, front and back
(Click on either to enlarge)
Although the official specs made no mention of the fact, the mystery processor offers a large L2 cache, according to a story by Nathan Eddy in
eWEEK.
The SoC is also joined by an HD (720p) video codec engine that delivers 30fps HD video in both recording and playback mode, Eddy adds.
The Wave is equipped with from 2GB to 8GB of memory, says Samsung. The phone also supplies a microSD slot that is said to hold up to 32GB.
Super AMOLED
The Wave's 3.3-inch touchscreen offers WVGA (800 x 480) resolution and "Super AMOLED" (active-matrix organic light emitting diode) technology, says Samsung. The company has led the way in offering mobile AMOLED displays, which are said to offer richer colors, easier readability in sunlight, and better contrast and viewing angles. Samsung offers AMOLED on most of its recent LiMo- and Android-based phones, such as the recent SHW-M100S phone for the Korean market.
The Wave, however, is claimed to be the first phone to offer Samsung's Super AMOLED display, which is said to be much brighter, clearer, and less reflective. The Wave display also features Samsung's mDNIe (mobile Digital Natural Image engine) technology, borrowed from Samsung's latest LCD TV and LED TV products, says the company. The mDNIe technology is said to offer better viewing angles and "super fast response." The Wave's display is also touted for its tempered glass and anti-smudge surface.
The Samsung Wave supports 2.5G (GSM/GPRS/EDGE) and 3G (WCDMA/HSPA) cellular networks, and is also said to be the first phone to offer both Bluetooth 3.0 and 802.11n WiFi. Google's HTC-manufactured Nexus One offers 802.11n, but this is the first phone we've heard of to support the new Bluetooth 3.0.
Earlier this month, the Bluetooth SIG (special interest group) announced that Samsung would soon introduce the first phone to support Bluetooth 3.0, which allows file transfers at up to 24Mbps, and enables Bluetooth to piggyback on WiFi bandwidth. However, the Samsung phone mentioned by the Bluetooth SIG was the yet-to-ship Samsung GT-S8500, which was said to offer a 3.1-inch AMOLED display.
The Wave's five-megapixel camera offers LED flash, geo-tagging, and a variety of specialty features, including panorama shots, says Samsung. The camera is also said to be capable of playing and recording 720p video in a variety of formats, including DivX Xvid, MP4, and WMV. The phone also provides a music player, and provides virtual 5.1 surround sound delivery, says the company. Rounding out the Wave feature set is aGPS, a USB 2.0 port, 3.5mm jack, 1500 mAh battery, as well as accelerator, proximity and geomagnetic sensors.
Social Hub leads new Bada apps
Bada applications will be available from the Samsung Apps online store, "featuring a wealth of games, navigation, social networking, e-book, health, and lifestyle applications," says Samsung. The Wave will ship with software including voice command, an RSS reader, the Dolfin Browser 2.0, and on/off board navigation with 3D maps, says the company.
Bada offers service-centric features, including social networking, device synchronization, content management, location-based services, push notification, and commerce services, says the company. In particular, Bada introduces the Social Hub, a new push service and feature that is said to integrate email, IM, and SNS services from major social networking portals directly into the Wave interface. Social Hub is said to deliver email messages, calendar events, and SNS updates in real-time.
The Wave also runs Samsung's familiar, cross-platform TouchWiz 3.0 UI, which offers enhanced customization and widgets compared to version 2.0. The new Quick Panel is said to help users prioritize and aggregate applications into a single screen. Other additions include "motion UI" and "Smart Unlock" features, says Samsung.
Too late for Bada?
According to a mini-review by Gordon Kelly from the show floor at Mobile World Congress in Barcelona, TrustedReviews proclaims the Super AMOLED display to be "phenomenal." Kelly also says that Bada running on the 1GHz processor operates "extremely fast," although the demo model had no data connection to test out most of the apps.
Kelly is not alone in being a TouchWiz hater, even in its 3.0 incarnation. He predicts that Samsung's insistence on using the "horrible" TouchWiz, along with a potential lack of Bada apps, could prove troublesome for what otherwise appears to be a very cool phone.
Indeed, Bada must contend with a glut of new mobile operating systems, most of which are based on the Linux kernel and offer varying degrees of openness, including Android, LiMo, WebOS, and a newly open source Symbian 3. But wait, there's more — now Bada must also compete with the spawn of Moblin and Maemo, the Nokia/Intel MeeGo, which supports everything from smartphones to netbooks to set-top boxes.
Although not billed as being open source, Bada offers an open C++ API framework for the UI layer and "enables developers to take full advantage of mobile device capabilities to create compelling applications with ease," says Samsung. Developers using the Linux-based SDK can make use of device functions to make phone calls, send messages, or access the contact list, says the company. Service applications are said to be able to share information, protected by "simple user confirmations," such as personal profiles, social relations, schedules, or content. (For much more on Bada, see our previous coverage, here.)
Stated JK Shin, President and Head of Mobile Communications Business at Samsung Electronics, "Samsung Wave sees our platform vision become a reality. For the first time, developers have the freedom to create applications across multiple platforms, for consumption on a huge range of devices."
Availability
The Samsung Bada Wave will be available globally in April, says the company. More information may be found on this consumer-oriented Flash-based site, here, as well as Samsung's developer-focused Bada site, here.
The eWEEK story on the Wave may be found here, and the TrustedReviews story should be here.
---
This article was originally published on LinuxDevices.com and has been donated to the open source community by QuinStreet Inc. Please visit LinuxToday.com for up-to-date news and articles about Linux and open source.