Jan 28, 2011 — by Eric Brown — from the LinuxDevices Archive — 2 views
GE Intelligent Platforms announced a 3U VPX single board computer (SBC) that can accept a quad-core, 2.1GHz Intel "Sandy Bridge" Core i7 processor. The "VPXcel3 SBC324" joins another Sandy Bridge-based SBC announced earlier this month, the 6U OpenVPX "VPXcel6 SBC624," which is similarly suited for use in advanced signal processing intensive systems such as unmanned vehicles.
The VPXcel3 SBC324 and VPXcel6 SBC624 join a number of SBCs based on Intel's "Sandy Bridge" generation of Core processors, which were announced on Jan. 3. GE Intelligent Platforms says it also plans to announce additional products based on these CPUs: CompactPCI and VMEbus systems, as well a new digital signal processing platform.
Both the the SBC324 and SBC624 combine one of the new Sandy Bridge Core i7 processors, ranging up to a quad-core, 2.1GHz Core i7, with the new Intel QM67 chipset, says GE.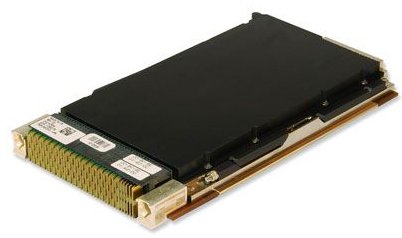 VPXcel3 SBC324

The SBCs are both said to make use of the chip's advanced onboard graphics, as well as Intel vPro technology, including VT hardware acceleration and TXT security. It addition, they exploit the Core i7's AVX signal processing features and AES encryption, as well as Intel hyper-threading and Turbo Boost technologies, says the company.
Like earlier VPX SBCs from GE, the the new models can be deployed in traditional 3U VPX applications such as command/control. However, with their greater processing and graphics power, they can also be used in ISR (intelligence, surveillance, reconnaissance), radar/sonar, and signal processing in systems such as unmanned vehicles, says the company.
The only other VPX-standard SBCs we know of that use the new Sandy Bridge processors are the 3U OpenVPX and 6U VXS SBCs from Concurrent Technologies. GE skips the closely related VXS standard and instead uses VPX technology on both its new 3U and 6U SBCs, with the 6U model supporting the newer OpenVPX standard.
For more on the sometimes-confusing array of mil/aero focused VPX and VXS standards offered by the VITA (VME Industry Trade Association), see our recent coverage of the Concurrent SBCs.
SBC324
The newly announced SBC324 (pictured earlier) replaces earlier models such as GE's circa-2008 VPXcel3 SBC320, which ran on an Intel Core2 Duo.
The 3U, VPX-compliant board is also being used in GE's Magic1 Rugged Display Computer, which is said to "combine the throughput of a second generation Intel Core i7 processor with the advanced parallel processing of an Nvidia CUDA-enabled GPGPU." The company had no more information on the system, however.
The SBC324 can be equipped with up to 8GB of DDR3 1333MHz memory, as well as 8GB NAND flash. As is typical of VPX boards, the SBC324 offers a range of PCI Express (PCIe) backplane configurations, as well as an XMC mezzanine expansion site. The latter is used, for example, to connect an optional hard disk drive.
Dual gigabit Ethernet ports are supplied, as well as four USB 2.0 ports and two RS-232/422 COM ports, says GE. Additional features are said to include VGA graphics, HD audio, dual SATA channels, and a PS/2 port.
The SBC324 ships with Deployed Test Software (BIT and BCS) software, and is said to support Windows 7, VxWorks, LynxOS, LynxOS-SE, and "Open Linux." By the latter, we assume they are referring to any open source Linux distribution, as opposed to Caldera Systems' now-defunct OpenLinux.
Stated Rob McKeel, President, Military & Aerospace, GE Intelligent Platforms, "The SBC324 brings superior processing performance as well as a range of other new functionalities such as integrated graphics and memory controller, Intel's AVX technology for demanding signal processing applications and second generation PCI Express for faster interconnect."
SBC624
The VPXcel6 SBC624 is a larger 6U board adhering to the OpenVPX standard. As noted, it uses the same new Core i7 processors that are supported by the SBC324. The list of suitable applications matches that of the SBC324 as well.
VPXcel6 SBC624
The SBC624 is intended as the successor to the the Core 2 Duo based GE
SBC620
, and the more recent
SBC622
, which is based on the previous generation Core i7 processor. The SBC624 delivers greater performance than its predecessors, but within the same power envelope, says GE.
The SBC624 is equipped with up to 16GB of DDR3 SDRAM with ECC, as well as up to 16GB NAND flash, says GE. The SBC's 16-lane PCIe Gen2 port offers sufficient bandwidth for both on-board and off-board connectivity, and makes the SBC624 ideal for hosting GE's Nvidia CUDA-enabled NPN240 GPGPU board, says the company.
Equipped with two PMC and two XMC expansion sites, the SBC624 provides dual gigabit Ethernet ports, four RS232 ports, seven USB 2.0 ports, and two SATA interfaces, says GE. Display support is said to include a VGA port, as well as dual DVI/HDMI ports. The SBC624 is available in five build versions from "benign to fully rugged," says the company.
Optional software includes GE's Axis Advanced Multiprocessor Integrated Software environment, says GE. The SBC's operating system support is slightly different than that of the SBC324, supporting Linux, Windows, and VxWorks.
Availability
No pricing or availability information was available on GE Intelligent Platforms' new 3U and 6U SBCs. However, more technical information on the VPXcel3 SBC324 may be found at GE's SBC324 page, and more on the VPXcel6 SBC624 may be found on its SBC624 page.
---
This article was originally published on LinuxDevices.com and has been donated to the open source community by QuinStreet Inc. Please visit LinuxToday.com for up-to-date news and articles about Linux and open source.