Sep 28, 2009 — by LinuxDevices Staff — from the LinuxDevices Archive — 3 views
WinSystems announced two SBCs (single board computers) claimed to be the first to support COMIT (Computer On Module Interconnect Technology). The EBX-format EBC-Z510-G and EBC-Z530-G also feature SUMIT (Stackable Unified Modular Interconnect Technology) and PC/104 connectors, CompactFlash Type I/II storage, and a Mini PCIe slot, says WinSystems.
WinSystems' new EBC-Z510-G and EBC-Z530-G are identical except that, as their names imply, one of the SBC's uses Intel's 1.1GHz Atom Z510, while the other uses the 1.6GHZ Atom Z530. Consisting of a baseboard using the 8.00 x 5.75-inch EBX format, plus a separate module containing a processor, SCH US15W northbridge/southbridge, and soldered-on memory, the products are notable for implementing two relatively recent standards from the Small Form Factor Special Interest Group (SFF-SIG).
The first of these standards, already adopted by some other vendors, is the SFF-SIG's SUMIT-ISM boards, meanwhile, feature SUMIT connectors, and use the same 3.8 x 3.6-inch form factor as PC/104, with backward-compatible dimensions and mounting holes.)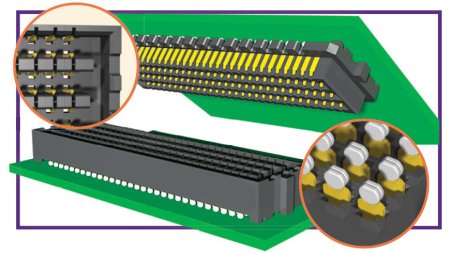 The Samtec SeaRay connector that forms the basis for COMIT
(Click to enlarge)
The second, newer standard is the SFF-SIG's
COMIT
, an electromechanical interface specification for processor modules that made its debut in April. COMIT uses a 240-pin (6 x 40) "SeaRay" connector (see above) from Samtec, and is said to be capable of supporting the following:
3 PCI Express x 1 lanes
1 PCI Express x4 lane
6 high-speed USB 2.0 channels
VGA, SDVO, and dual LVDS video interfaces
2 SATA channels
Ethernet
8-bit SDIO
HD Audio
LPC (Low Pin Count) Bus, SPI/uWire, SMBus/I2C Bus
system clock and control signaling
"ample" power and ground
If our reading of the COMIT specification — a revised 1.1 version was released just last week — is correct, there's no strictly defined limit on how big processor modules can be. (Maximum height on the connector side is specified to be 5.4mm, however, in order to prevent mechanical interference issues.) The COMIT modules created by WinSystems for its SBCs, however, are said to be just 2.95 x 2.44 inches (95 x 62mm), approximately credit-card-size.
As mentioned earlier in this story, the WinSystems COMIT modules contain the Atom CPUs, the SCH US15W, and 512MB or 1GB of soldered-on memory. They convey all their signals — including PCI Express, USB, video, HD audio, LPC bus, SPI, SMbus, and I2C — to and from the baseboard via the COMIT connector, according to WinSystems.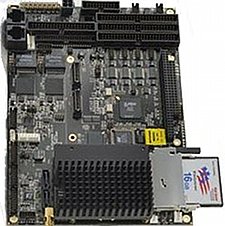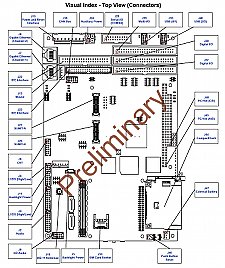 The WinSystems EBC-Z5xx-G
(Click either to enlarge)
Immediately to the right of their installed COMIT modules (under the heat sink at the bottom of the left-hand image above), the EBC-Z510-G and EBC-Z530-G baseboards include Type I/II CompactFlash slots. On the back of the boards (not pictured), meanwhile, there are Mini PCI Express expansion slots, according to WinSystems.
The baseboards also include "real world" gigabit Ethernet ports with RJ45 connectors, visible at top left in the above images. The SUMIT-A and SUMIT-B connectors can be seen located approximately in the middle of the baseboards, while the PC/104 expansion interface is visible at far right above the CompactFlash slots.
Via these interfaces plus a bevy of onboard headers, the EBC-Z510G and EBC-Z530G provide four serial ports (all RS232/422/485), a parallel port, six USB 2.0 ports (two via headers, two via SUMIT), an IDE controller, HD audio, and PS/2 keyboard/mouse support, according to WinSystems. The baseboards also include connectors for CRT and LVDS video, plus a CAN bus connector, the company adds.
Features and specifications listed by WinSystems for the EBC-Z510-G and EBC-Z530-G include the following:
Processor:

EBC-Z510G — 1.1GHz Atom Z510
EBC-Z530G — 1.6GHz Atom Z530

Chipset — SCH US15W
Memory — 512MB or 1GB of soldered-on memory
Networking — 2 x gigabit Ethernet with RJ45 connectors
Other I/O:

6 x USB 2.0 (4 via headers, 2 via SUMIT)
4 x RS232/422/485
HD audio
IDE
PS/2
LPT
1 x CRT
2 x LVDS

Expansion:

CompactFlash Type II slot
Mini PCIe slot
PC/104
SUMIT-A and SUMIT-B

Operating temperature:

EBC-Z510C — -40 to 158 deg. F (-40 to 70 deg. C)
EBC-Z520C — -40 to 140 deg. F (-40 to 60 deg. C)

Power — Supports ATX format or external battery
Dimensions:

COMIT module — 2.95 x 2.44 inches
Baseboard — 8 x 5.75 inches
Availability
According to WinSystems, the EBC-Z510-G and EBC-Z530-G are available now, either from stock or with delivery times up to three weeks, though pricing was not stated. The devices support Linux, Windows Embedded, QNX, VXWorks, and DOS, according to the company.
More information on the EBC-Z510-G and EBC-Z530-G may be found on the company's website, here.
More information on the newly updated COMIT 1.1 standard may be found on the SFF-SIG website, here [PDF link].
---
This article was originally published on LinuxDevices.com and has been donated to the open source community by QuinStreet Inc. Please visit LinuxToday.com for up-to-date news and articles about Linux and open source.